Paris take flight in Toulouse
Voir cette publication sur Instagram
On Tuesday evening, Paris Saint-Germain Handball played their rescheduled Lidl Starligue Round 20 fixture. The league leaders (21 wins in as many games) travelled to the Palais Des Sports André-Brouat to face a Toulouse team who have been running hot and cold all season. Heading into the match, Le Fenix were in seventh place but several of their direct rivals have games in hand. It was an opportunity for Luc Steins and Ferran Solé Sala to return to the team they played for last season, while Sadou Ntanzi and Edouard Kempf faced of against the club whose youth academy they came up through (Sadou is currently on loan from Paris).
Les Rouge et Bleu, dressed in white for the occasion, immediately took control of the match thanks notably to the power of left-back Elohim Prandi (6': 1-4). But a few moments later, they were finding fewer solutions against the home side's rear-guard, whose attacking cohorts took full advantage and levelled the score (10': 4-4). The capital club managed to keep their noses in front, but couldn't break away - Toulouse's solid defending and well executed counter-attacks saw to that (14': 5-6).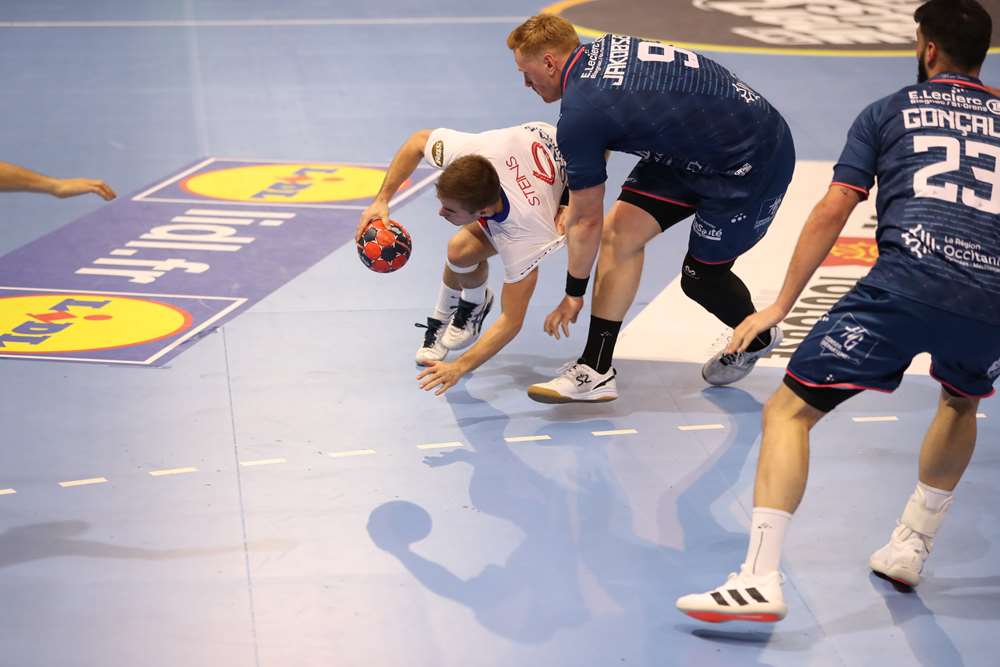 However, our players gradually regain the ascendancy (16': 5-7), thanks to a Nedim Remili who just kept getting better as the match went on. The France right-back first set up Benoît Kounkoud to score, before finding the net himself and putting his side three goals to the good (18': 6-9). Another member of our back-line, Luc, gave his all to earn two penalties, both converted by Mikkel Hansen (19': 8-11). But it was Nedim, after an angled shot across De Almeida, a strike from distance and another from a seemingly impossible angle, who brought the Parisian advantage to +5.
22' : Trois buts en quelques instants pour @Nedim_Remili et ça fait plus +5 ! (9-14) #FENPSG pic.twitter.com/cJnv4VBbnP

— PSG Handball (@psghand) April 20, 2021
Approaching the break, Raul Gonzalez's men maintained their lead (26': 12-17) and then increased it thanks to a quick-fire double from Mikky (27': 12-18). At the other end of the court, Vincent Gérard (11 saves in the match) was also in superb form and so it was no surprise that Paris went into the break seven goals to the good when Nedim punctuated matters with another goal.
Voir cette publication sur Instagram
As soon as the game resumed, the two former Toulouse players were in the spotlight: Luc - despite being well marked by Sadou for most of the mach - conjured a deft pass for Ferran, who beat his former teammate with a lob (34': 15-22). Directly afterwards, it was Vincent who sent a long ball forward for our Spanish right-winger to conclude clinically (35': 15-24). One thing was for sure: the Parisians had not left their motivation in the locker room! Before long they were ten goals up, Henrik Toft Hansen winning his duel against Jef Lettens (38': 16-26).
32' : Oh le magnifique lob de Ferran ! (14-21) #FENPSG pic.twitter.com/WedSR7217f

— PSG Handball (@psghand) April 20, 2021
With the last quarter of an hour approaching, Les Rouge et Bleu controlled matters well (42': 21-28) despite a spirited fight-back from Toulouse (44': 22-28). In great form, Nedim (nine goals) wasn't about to let Toulouse start growing in confidence and quickly got the Parisian juggernaut moving once gain (45': 22-29). The counter-attacks were fluid, with a superb save and quick pass from Vincent enough to send Ferran in for a straightforward finish (47': 23-31). Thanks also to the clinical shooting of Kamil Syprzak (48': 24-33), the capital club streaked ahead once more.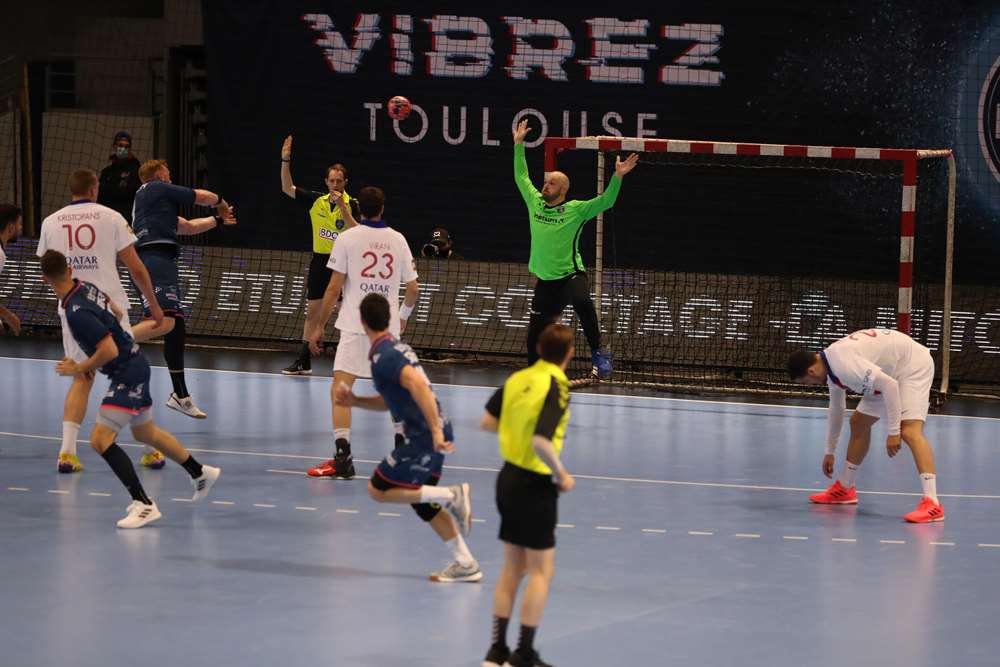 With just a few minutes left to play, the match seemed to be all but over (54': 26-35). Even more so when the two main men of this second act, Nedim (with a long range goal) and Ferran (on a counter), gave their team an 11-point lead (55': 26-37). Paris Saint-Germain Handball thus clinched yet another win (22 out of 22) and reinforced their lead atop the Lidl StarLigue standings. A good omen before the next clash that awaits them on Sunday afternoon against third-placed Nantes at the Stade Pierre de Coubertin.
Voir cette publication sur Instagram
(Credits : J. Azouze/PSG)