Joy, tears and plenty of goals
On Friday evening, Paris Saint-Germain Handball ended their Lidl StarLigue season with a clash at home to Nîmes. Officially French Champions since their victory in Cesson-Rennes (28-34), Paris were in celebratory mood for this last game at the Stade Pierre de Coubertin. It was also the occasion for two of our players, Dylan Nahi and Viran Morros, to say goodbye to their home fans. They will leave our club after the EHF Champions League Final4, which will be held next weekend in Cologne.
Voir cette publication sur Instagram
The game couldn't have started better for Les Rouge et Bleu! They immediately made the breakthrough, after a double from Dylan Nahi and a goal from Nedim Remili (2': 3-0). But after a few minutes, the visitors hit back and levelled matters (5': 3-3). A long fight then began, neither team able to break clear (9': 7-7). Little by little, our players started to hit their straps, becoming more solid in every sector and making the break once more when Luc Steins hit on the counter (11': 9-7). Some fine adjustments were made and the capital club regains a three-goal lead former Nîmes player Elohim Prandi bagged a sweet chabala (12': 10-7).
11': MAGNIFIQUE ! @PrandiElohim attend le tout dernier moment pour glisser un très beau chabala à Desbonnet !

10-8 #PSGNIM pic.twitter.com/ARDQpv5PBg

— PSG Handball (@psghand) June 4, 2021
Ferran Solé Sala wasn't about to be outdone, however - the chabala is a move he is also particularly fond of (14': 11-8) - but stylish goals weren't enough to keep our side clear in front (18': 12-11). Nîmes 'keeper Rémi Desbonnet was getting stronger by the minute and made things tough for our attackers (19': 12-12) and the Parisians could even have found themselves behind had it not been for a fine save from Vincent Gérard. This stop brought the momentum back in Paris's favour and the hosts took the lead thanks once more to the fighting spirit of Kamil Syprzak (22': 14-13) and the agility of Dylan Nahi (23': 15-13). The problem in this first half was that both sides were ready to pounce when the other showed the slightest weakness, leaving them in a deadlock (25': 15-15).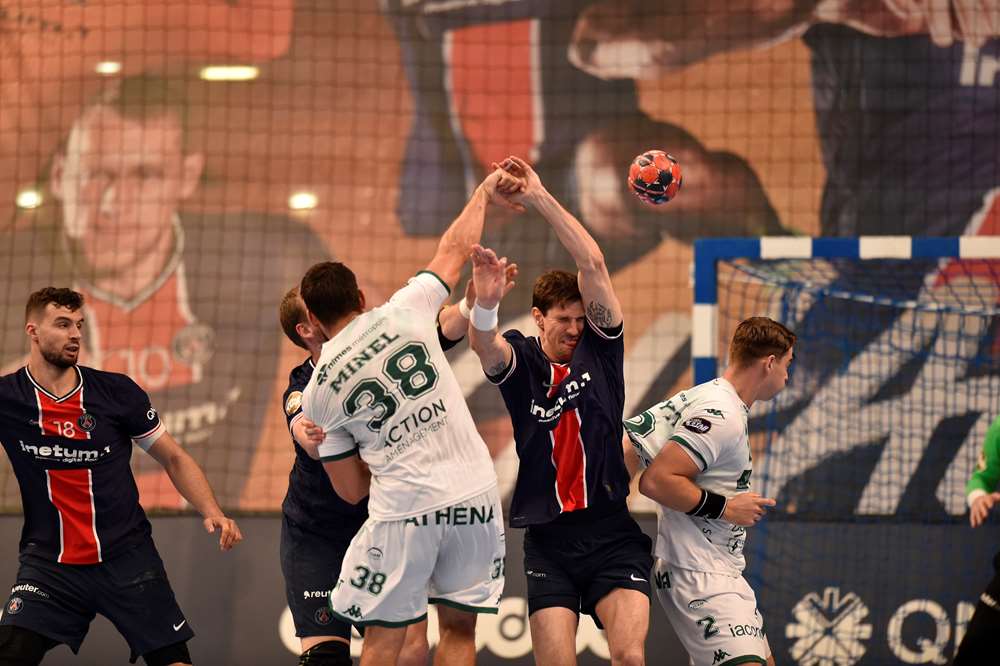 But the storm passed again and Raul Gonzalez's men broke clear once more thanks to counter-attacks from Mathieu Grébille and Ferran (26': 17-15). This time, Paris resisted USAM's fight-back, with Yann Genty notably making a superb superb one-on-one save (28': 19-17) two make sure the capital club went into the break with a +4 advantage.
Voir cette publication sur Instagram
The second half started as the first one did: with Parisian goals - more specifically, two missiles from Mikkel Hansen (33': 23-18). The whole team show pulled together and extended the lead on almost every offensive (37': 26-20), with Luc scoring Paris Saint-Germain Handball's 29th goal of the match - a league-record 1000th goal of the season for the Champions of France (40': 29-22)!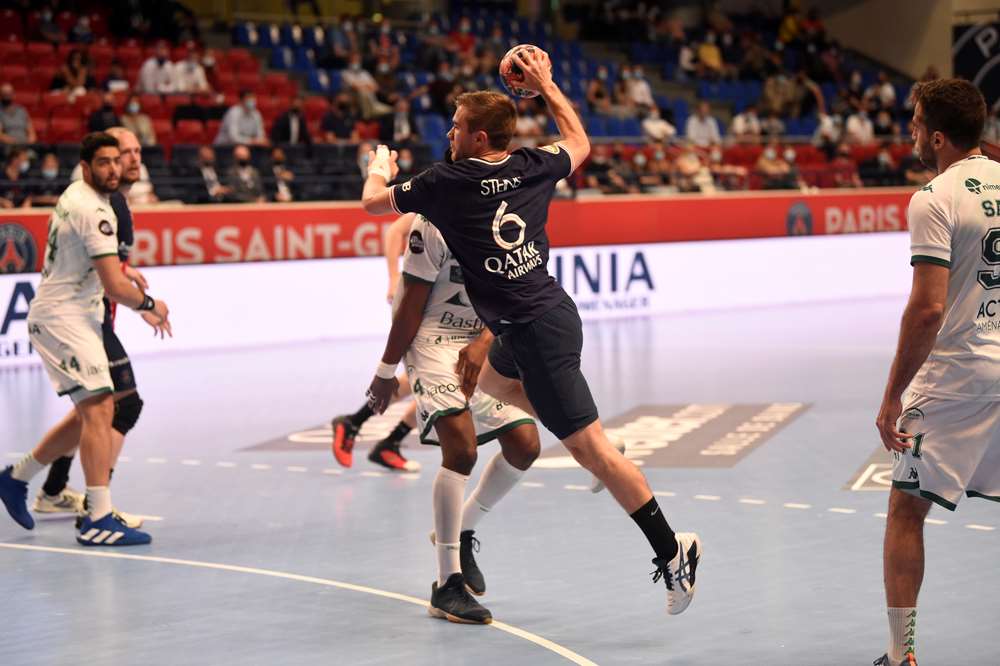 As the last quarter of the game approached, our team consolidated its dominance and took a ten-point lead after a triumphant penalty throw from Mikky (44': 33-23). Even though they were well ahead, they refused to let up! Very solid in defence, they made several interceptions and hit on the counter to go even further clear (46': 34-23). There wasn't much time left and the outcome seemed beyond doubt (48': 36-24) - even more so when Kamil, perfectly played in by Nikola Karabatic took the lead to 13 goals (49': 37-24). Benoît Kounkoud's jinking run kicked off the final ten minutes with a massive lead (50': 38-24).
48': @NKARABATIC capable de contrer un tir adverse d'une seule main ! le n°44 est en forme.

35-24 #PSGNIM pic.twitter.com/t9nxg3BXER

— PSG Handball (@psghand) June 4, 2021
The Parisians' efficiency came close to perfection! Everyone played their part, with Adama Keita getting in on the chabala party (52': 41-25) to help the team set a new club record for goals scored in a single league match!
Voir cette publication sur Instagram
The Lidl StarLigue season thus ended with a bang! Paris collected an all-time league record 55 points, but now it's time for the EHF Champions League! The semi-final against Aalborg will take place next Saturday, while Nantes will face Barcelona in the other semi.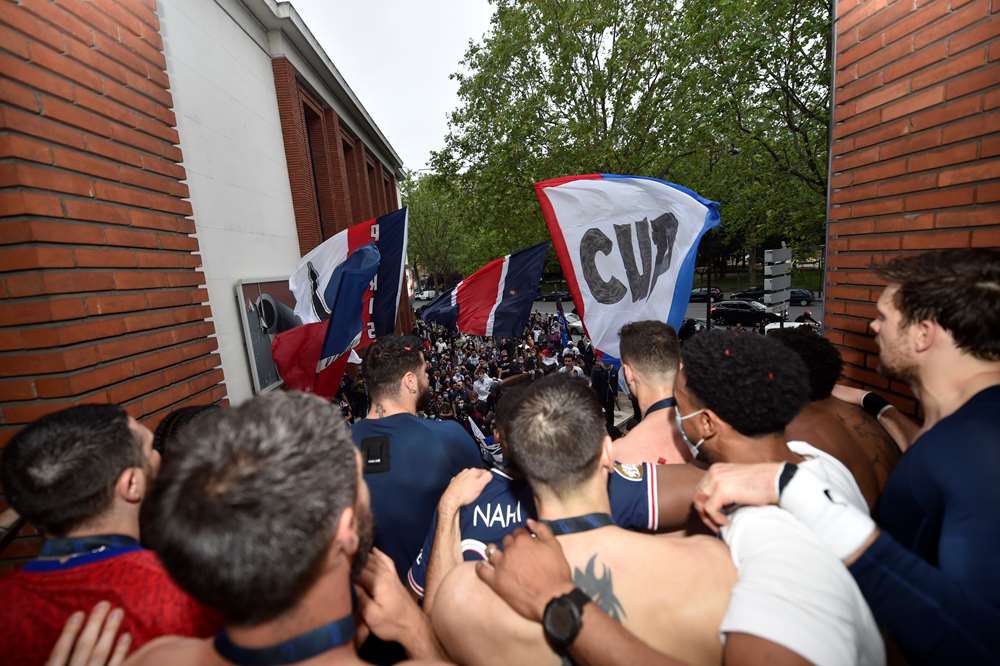 (Credits: TeamPics/PSG)