Voir cette publication sur Instagram
On Wednesday evening, under the watchful eyes of Club President Nasser Al-Khelaïfi, Paris Saint-Germain Handball returned to EHF Champions League action at the Stade Pierre de CoubertinAfter beating Szeged last week (29-32), Paris were this time packing host to Meshkov Brest in their Matchday 12 fixture. The Belarusians, in third place in Group A heading into the match, are one of the few teams to have played all their scheduled matches so far this season, unlike the Parisians, who had played just seven matches before Wednesday's game. The capital club had a chance to go within two points of their opponents on the night with a win, but knew the difficulty of the task ahead after tasing defeat 32-31 in the first leg, as our Polish pivot Kamil Syprzak reminded us before the match.
Kamil did his best to put his money where his mouth was as he hit a quick-fire triple early in the piece (7': 6-3), but it was no less than what was required to keep a feisty visiting side at arm's length (10': 6-5). Dylan Nahi also helped get the Parisians moving in the right direction, first countering an attempt by Marko Panic and then scoring on the next attack (12': 7-5). Although jostled in the different sectors at various moments in the match, Raul Gonzalez's men made a good start, with Benoît Kounkoud notably showing his skills on the right wing (14': 9-6).
12': FESTIVAL de blocs signé Dylan Nahi qui contre à deux reprises les tirs biélorusses et qui s'en va marquer le 7ème but parisien en contre ! MA-GNI-FIQUE #PSGBREST pic.twitter.com/Hy2JuG8O2i

— PSG Handball (@psghand) February 17, 2021
In addition to being clinical, Les Rouge et Bleu were spectacular too: Elohim Prandi stood out in attack, scoring with a kung-fu set up by Nedim Remili (18': 11-8), but also defensively, putting his body on the line to prevent a corner throw (20': 12-8). The problem was that our aggressive rearguard were often punished, and thus it was not with six, but with five that our players had to defend - and Brest found the solutions to get back into the game (24': 13-11). The gap was maintained, however, as Nedim fired in off the post (26': 14-11).
Before the break, things got complicated in attack as our players' shooting accuracy started to slip (28': 14-12). It promised to be a tight encounter, but our team gave themselves some breathing room just before the break. Thanks to a last winning shot from Ben on the buzzer, Paris got back on target and went into the locker room three goals to the good.
Voir cette publication sur Instagram
After the break, the two teams continued to go at each other. Once again, the visitors refused to give an inch and it took a superb one-on-one parry from Yann Genty to prevent them from coming back (36': 18-15). But, even after this set-back, Brest took advantage of yet another power play to come back to within one goal (37': 18-17). A few moments later, they levelled it and the contest began afresh (40': 18-18).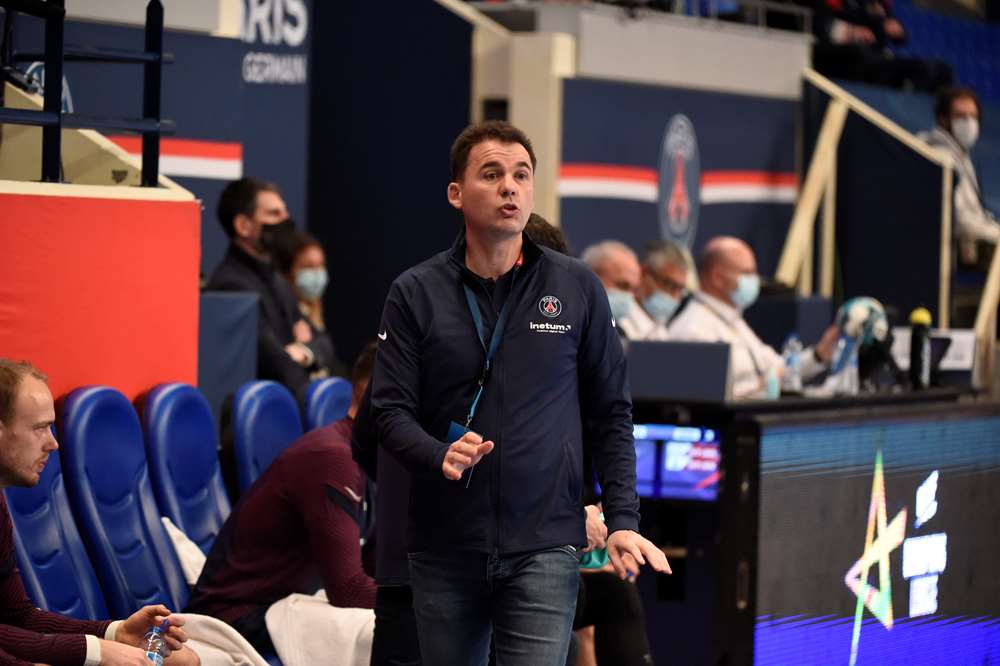 To put an end to their dry spell in attack, Paris looked to captain-for-the-night Mikkel Hansen, who put paid to a six-minute Parisian goal drought (41': 19-18). It was again he who pulled his side level minutes later, blasting a powerful shot into the top corner (42':20-20). The positive influence caught on and Les Rouge et Bleus were back on track! After a strong defensive play, Matthieu Grébille put Paris back in front on the counter-attack (42': 21-20) and then our players then went two to the good with a long-distance goal by Nedim (44': 22-20). After a Yann Genty save, followed by another strike from Benoît, their lead grew even further (45': 23-20).
45': Les 🔴🔵 menés d'un but ont sorti la tête de l'eau et ont passé un 4-0 à @meshkovbrest pour reprendre 3 buts d'avance 23-20 #PSGBREST pic.twitter.com/g9FLMyW9uM

— PSG Handball (@psghand) February 17, 2021
The tide had turned and Paris started to look unstoppable, especially Viran Morros, who pushed out of his defensive sector to convert a counter-attack (46': 25-20). The Spanish international then completed an unlikely double, scoring from his own half (51': 28-22). Really hitting their straps, our players try some difficult but effective shots, with Nedim Remili notably hammering one in off the cross-bar (52': 29-23). Brest tried to hit back by fielding a seven-man attack, but they were caught out and conceded several long-range goals (54': 30-23).
52': On demande un technicien pour venir remplacer la barre transversale cassée en 2 par @Nedim_Remili sur ce but 29-23 #PSGBREST pic.twitter.com/7ebkJW3qgu

— PSG Handball (@psghand) February 17, 2021
As the end of the game approached, Paris Saint-Germain Handball were headed for victory (57': 31-25). A few moments later, they officially clinched the win to move to nine points, just two behind third-placed Brest!
Voir cette publication sur Instagram
(Credits: TeamPics/PSG)