Voir cette publication sur Instagram
Paris Saint-Germain Handball played host to Istres in their rescheduled Lidl StarLigue Round 11 clash at the Stade Pierre de Coubertin on Tuesday afternoon. While Les Rouge et Bleu had a chance to take a four-point lead over nearest rivals Montpellier (who come calling on Saturday evening), they also had a golden opportunity make league history by setting a new record for the winningest start to a league campaign by clinching a 20th consecutive win (record until then held by the MHB, with 19). Meanwhile the visitors - four points clear of drop candidates Ivry but having played two more matches - were out to put some daylight between themselves and the relegation zone.
Avant #PSGISTRES, découvrez notre interview avec @Gerard_Vincent !

— PSG Handball (@psghand) April 13, 2021
As was the case in the first leg last February (22-32), the beginning of the game was evenly balanced (4': 2-2). But this time, the Parisians didn't take an entire half to get going and quickly made the break through Mathieu Grébille (5': 4-2). However, although our team were in the lead (8': 6-5), they hadn't broken clear and the Violets clawed their way back (12': 6-6). Fortunately, after several good defensive sequences and two counter-attacks concluded by Ferran Solé Sala, Paris reasserted a three-goal lead (14': 9-6).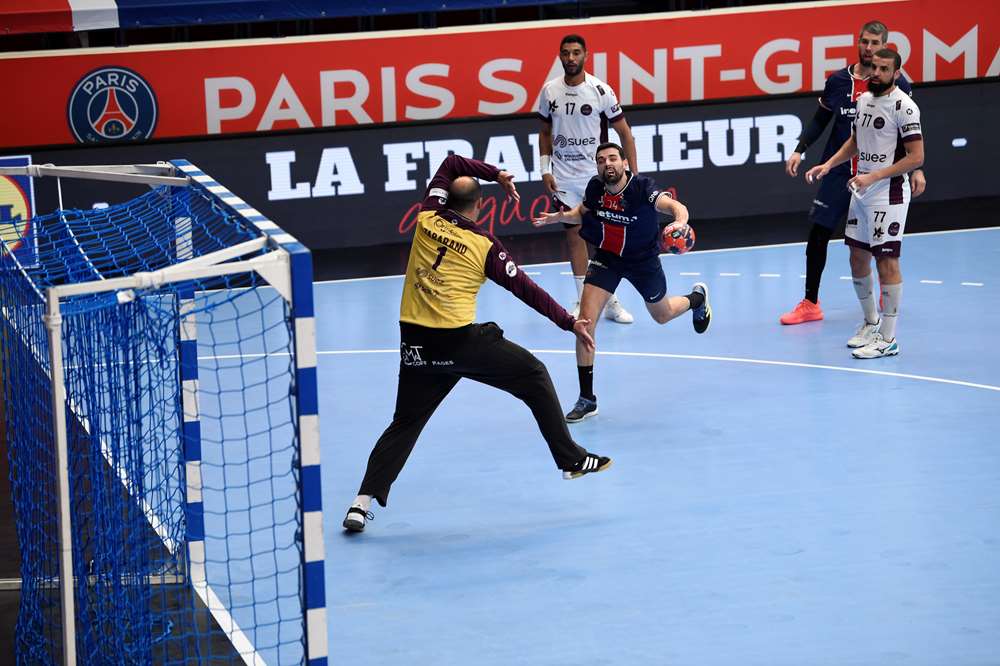 The gap could have been even bigger had Istres 'keeper Arnaud Tabarand not made several strong saves (17': 10-8). For several long minutes, the two formations duked it out in both defence and attack (20': 13-11). To edge away, Paris looked to left-back Elohim Prandi, who conjured stylish assists for Kamil Syprzak and Luc Steins (22': 14-11). The French international then managed to get his side four points to the good for the first time in the match (25': 17-13) - scoring his 400th Lidl StarLigue goal in the process.
26' : 400ème but en @LidlStarligue pour @PrandiElohim !!! 💪 (17-13) #PSGISTRES pic.twitter.com/ZCuHHeLV7l

— PSG Handball (@psghand) April 13, 2021
Les Rouge et Bleu thus finished the first half well and went into the locker room with a confidence-boosting five-point advantage.
Voir cette publication sur Instagram
At the resumption of play, the Parisians again started strong and increased the lead (35': 22-15). Our rear-guard, repositioned into a 5-1 formation with Viran Morros as an outfielder, made the task easy for 'keeper Yann Genty, who effectively shut up shop (38': 24-16). In attack, our team also showed a formidable efficiency, with Luka Karabatic striking with a chabala (41': 26-18). The last quarter of the game was approaching fast and Raul Gonzalez's men, solid in all sectors, maintained perfect control of proceedings (43': 27-19) and went to +9 when Mathieu struck once more.
45' : Cinquième but pour Mathieu ! (28-19) #PSGISTRES pic.twitter.com/JCJb7dH061

— PSG Handball (@psghand) April 13, 2021
It was Elohim, with his usual style, who gave the capital club a ten-goal lead (46': 29-19). A few moments later, the game looked to have definitely tilted in favour of our team (47': 30-19). Even when they went two men down (with the temporary send-offs of Ferran and Dainis Kristopans) for more than a minute and 40 seconds, they continued to boss matters and Mikkel Hansen celebrated his 200th Lidl StarLigue appearance with yet another successful penalty (49': 30-20).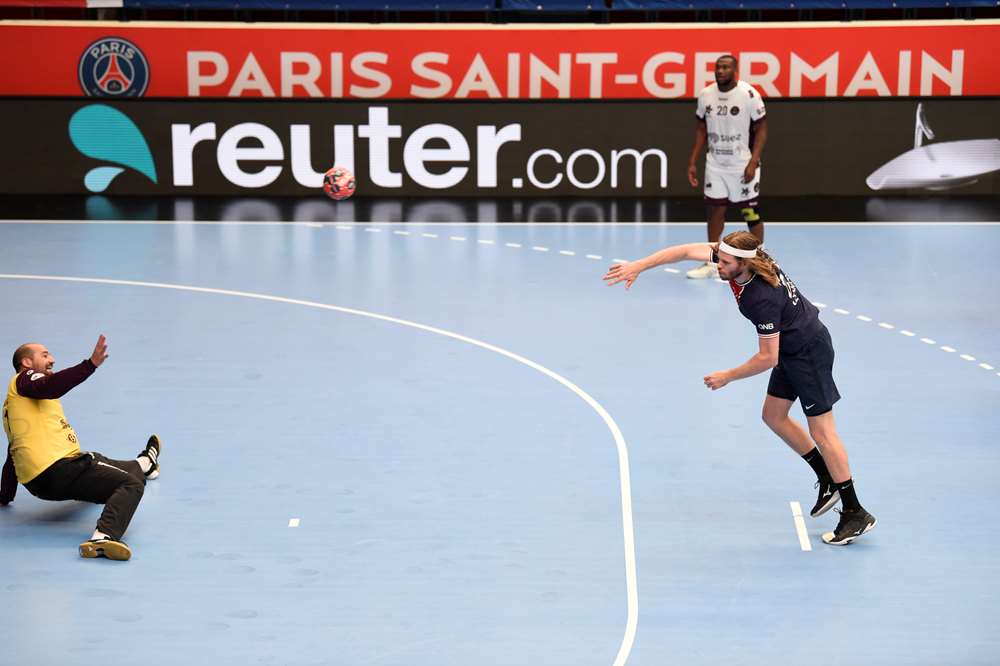 In spite of some wayward shooting, Les Rouge et Bleu managed matters well in the final minutes (53': 32-24). A scorer in Dunkerque two days earlier (22-30), youngster Baptiste Clay once again got on the scoresheet with the big boys (55': 33-24). Paris Saint-Germain thus clinched their 20 win in as many matches this season, setting a new Lidl StarLigue record. Their main objective, the title of Champions of France, should draw even closer should they stretch their record to 21 and beat nearest league rivals Montpellier in Saturday night.
Voir cette publication sur Instagram
(Credits: TeamPics/PSG)