Paris Saint-Germain and Jordan Brand launch a bold third collection
A few days after celebrating the fifth anniversary of their collaboration, Paris Saint-Germain and Jordan Brand today revealed the club's THIRD collection for the 2023/2024 season. For the first time, the iconic elephant print, intimately connected with the Jumpman throughout the world since its appearance in 1988, will show up on a football jersey.
As the centrepiece for the collection, the jersey, which is designed to be worn for major fixtures, will be donned by the Parisian players for the first time when the UEFA Champions League returns and they host Dortmund on 19th September in the Parc des Princes.
With this collection, including gameday, training and lifestyle products, Paris Saint-Germain and the Jordan Brand are starting a new chapter in their exclusive partnership. This THIRD range features a unique and elegant colour palette, made up of understated tones of grey and beige with black details and flashes of orange. An iridescent tint enhances the design of some of the items in the collection, including the jersey.
The apparel designed by Jordan Brand is coupled with an Air Jordan 6 Low and Jumpman Peat 3 shoes, both in the same colours as the rest of the range.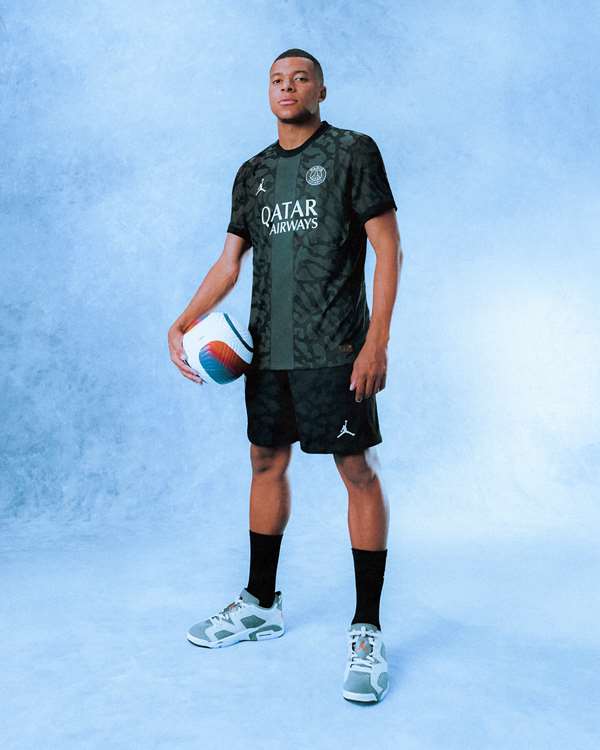 To boost the launch of this THIRD 2023/2024 collection and celebrate the elephant print's first appearance in the world of football, Paris Saint-Germain and the Jordan Brand are dipping into the archives. Creative and original, the campaign has a resolutely vintage style. The visuals echo the codes of the 80s and 90s, both in colorimetry and composition.
Paris Saint-Germain and Jordan Brand have also adopted an innovative design approach, centred around sustainable development, that will enable the athletes to achieve high performance while minimising their environmental impact: The Dri-FIT ADV kits are made from 100% recycled polyester.
This new kit will be worn by the men's football team and joins the rest of the club's kits for the season, following the unveiling of the HOME kit in May and the AWAY kit in July.
The new jersey and some pieces from the apparel collection are now available at store.psg.fr and in PSG and NIKE stores worldwide after kick-off. The complete THIRD 2023/2024 collection will be available from 26th September in the official Paris Saint-Germain stores across the globe, at store.psg.fr and across the whole Nike/Jordan distribution network.