Preview: 5 things about GOG - PSG Handball
One week after a prolific victory (41-36), Paris Saint-Germain Handball will once again do battle with Gudme Oure Gudbjerg Handball (GOG) on Wednesday evening. But this time, in EHF Champions League Matchday 8 action, the clash will take place in Denmark!
1 - THE TABLE 

Despite having racked up three defeats and a draw to go with their three wins, the Danish team are having an interesting campaign. With seven points, they are three ahead of Zagreb, who occupy the first play-off place.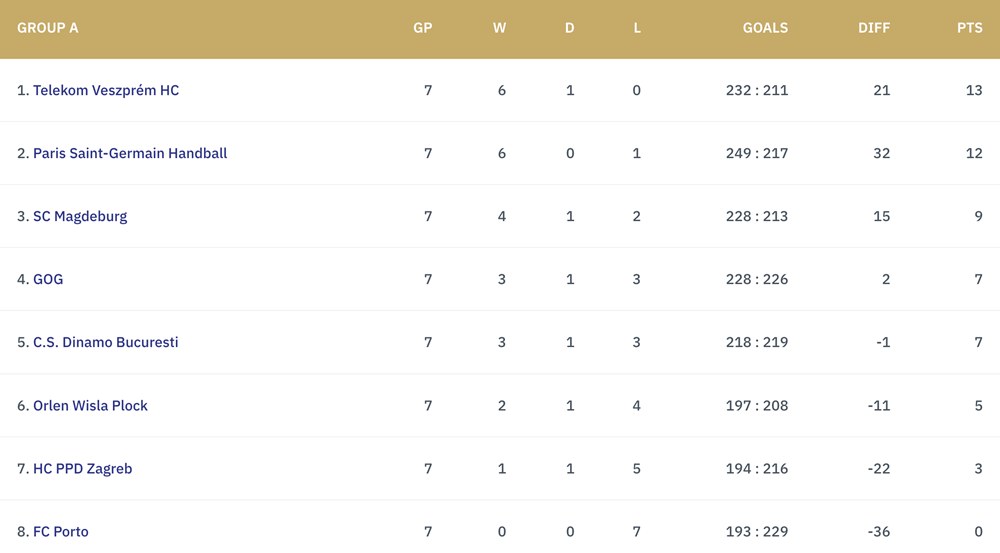 Les Rouge et Bleu, for their part, are on a roll. Leaders in the Liqui Moly StarLigue, they are also close to the top of Group A, where they are only one point behind leaders Veszprém. They are also three points ahead of third team and therefore in a good position to finish in the top two (which qualify directly for the quarter-finals).
60' : Grâce à un @JannickGreen stratosphérique (17 parades), les 🔴🔵 s'imposent devant GOG ! Plus d'infos à venir ! #PSGGOG pic.twitter.com/kU4Lck25f9

— PSG Handball (@psghand) November 23, 2022
2 - A LOOK BACK AT THE FIRST MATCH
Last week, the match was no walk in the park for the capital club as they faced a feisty GOG team who weren't about to play the sacrificial lamb. But, although they managed to muzzle our attack in the early stages (8': 1-4), our players settled into the match and had no fewer than 17 saves from Jannick Green to help them turn it around. The Danish international was one of the driving forces behind his team's success against his compatriots (41-36).
3 - GOG'S HOME GAMES 

One thing is certain: if our future opponents are not easily manoeuvrable away from home, they are even less so in the Jyske Bank Arena! In front of their 4,000 fans, the Danes have already succeeded in beating Magdeburg (33-32) and also came close to a great performance against Veszprém (30-31).
4 - KEY STATS 

With 41 goals scored in their last match, Paris' attack is now the second-most prolific in the competition, with 249 strikes, thanks in particular to the 47 goals scored by Kamil Syprzak (the league's second-top scorer). Only Barcelona have done better - slightly - with 254. GOG are not all that far behind, however, in eighth (228).
Voir cette publication sur Instagram
Defensively, GOG's goalkeeping duo of Tobias Thulin and Matthias Dorgelo top the Champions League saves chart with 97 (226 goals conceded). For Paris, Jannick Green is the eighth-most effective keeper in the competition, with 54 shots saved (Paris have conceded 217 times).
Voir cette publication sur Instagram
5 - TO FOLLOW THE MATCH
Throw-off: 20:45
Television: Eurosport
Social networks: Live-tweet
𝗖𝗟𝗔𝗦𝗦𝗜𝗖 𝗥𝗜𝗩𝗔𝗟𝗦 𝗖𝗟𝗔𝗦𝗛 𝗔𝗚𝗔𝗜𝗡 𝗜𝗡 𝗦𝗧𝗔𝗥-𝗦𝗧𝗨𝗗𝗗𝗘𝗗 𝗠𝗔𝗧𝗖𝗛 𝗢𝗙 𝗧𝗛𝗘 𝗪𝗘𝗘𝗞#MOTW 🌟 | @FCBhandbol 🆚 @thw_handball
👉 Special tribute to @VictorTomas8 after the match!

𝗥𝗼𝘂𝗻𝗱 8 𝗽𝗿𝗲𝘃𝗶𝗲𝘄 📝 https://t.co/DvOHe2TVLG pic.twitter.com/DPEjwP16Qj

— EHF Champions League (@ehfcl) November 29, 2022
(Credits: L. Valroff/Team Pics/PSG)