Voir cette publication sur Instagram
After Montpellier and Toulouse, another Lidl StarLigue clash awaited Paris Saint-Germain Handball on Sunday afternoon: the league leaders (22 victories in as many games), played host to third-placed Nantes in their Lidl Starligue Round 24 clash at the Stade Pierre de Coubertin. A massive domestic fixture that featured two of France's EHF Champions League representatives (Paris will face Kiel in the quarter-finals, Nantes will face Veszprém). As has been the case for several years, the match promised to be very tight and full of twists!
Tenez-vous prêt ! le choc de la J24 de @LidlStarligue commence maintenant ! #PSGNAN pic.twitter.com/8D0gmZq1gd

— PSG Handball (@psghand) April 25, 2021
Despite the fact that it was the visitors who opened the scoring, it was Les Rouge et Bleu who got off to the better start. The backline set the tone: Elohim Prandi, Dainis Kristopans and Luc Steins all scored in their own style to make the first break (4': 3-1). At the other end of the court, The H's attack had more difficulty finding the goal and spent more than six minutes without managing to beat Vincent Gérard (7': 5-2). Even from the penalty line, Valero Rivero couldn't find a way past the France 'keeper (10': 6-2).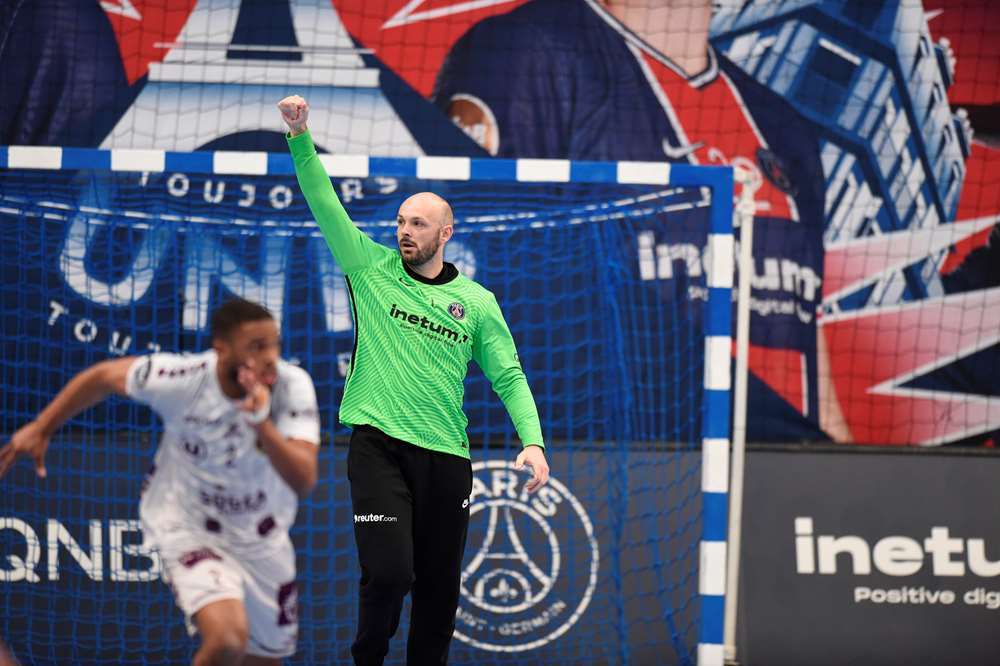 However, as the minutes passed, the match became more balanced (14': 7-5). Although Vincent won a few more duels and Henrik Toft Hansen hit a double (16': 9-5), the trouble was that Nantes' Emil Nielsen was gradually getting stronger and starting to upset our offensive line (20': 9-7). We also witness a match within a match between the two goalkeepers. It was then the Parisians' turn to experience a lengthy goal drought, and Nantes took full advantage to level the score (22': 9-9).
21': Le mano à mano entre les 🔴🔵 et les 🟣🟡 se poursuit ! Paris a un peu plus de difficultés à trouver des solutions. Pas de but depuis 6min

9-8 #PSGNAN pic.twitter.com/vp5KJw2pnv

— PSG Handball (@psghand) April 25, 2021
The visitors finished the first half well and even took the lead (24': 9-10). Hampered by an aggressive defence, Raul Gonzalez's men could not find the breakthrough... Trailing by two points (25': 9-11), they were able to rely on Vincent to limit the damage and come back, thanks to Kamil Syprzak and Elohim (28': 11-11), but also, a little later, through a kung-fu by Dainis (29': 12-12). At the break, Nantes were still leading by one point thanks to a final goal by Alexandre Cavalcanti.
Malgré une très bonne première période de son gardien @Gerard_Vincent 12 arrêts / 48% les Parisiens paient pour l'instant leur manque d'efficacité face au but adverse.

Il faudra faire mieux offensivement dans le deuxième acte ! pic.twitter.com/J1BBi0IHgz

— PSG Handball (@psghand) April 25, 2021
The beginning of the second half didn't go much better and The H took a three-point lead (31': 12-15). Nielsen was still on fire and our players showed a lack of cutting edge from both the six- and nine-metre lines. Fortunately, the seven-metre line worked out better as Mikkel Hansen reduced the gap with a penalty (37': 14-16) - his 400th in the Lidl StarLigue. Against this very solid backline, Raul opted for a seven-man attack but the Danish goalkeeper continued his star turn and even took the liberty of scoring once himself (40': 14-18).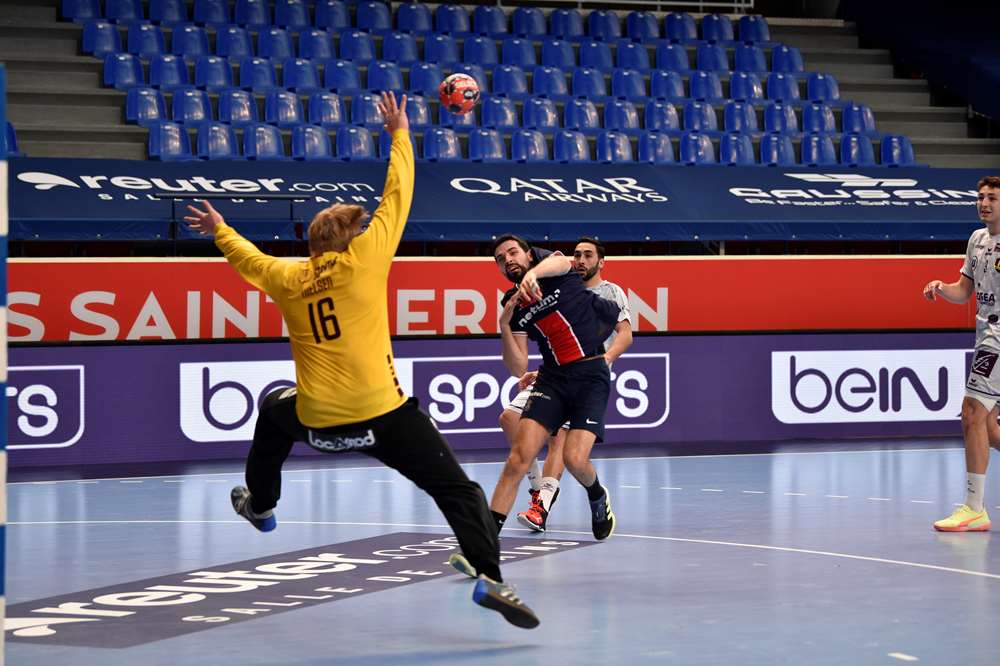 A few moments later, the game looked to be back on track for Les Rouge et Bleu, who made up some of their deficit (43': 17-19). The final minutes were approaching fast and promised to be spectacular (46': 18-20). The game was even more spectacular when Nedim Remili brought Paris back to within one point after a solo effort (48': 19-20) but even with this fight-back, the visitors hung onto their lead (49': 19-22). Both offensive lines began to attack with seven players and both defending and finding a way past the opponent became very difficult (51': 20-23).
49': Un match dans le match entre @Gerard_Vincent et Nielsen ! 16 arrêts Vs. 12 arrêts

19-22 #PSGNAN pic.twitter.com/uHoidSEutg

— PSG Handball (@psghand) April 25, 2021
The end of the game was extremely tense (57': 22-25), with Paris Saint-Germain Handball getting back to within one goal in the final ten seconds. Unfortunately it was too late and capital club conceded their first defeat of the season - after becoming the first team to start a season with 22 wins. Paris Saint-Germain Handball still have at least a four-point lead over nearest rivals Montpellier (currently six, but the MHB have only played 22 matches).
Voir cette publication sur Instagram
(Credits: TeamPics/PSG)