Paris turn it around against Porto!
Voir cette publication sur Instagram
After three weeks without an EHF Champions League match, Paris Saint-Germain Handball returned to European action on Wednesday afternoon at the Pavilhao Dragao Arena in Porto, on the occasion of Matchday 7. In order to get back to the top of the table, it was absolutely necessary to win. The task was, however, going to be difficult, facing a team that had already challenged some big teams, notably in their draw against Kielce (32-32).
But, even though they knew what to expect, Les Rouge et Bleu did not immediately manage to tame the Portuguese (4': 2-0); it was only after the initial exchanges that they took control of the game. The 5-1 defence, with Mathieu Grébille as an outfielder, troubled Porto's offensive line and provoked several turnovers. And it was our left-winger, on a counter-attack, who struck to put the Parisians in front.
10' : Dainis contre un tir adverse, Mathieu le bonifie en but ! On passe en tête ! (3-4) #FCPPSG pic.twitter.com/Rr5gH9RnqS

— PSG Handball (@psghand) November 18, 2020
To avoid getting into dangerous territory, the Parisians couldn't afford to let Porto's impressive 'keeper Alfredo Quintana Bravo get comfortable, but as the minutes ticked by, he came more and more into his own (15': 7-5). And when Bravo scored a goal of his own, Raul Gonzalez had no choice but to call a first time-out (16': 8-5). In addition to this delicate situation, Porto switched to a seven-man attack and piled on the goals (19': 9-5), despite Vincent Gérard's various saves. The home side were firing on all cylinders and the Parisians struggled to find solutions (23': 11-6).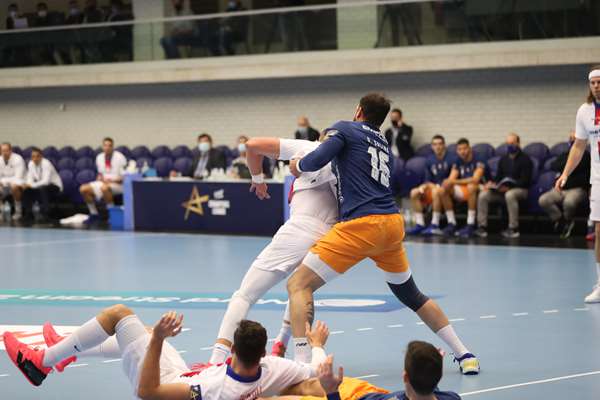 In the last moments of the first half, both sides showed a lot of efficiency and the goals rained down. Paris had regained their cutting edge, but were still adrift on the scoreboard.
30' : A la pause, Paris est mené, mais rien n'est joué ! #FCPPSG pic.twitter.com/0KF6Sqj1u3

— PSG Handball (@psghand) November 18, 2020
However, Raul's team talk during the break worked. As soon as the match re-started, Les Rouge et Bleu began their comeback! Much more solid in defence, they halved their deficit thanks to a double from Benoît Kounkoud (33': 18-16). A few moments later, some heroics from Vincent and Dylan Nahi, they even levelled it up (35': 18-18)! The seven-man attack, now used by the Parisians, was wreaking havoc! Quintana Bravo began to struggle and could not prevent Mikkel Hansen from turning things around!
38' : @mikkelhansen24 marque et on passe en tête ! (20-21) #FCPPSG pic.twitter.com/Yqnmmk3x5e

— PSG Handball (@psghand) November 18, 2020
The momentum in the match had clearly changed sides. Dylan, once again, took advantage to score with a magnificent spin-shot (42': 21-22). Paris continued to step on the gas Nedim Remili struck to put his side two goals to the good for the first time in the match (45': 23-25). With the final minutes approaching, it was our side in the driver's seat (49': 23-26).
It's the old one-two for Dylan Nahi with a nice spin finish and a 2-minute suspension to boot!@psghand turning on the style in the second half as they search for their second #ehfcl win of the season... pic.twitter.com/4BRp5fpdNU

— EHF Champions League (@ehfcl) November 18, 2020
However, Les Rouge et Bleu missed several chances to go four goals up, leaving Porto within striking range. Fortunately, Vincent (11 saves) shut up shop and stopped almost all the Portuguese side's attempts (51': 23-26). The final minutes were approaching fast and the game was still not decided (55': 26-29). It was our captain, Luka Karabatic, who gave the Parisians a four-goal lead (after having been four goals behind at the break), by scoring acrobatically, after his initial effort has been saved (57': 26-30).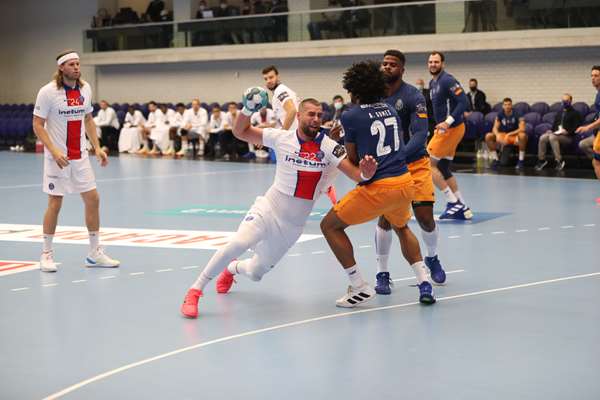 Paris Saint-Germain Handball managed their lead perfectly in the dying stages and ran out deserved winners! The victory is the second of their Champions League campaign, and the first away from home! The return match will take place next Thursday, at the Stade Pierre de Coubertin.
60' : C'est terminé ! Quelle deuxième période des Rouge et Bleu !!!! Plus d'infos à venir ! #FCPPSG pic.twitter.com/WgExIxzhe1

— PSG Handball (@psghand) November 18, 2020
(Credits: J. Azouze/PSG)