Voir cette publication sur Instagram
On Sunday afternoon, Paris Saint-Germain Handball were in Lidl StarLigue Round 28 action. Although they could not be crowned French Champions as nearest rivals Montpellier had beaten Aix on Saturday night, they could nevertheless get closer to the title. However, Saint-Raphaël, who travelled to the Stade Pierre de Coubertin, were out to make the capital club's mission as difficult as possible - especially as they were coming off a rousing victory away to EHF Champions League semi-finalists Nantes (27-32). This game was also the occasion of our centre-half Nikola Karabatic's return to action after sustaining a serious knee injury back in October.
From the beginning, Les Rouge et Bleu took the lead and did so in style, with Dylan Nahi beating Mihai Popescu with a superb lob (2': 2-1), Dainis Kristopans finding the top corner (4': 3-1) and Vincent Gérard pulling off a pastis (6': 5-3). But Saint-Raphaël had the answers and came back thanks to former Parisian Fahrudin Melic, who produced a perfect chabala (9': 5-6). Worse, a few moments later, following a Parisian turnover, Jonathan Mapu capitalised on the resulting counter-attack to give his side the lead for the first time and force Raul Gonzalez to call a time-out (10': 5-6).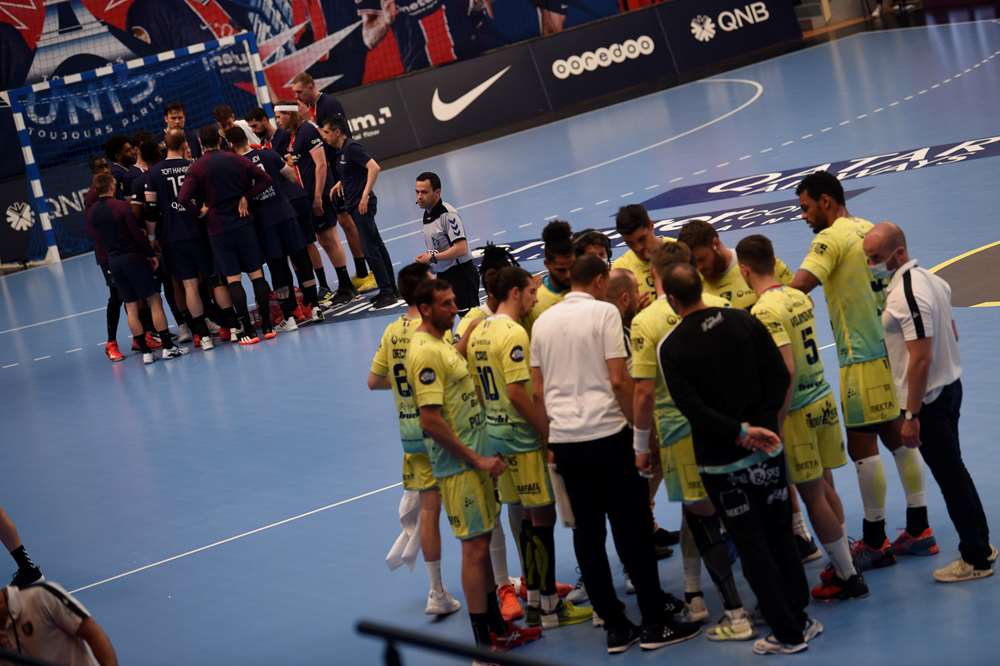 The instructions were well understood and our players quickly took a two-goal lead (13': 9-7). Much more solid in every sector, pressured visiting coach Dan Rares Fortuneanu to call his own time-out (15': 10-7). It proved equally successful and his side hit back (19': 11-10). Raul then opted to bring on Nikola Karabatic, who struck with a rebound shot on his first possession(20': 12-10) before doubling down with a defence-splitting run and a powerful finish (21': 14-12). Then, for his third possession, he teed up Kamil Syprzak who put his side three goals to the good (22': 15-12).
19': ça y est @NKARABATIC joue ses premières minutes depuis le 17 octobre et il marque déjà son 1er but !

12-10 #PSGSRVHB pic.twitter.com/PnLay0D05o

— PSG Handball (@psghand) May 30, 2021
Our players weathered the storm pass and broke further clear after a long-range strike from Vincent (23': 16-12). The visitors managed to push back (26': 17-16) but, in spite of being temporarily two men down, Les Rouge et Bleu continue to lead the dance (28': 18-16). The pace was very high and many goals were scored leaving the game far from decided at the break (30': 20-18).
Voir cette publication sur Instagram
As soon as the match resumed, so did the high-octane battle (31': 20-19). The Parisians hit the harder and made the break again after two counters, concluded by Nedim Remili and Dylan (33': 22-19). They then saw their advantage increase to +4 after a 7m throw from Mikkel Hansen (34': 23-19). The rearguards were often punished: many penalties were blown and temporary suspensions rained down. But then Ferran Solé Sala found the gap Alexandre Demaille's far post, giving his team a five-goal lead and scoring his 500th Lidl StarLigue goal in the process (37': 26-21).
500 ème et 501ème but pour @ferransole14 en @LidlStarligue pour donner un avantage de +5 à Paris.

27-22 #PSGSRVHB pic.twitter.com/KOAJAk4EeA

— PSG Handball (@psghand) May 30, 2021
The time passes and Les Rouge et Bleu kept their cushion as Mikky scored yet another penalty (40': 29-24) and Nedim produced a chabala (42': 30-25). But they were not content to coast, increasing their advantage after two goals on fast breaks, scored by Ferran (43': 31-25) and Hansen (44': 32-25). Our team dominated the second half and continued to build on their lead (45': 33-25). At the beginning of the last quarter - and after two attacks led and concluded by Nedim - they went to +9 (46': 34-25), then to +10 (47': 35-25). Paris began to really enjoy themselves in front of goal Elohim Prandi striking with a kung-fu (48': 36-26) while Vincent hit a double (49': 37-26).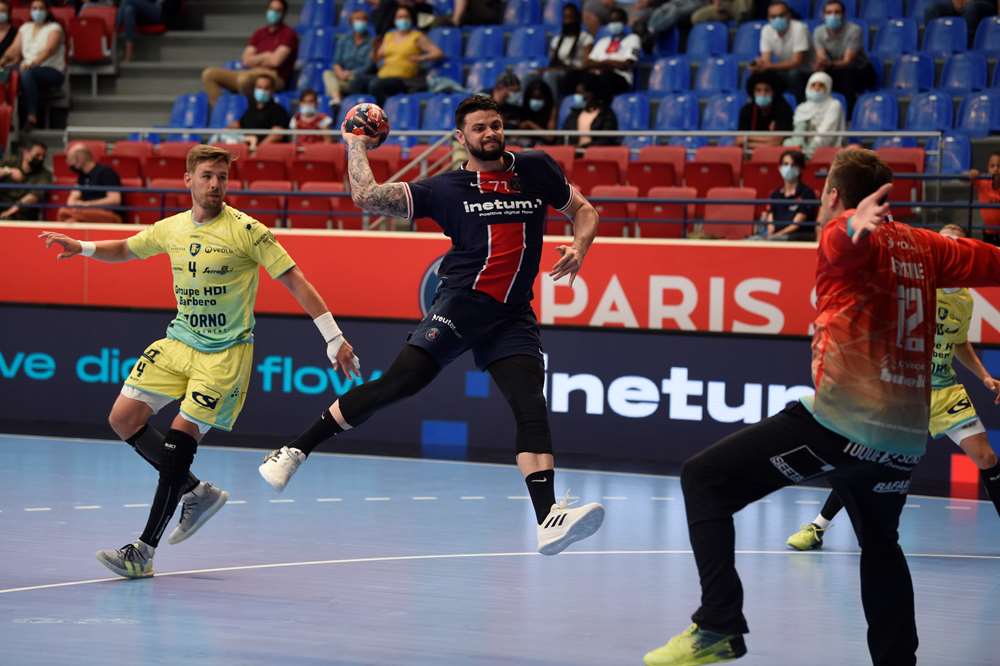 In spite of a fight-back from Saint-Raphaël, our players did the necessary to make the end of the game easier (52': 37-28). This was an opportunity for Niko to find the net again, this time with a spin-shot after a very nice pass from Benoît Kounkoud (54': 39-29). With 43 goals, Paris Saint-Germain Handball won comfortably and set a new season record for goals in a single match (previously 42, against Limoges) and maintained a three-point lead over nearest rivals Montpellier. A draw on Wednesday in Cesson-Rennes would allow Paris Saint-Germain Handball to be officially crowned as Champions of France.
Voir cette publication sur Instagram
(Credits: TeamPics/PSG)