Paris make perfect history!
Voir cette publication sur Instagram
On Sunday afternoon, Paris Saint-Germain Handball were in Lidl StarLigue Round 22 action, looking to continue their perfect start to the season - 18 from as many matches heading into the match) - and close in on Montpellier, who hold the record for the winningest start to a French handball season in history. But the task did not look easy! While opponents Dunkerque were not far clear of the drop zone before the match, the Northerners never go down easily, and even more so at the Stade des Flandres.
Avant #USDKPSG, @PrandiElohim s'est confié !

— PSG Handball (@psghand) April 11, 2021
From the beginning, Les Rouge et Bleu took the match in hand. Well led by the power of Dainis Kristopans, the vivacity of Luc Steins and the saves of Vincent Gérard, they quickly took off and forced USDK to call a first time-out (4': 1-4). These three standouts from the beginning of the game also shone defensively! While our last rampart saved opponents' attempts (9': 3-6), Dainis intercepted balls that were converted on the counter (12': 4-7) and Luc put his body on the line to force opportunities into existence (16': 4-9).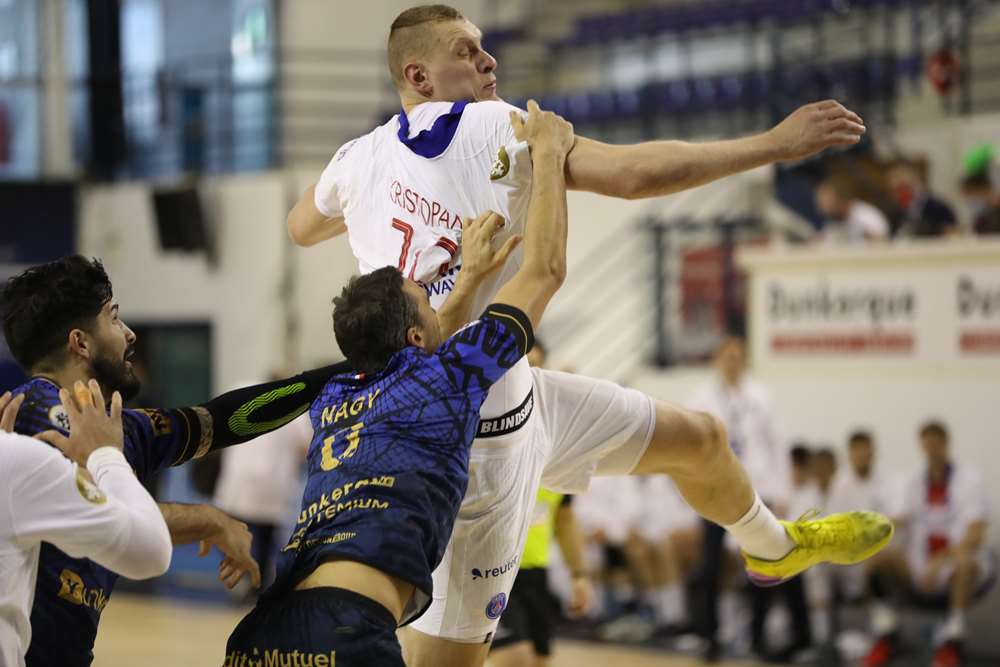 However, in spite of this solidity, the locals managed make up some of their deficit (18': 5-9) as, for several long minutes Dunkerque goalkeeper Samir Bellahcene repelled all our team's efforts (21': 6-9). To break the drought, Raul Gonzalez's men looked to the clinical Kamil Syprzak (22': 6-10), whose super strike got his team going in the right direction! In a few moments, the team was back on track, with Nedim Remili hitting a sublime goal.
26' : Oh la lucarne de @Nedim_Remili ! Magnifique !!! (8-13) #USDKPSG pic.twitter.com/yiKXNDDJz9

— PSG Handball (@psghand) April 11, 2021
However, once again, Dunkerque refused to let go and set about clawing their way back into the match (28': 10-13). At the break, after a last penalty from Mikkel Hansen on the buzzer, Paris still had a handy lead.
Voir cette publication sur Instagram
The second half started on the same basis, with a winning penalty from Mikky, but also with more saves from Bellahcene (34': 12-16). Fortunately, substitute Yann Genty also stepped up. In the space of a few attacks, our goalkeeper conjured not just a pastis but also penalty save from Florian Billant (35': 12-16). Les Rouge et Bleu were perfectly in control of matters and our captain Luka Karabatic took the opportunity to score his 300th Lidl Starligue goal for Paris !
39' : 300ème but en @LidlStarligue avec Paris pour @LKARABATIC_Off ! (14-20) #USDKPSG pic.twitter.com/2QB33QYtPP

— PSG Handball (@psghand) April 11, 2021
At the approach of the final quarter, the capital club were still in a favourable position (43': 14-22), and even more so when Yann racked up the saves and Dainis flew to the nine-metre line to increase the lead (45': 14-23). Fittingly, it was our Latvian giant who rifled home at the far post to put our side ten goals to the good (45': 14-24) while our young centre-half Baptiste Clay accrued some playing time and capitalised by scoring - also on the counter (46': 14-26). The home side's attack couldn't see, to find the gaps and didn't trouble the scoreboard operator for nearly 10 minutes - a period during which our team all but killed the match off (48': 14-19 ; 47': 15-26).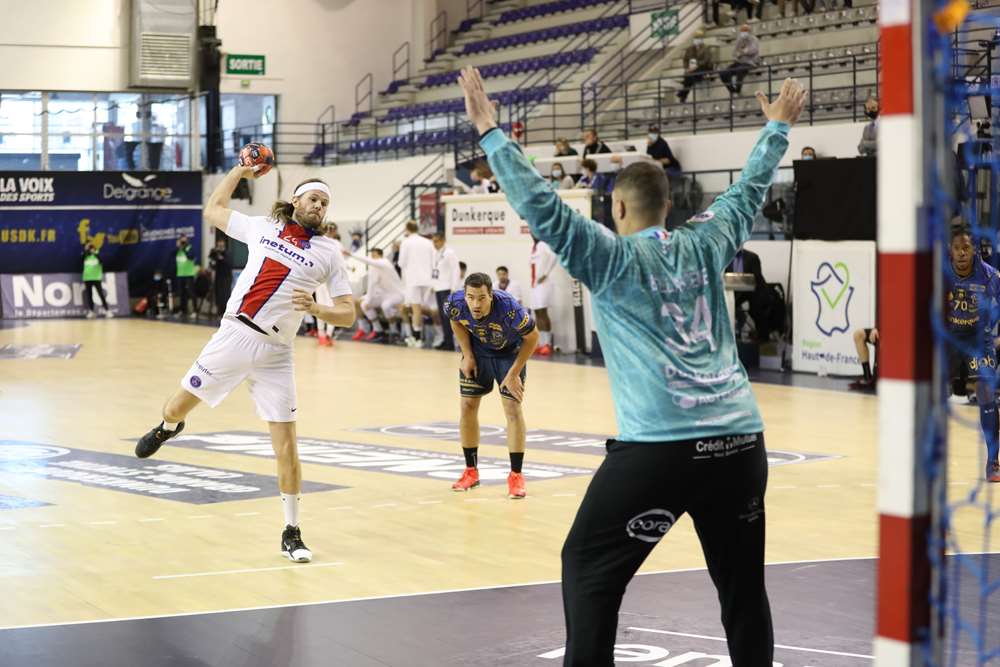 As he minutes ticked down, the result was clearly beyond doubt (53': 18-28) and Paris Saint-Germain Handball duly ran out winners for a 19th consecutive time in the Lidl Starligue this season. On Tuesday, against Istres, they will have the opportunity to become outright holders of the record for the best start to a Lidl Starligue season, with a run of 20 wins to start a seasons. Finally, on Saturday, they will play host to nearest rivals Montpellier Stade Pierre de Coubertin.
Voir cette publication sur Instagram
(Credits: J. Azouze/PSG)