Voir cette publication sur Instagram
The stand-out match of Paris Saint-Germain Handball's four-match week was definitely the rescheduled EHF Champions League Matchday 9 clash at home to Kielce on Tuesday evening. The Group A leaders, who won the first leg 35-33, travelled to the French capital looking to firm their grip on top spot, but our side knew they could climb to within one point of the summit with a win over the Poles and the match proved to be yet another super-charged affair between the two sides.
Comme @Adams_Keita, on attend choc à 18h45 entre le @kielcehandball et Paris ! @ehfcl

— PSG Handball (@psghand) February 23, 2021
For this seventh duel between these teams in the Champions League (three victories and three defeats each before this match), there was no feeling-out period. The pace was high from the start, with he game moving quickly and the goals raining down (2': 3-3). But after a few minutes, the Parisian rearguard, led by the ever-excellent Vincent Gérard, took the upper hand over the Polish attack. At the other end of the court, our offensive line were razor-sharp and made the break (10': 7-3). Nedim Remili and Luc Steins were the driving forces going forward in Paris's excellent start to the match (14': 11-5).
If you are wondering why @psghand signed Luc Steins, here is a good example why... 💥🤾 pic.twitter.com/k1D9G0SNbX

— EHF Champions League (@ehfcl) February 23, 2021
The Parisian defence showed plenty of courage and concentration, but even when Kielce had the opportunity to narrow the gap, Elohim Prandi and then Dylan Nahi thwarted their plans with some crucial interceptions (18': 11-6). For his part, Kamil Syprzak wasn't holding back against his compatriots; often played in well by his rearguard, our pivot hit a quick-fire triple and propelled his team further forward (24': 16-8). The capital club was proving ultra-solid in both sectors and soon had a sizeable lead (27': 18-10).
After another penalty save from Vincent (which led to the sending off of Arkadiusz Moryto for hitting our goalkeeper in the head with his shot), and a glorious spin-shot by Dylan on the buzzer, Raul Gonzalez's men returned to the changing rooms with a nine-point lead!
Voir cette publication sur Instagram
As soon as they returned from the locker room, the Parisians saw their advantage climb to +11 (33': 21-10) thanks to a fine solo effort from Nedim. The Parisian right-back was in fine form and it was he who scored the goal that made it +12, blasting a shot into the top corner of Andreas Wolff's goal (36': 23-11). In spite of this large advantage, our team did not slacken its efforts and the Polish attack struggled to find solutions in front of the Parisian wall. In this context, the gap continued to grow under the impetus of Elohim (40': 26-13).
38': Pas de doute, l'épaule de @PrandiElohim se porte mieux 25-13 #PSGKIELCE pic.twitter.com/qxiSkKAQIu

— PSG Handball (@psghand) February 23, 2021
While our rearguard turned in an impressive performance, what can you say about Vincent's stunning turn? Our last rampart won several duels at close range to further demoralise the opponent's attack (43' 27-15). Everything was going Les Rouge et Bleu's way! Offensively, even when the planned combination didn't work, the ball seemed alway to fall for one of our players - like Dainis Kristopans - who only had to finish the job (46': 30-16). So it was with the calm of a 15-goal lead that Paris approached the last ten minutes (50': 33-18).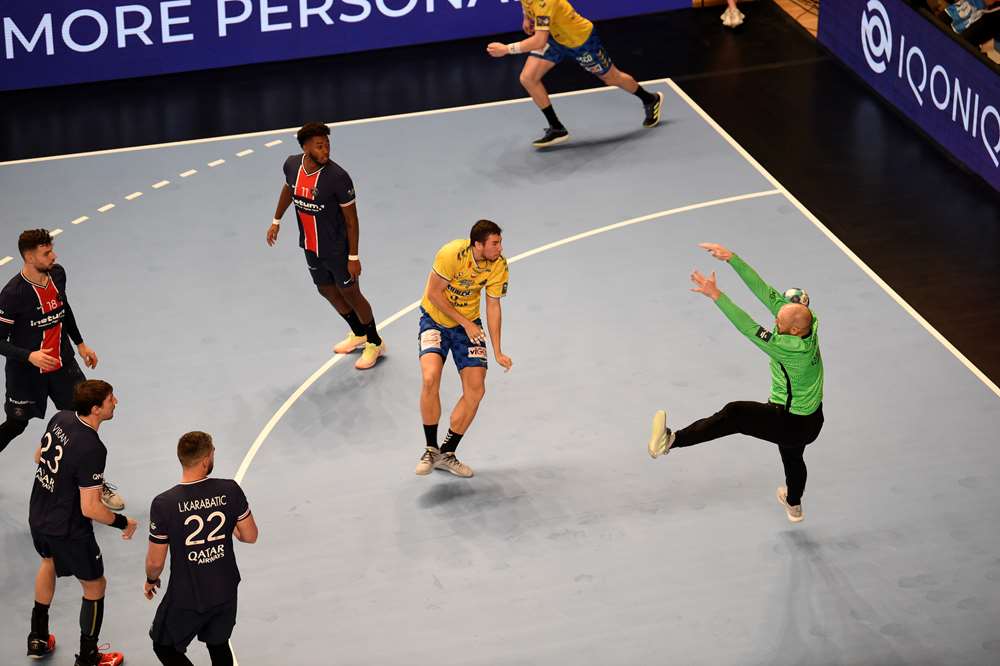 With fewer than 48 hours to go before a decisive match, Paris Saint-Germain Handball marshalled their resources wisely in the dying stages (53': 35-21), running out deserved winners to continue their perfect run in 2021 and clinch a fifth consecutive Champions League victory. If Paris win all their rescheduled matches, they can get to within a point of top spot while alas boasting a head-to-head goal difference advantage over Kielce. All of which bodes well for the trip to play second-placed Flensburg on Thursday night.
Voir cette publication sur Instagram
(Credits: TeamPics/PSG)