Five things on Porto - PSG Handball
Target: top of the table
With three defeats in four games, Les Rouge et Bleu must leave Portugal with a positive result in order to reach the top two places that directly qualify for the quarter-finals of the competition. If successful, they could be just four points behind second-placed Flensburg and five behind leaders Kielce (who have played six matches). Porto, for their part, got off to a good start in their European campaign with two wins, two losses and two draws (six points). On the last day, it managed to hold the Poles to a draw (32-32) and could even have hoped for better.
The Portuguese forces
The names that make up the Portuguese squad are not the best known, but the fact remains that they have plenty of talent. The offence - which has bagged 166 goals in six games - is particularly well stocked. Indeed, four of its players have already reached the 20-goal mark this season in the Champions League. This is the case for their top scorer, Miguel Martins Soares. The 23-year-old playmaker has put in some great performances, including a seven-goal performance against Kielce (24 in total). Defensively, Porto can also rely on several top-quality 'keepers, such as Alfredo Quintana Bravo, or the Macedonian Nikola Mitrevski - who made an exceptional save against Szeged (27-25) that went viral following the match.


Talk about unscripted drama! This #ehfcl #motw play is so unexpected, we don't want to tell you how it ends 🙌 @pickhandball @FCPorto pic.twitter.com/O7w8gH4YZl

— EHF Champions League (@ehfcl) October 15, 2020
Head-to-head
Although this fixture is a first in the Champions League, it is not the first time that these two teams have faced each other in an official match. In season 2007-2008, they faced each other in the Round of 16 of the Cup Winners' Cup. At the time, our team, still called Paris Handball, included players such as Cédric Sorhaindo, Kévynn Nyokas, Patrice Annonay and Saïd Ouksir, who is now one of Paris' physical trainers. In the first leg, at the Pavilhão Desportivo Municipal, it was the locals who took the day (30-23), despite a seven-goal haul from Olivier Girault. The performance in the return leg, in the French capital, was much better! Mathias Ortega (nine goals) and his partners came very close to turning the situation around, but were finally eliminated by a single goal (26-20).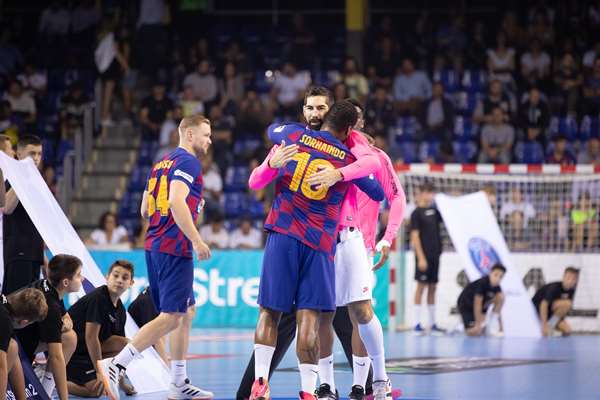 Key stats
Since few teams have played the same number of matches, it is difficult to make statistical conclusions. Nevertheless, we notice that the offensive line of Paris Saint-Germain Handball is still as effective as ever, having already scored 127 times in four games (an average of almost 32 goals per game). A nice statistic that our club owes in large part to its Danish left-back, Mikkel Hansen, who has 28 goals in the competition this season. He is followed by Kamil Syprzak (16 goals) and Nedim Remili (15).
To follow the game (kick-off at 17:45):
- Television: Eurosport Player
- Live tweet: our official page
(Credits: J. Azouze/PSG)