Strasbourg-Paris: A mission to accomplish
Paris Saint-Germain travel to Strasbourg for Ligue 1 Round 37 on Saturday 27 May at 21:00, and we bring you a closer look at the forthcoming encounter at the Stade de la Meinau. We look ahead to the match between Les Rouge et Bleu and Strasbourg, with recollections, standings, dynamics and players to watch.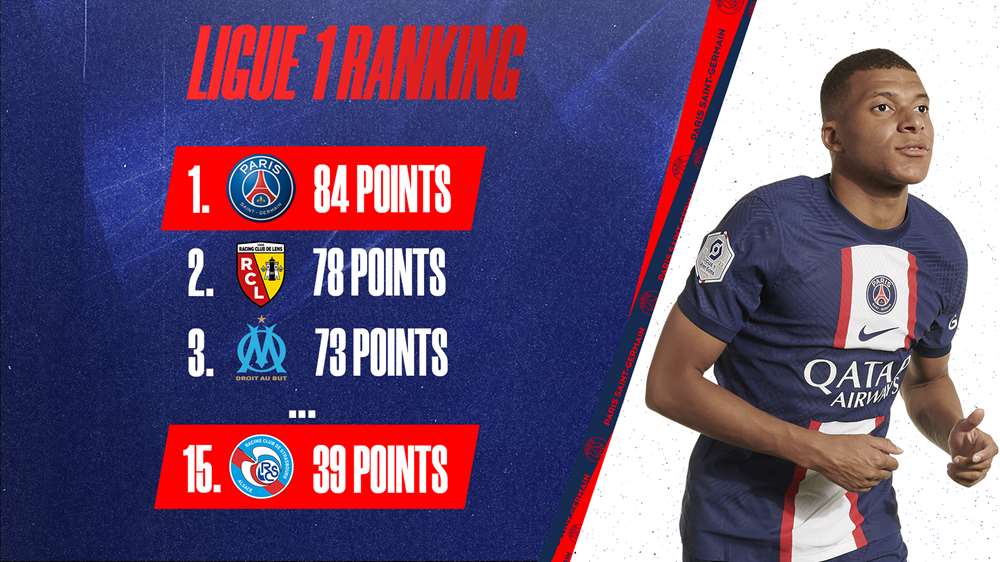 THE TABLE
With a total of 27 wins, three draws and six defeats after 36 league games, Paris Saint-Germain are more than ever at the top of the Ligue 1 table. The capital club currently have 84 points, six clear of runners-up Lens and eleven clear of Olympique de Marseille, who remain in third place.
RC Strasbourg Alsace, for their part, have had a far more difficult season than they did time around. After finishing sixth in 2021-22, their main objective this season was to stay up. Currently in 15th place, the Alsatians appear to have accomplished their mission. With nine wins, 12 draws and 15 defeats, Frédéric Antonetti's players have 39 points. That's six more than FC Nantes, who sit in 17th place with the spectre of relegation hanging above their heads. With just two games remaining in the season, Strasbourg appear to be continuing their climb up the table. In the last four games played at their home ground, RCSA have taken nine points from a possible twelve. Paris have been warned: if they want to win their eleventh title, they will have to face up to the pressure from Strasbourg.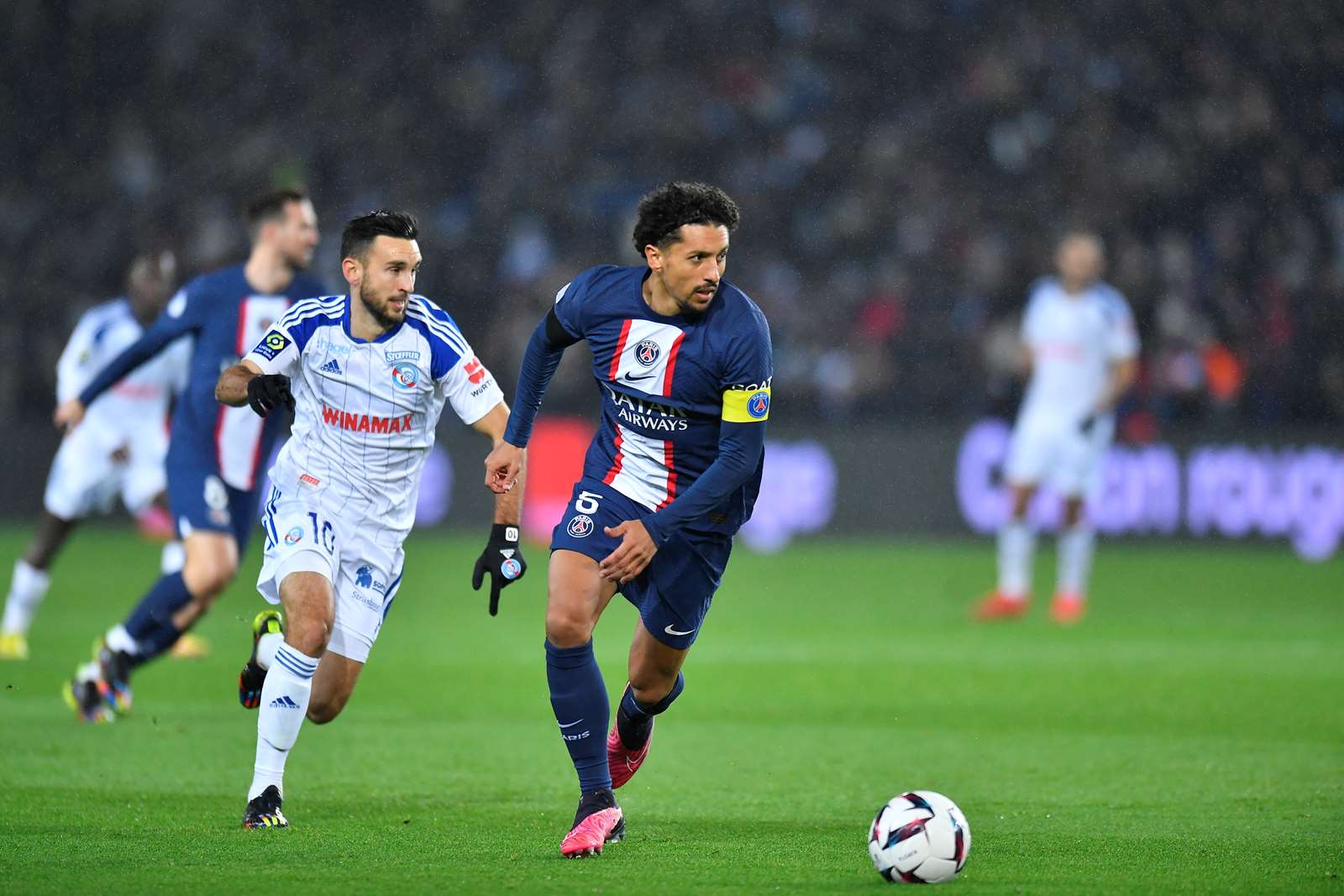 A LOOK BACK AT THE FIRST LEG
The two sides met in Round 16 back on 28 December. The match marked the return of league action after the World Cup in Qatar and Les Rouge et Bleu managed to win 2-1 at the Parc des Princes. After 15 minutes, Paris captain Marquinhos opened the scoring for Paris following a set-piece taken by his compatriot Neymar Jr (1-0, 14'). The capital club managed to preserve their lead, thanks in particular to an imperious Gigio Donnarumma in front of Kévin Gameiro. But the second half got off to a much worse start for Paris, with the visitors pulling a goal back when Adrien Thomasson's effort was deflected into the back of the net by Marquinhos (1-1, 51'). Things did not get any easier for Les Rouge et Bleu, who found themselves a man down on the hour-mark when Neymar Jr picked up his second caution of the game.
While the end of the game promised to be complex for the Parisians, they were all the more determined to win in front of their home fans. Kylian Mbappé looked dangerous on several occasions, but the interventions of Matz Sels, followed by Ibrahima Sissoko's heroic return did not make things easy for the capital club. But the French striker proved tenacious, and his final burst of speed in injury time proved fatal for Strasbourg. After beating Gerzino Nyamsi and forcing a penalty, Mbappé gave Paris Saint-Germain victory in the dying moments of the match by converting the spot-kick with a low shot (2-1, 96')!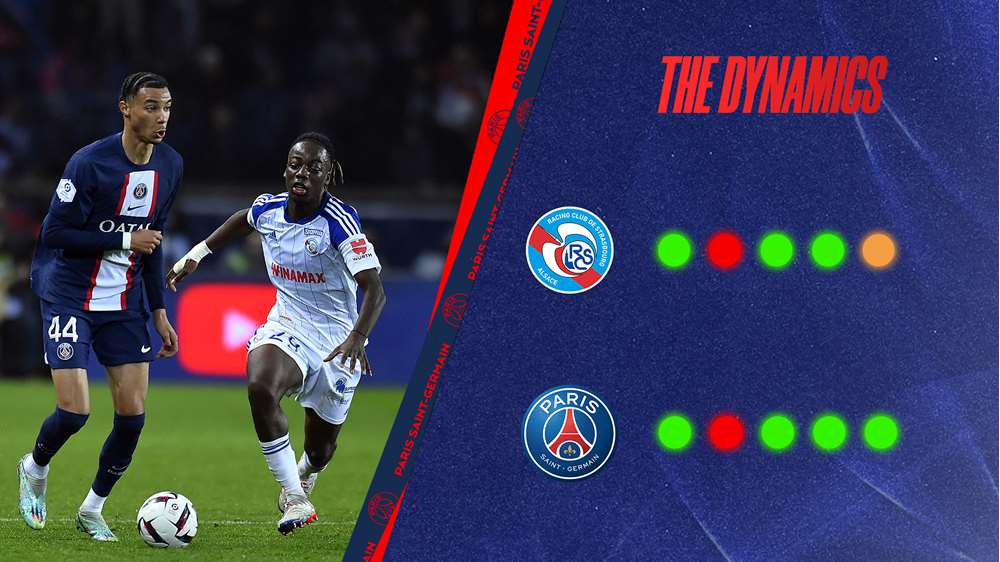 DYNAMIC
On the final day of the Ligue 1 season, Strasbourg drew with ESTAC after leading for long periods (1-1). Prior to this trip to the Aube region, Alexander Djiku and his team-mates had won two matches in convincing fashion. The first came away from home at La Beaujoire against FC Nantes (0-2) thanks to goals from the inevitable Habib Diallo and season revelation Mouhamadou Habib Diarra. A week later, the Alsatians did it again, this time in front of their own fans against OGC Nice (2-0). Senegalese striker Diallo was again on target, scoring both goals. RCSA have now conceded just one goal in their last three matches.
After a very difficult first half of the season under Julien Stéphan, with the club in 19th place after Round 17 and four points off the bottom of the relegation zone, Les Strasbourgeois began their comeback with the appointment of Frédéric Antonetti as coach in February. Since the arrival of the Frenchman, Strasbourg have accumulated 21 points in just 13 games, putting Frédéric Guilbert's team in ninth place in the table over that period. A clear metamorphosis in the year 2023, and a new lease of life that has enabled Strasbourg to turn things around in this crucial season.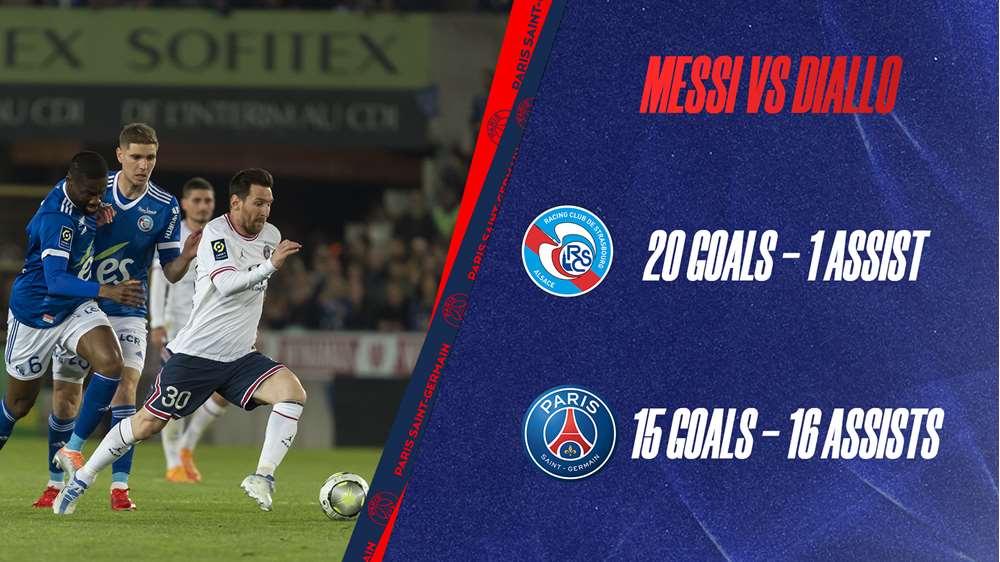 LÉO MESSI - HABIB DIALLO: THE DUEL OF THE MATCH
Although they do not have the same profile, they each spearhead their respective attacks. With 15 goals and 16 assists in the league, Léo Messi continues to be invaluable to Paris, but the Argentinian international's importance is not limited to his final touch, as demonstrated by his 58% dribbling success rate compared to Habib Diallo's 37%. In the final 30 metres, the Paris No.30 is a precise performer, completing 76.9% of his passes in the opposition half compared to 64.9% for his Senegalese counterpart at RCSA. Léo Messi will be looking to turn in another decisive performance in Saturday evening's match and leave the Stade de la Meinau with the Ligue 1 Uber Eats title secured.
As for Habib Diallo, the former Metz man is proving to be Frédéric Antonetti's main asset. The Lion of Teranga wins an average of eight aerial duels per game, proving his influence on opposing defences. Above all, the Strasbourg centre-forward is a veritable fox in the box, with 16.6% of his touches inside the opposition penalty area, compared with 8.2% for Léo Messi. The Alsatian striker's ability in the air has shown throughout the season that his positional sense makes him a formidable presence to watch out for in the Les Rouge et Bleu defence.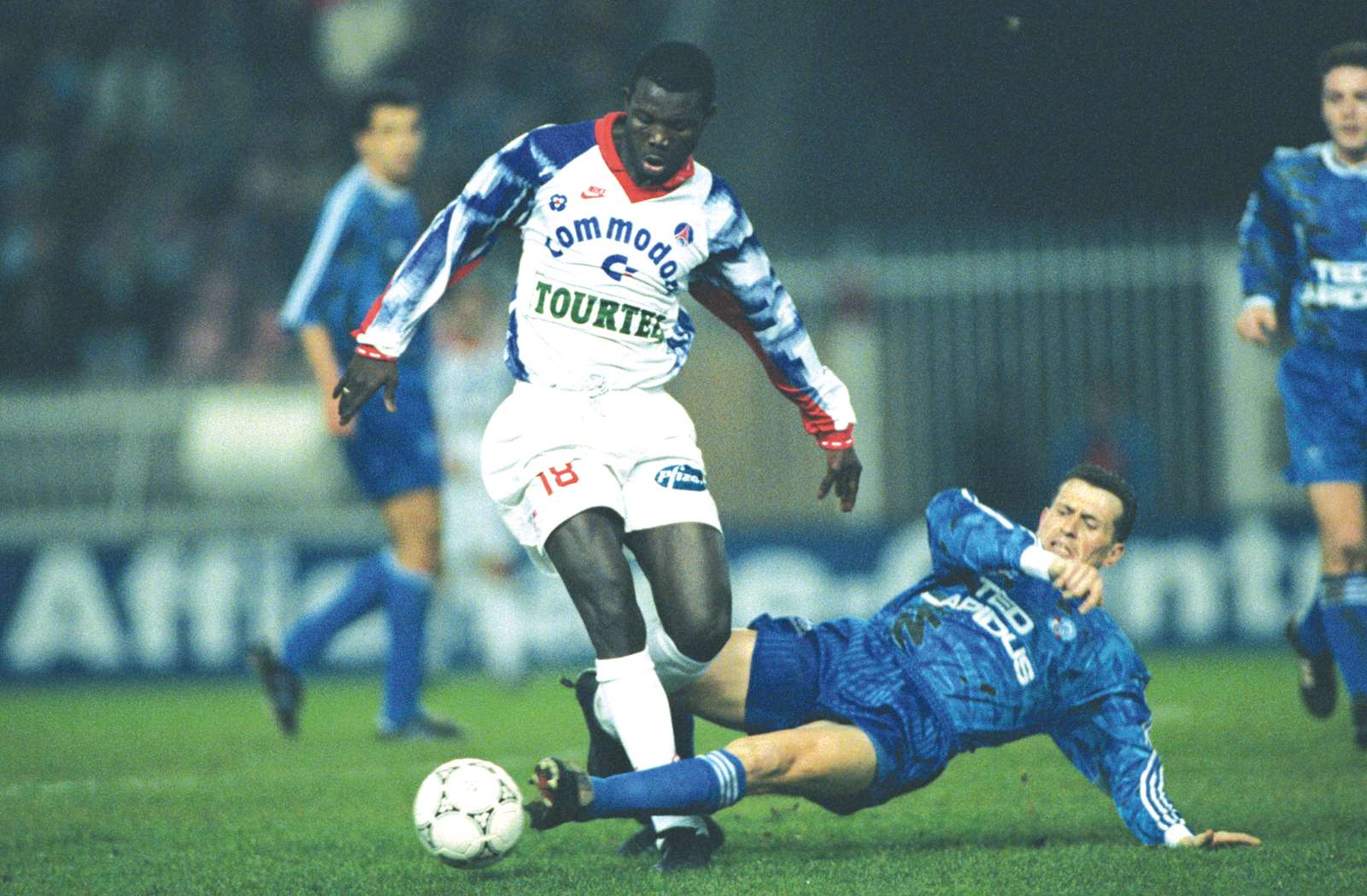 22 AUGUST 1992: STRASBOURG - PARIS, A MATCH TO REMEMBER
In the First Division's round 3, Paris Saint-Germain travelled to the Stade de la Meinau to face Racing Club de Strasbourg in a duel between two in-form teams. It was the first serious test of the season for Paris against the league leaders. Remarkably well organised, the Parisians took the lead following a David Ginola run that ended with a Laurent Fournier volley (0-1, 9'). George Weah, making only his second official appearance for Les Rouge et Bleu, also looked dangerous when he got on the end of a Patrick Colleter cross, only for the keeper to save. Dominant, the capital club could count on Bernard Lama's interventions to keep them on course.
Fournier fed Weah and the Liberian striker doubled the lead with a superb shot that bagged his first goal for Paris Saint-Germain (0-2, 60'). Then, on a counter-attack led by Vincent Guérin, Weah took the Alsatian defence by the scruff of the neck before firing past Sansone to put his side in front (0-3, 63'). At the end of the game, new signing François Calderaro rounded off Artur Jorge's men's success with a volley after a back-heeled cross from a resplendent Weah (0-4, 83'). To the applause of the Strasbourg crowd, the Paris coach was obviously delighted with his side's performance: "We played spectacular, attacking football as I like it".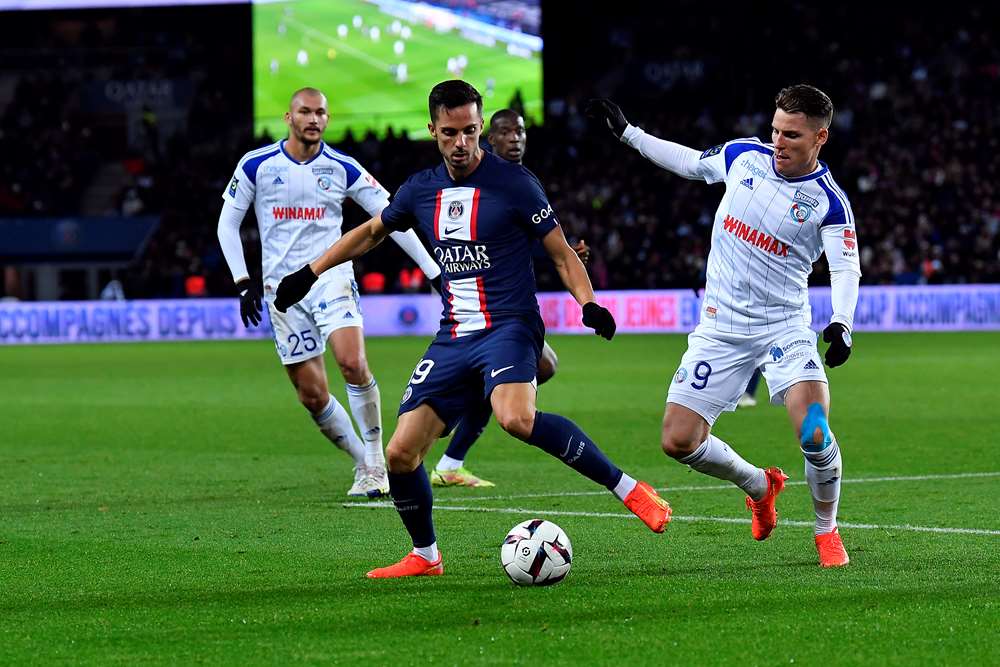 TWO CLUBS, ONE PLAYER: KÉVIN GAMEIRO
Born in Senlis in 1987, Kévin Gameiro joined Strasbourg's youth team in 2004 before playing his first official game with the senior team in September 2005, in a 0-1 defeat by Paris Saint-Germain. At the age of 18, the French striker discovered Europe and the UEFA Cup, scoring a brace against Red Star Belgrade at the end of the year. The Alsatian prodigy, who put in some dazzling performances on his top-flight debut, saw his career take an unexpected turn when he suffered a cruciate ligament rupture in February 2006.
He was unable to prevent his side going down at the end of the season, and made his comeback six months later to help RCSA climb back into Ligue 1. Much loved by the Strasbourg fans, Kévin Gameiro was unable to prevent his team from being relegated again at the end of the 2007-2008 season. After scoring 17 goals and making 68 appearances in the space of three seasons, the native of the Oise region left Alsace for Brittany and FC Lorient. His rise in the top flight continued in the colours of Les Merlus, for whom he scored 56 goals in three seasons.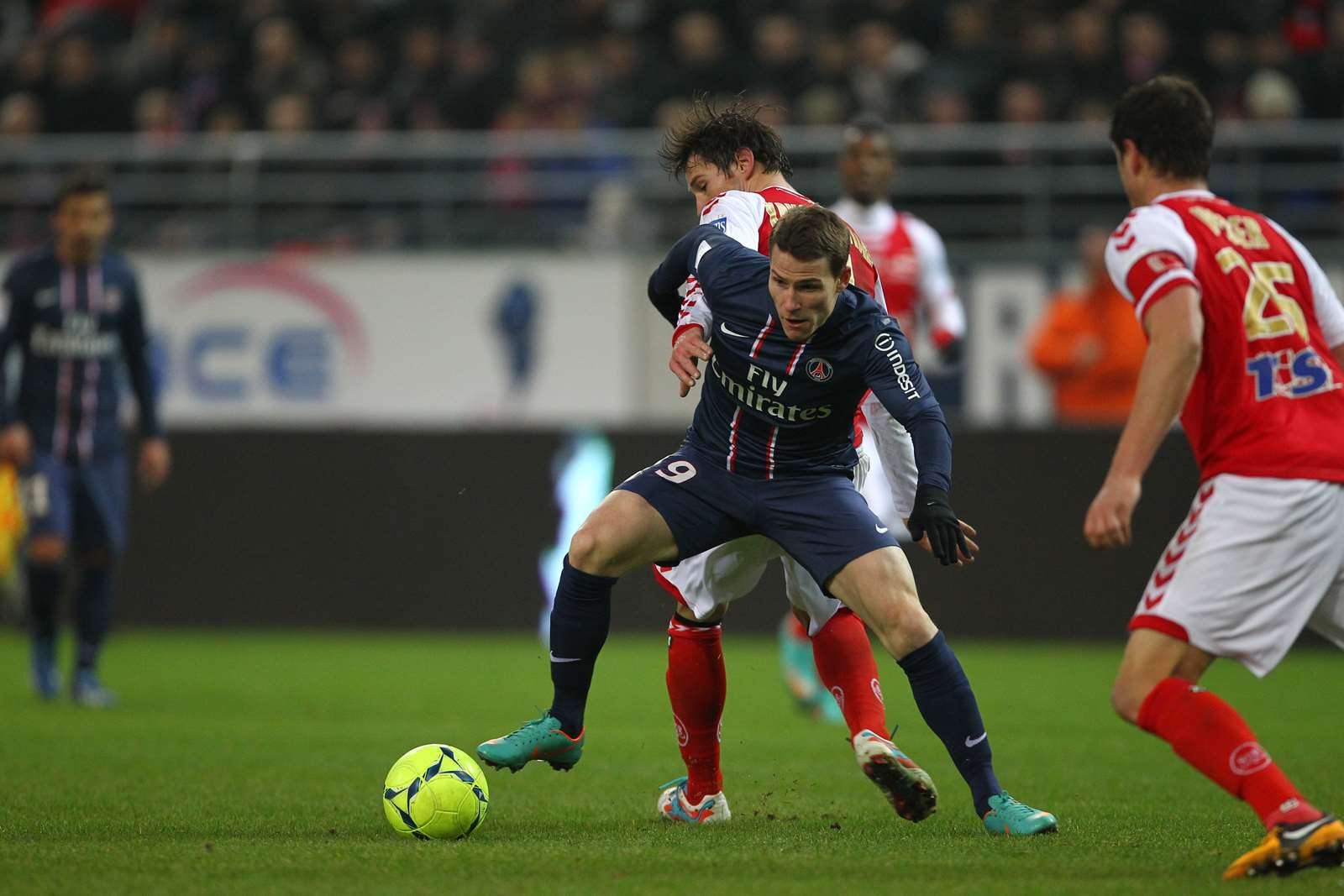 Having established himself as one of the best strikers in the league, Kévin Gameiro joined the capital club in June 2011. With Les Rouge et Bleu, the newly capped France international made 77 appearances in two full seasons. After finishing second in the league in his first season with Paris, Gameiro made history with Paris Saint-Germain by winning the club's third French league title at the end of the 2012-2013 season. After scoring 23 goals for Paris, the RCSA-trained centre-forward set off to discover a new league: Spain.
During his eight seasons in La Liga, Kévin Gameiro established himself as one of the country's most prolific strikers. Making 348 appearances for Sevilla (2013-2016), Atlético Madrid (2016-2018) and then Valencia (2018-2021), the former Parisian forged an exceptional record, scoring 118 goals and adding 35 assists. At the end of his Spanish adventure, the 34-year-old Frenchman decided to return to Alsace thirteen years after beginning his career there. Since then, the Strasbourg striker has worn the RCSA jersey 70 times and scored 20 goals. Kévin Gameiro returned to the Parc des Princes last season.
"It's always a thrill for me to come back to the Parc des Princes and play there. Of course, it's my favourite stadium in France! There's a special atmosphere and I dreamt of playing there ever since I was a kid. The memories I have from my childhood come flooding back and will stay with me for the rest of my life. I'm thinking of Marco Simone, Pedro Miguel Pauleta, Jay-Jay Okocha, Amara Simba... I've always said, and I've never hidden it, that my dream was to play on the pitch at the Parc des Princes. I was lucky enough to play my first professional match at Le Parc and to play there for twenty minutes. Those are the signs that you can't go wrong. Ever since I was a kid, Paris has been my club and it will always be my club."
All the ingredients for an emotional reunion on Saturday...