All you need to know about Paris-Troyes!
History, stakes and keys to the match! Check out everything you need to know before kick-off of Matchday 36 of Ligue 1 between Paris Saint-Germain and Troyes on Sunday 8 May at 20:45 at the Parc des Princes.

A little history...
It will be the 30th competitive match between the two sides: Paris Saint-Germain and Troyes have faced off on 29 occasions, with Les Parisiens winning 19, drawing 6 and losing 4.
Paris Saint-Germain are unbeaten in 17 competitive matches against Troyes (15 wins and 2 draws). The last defeat against Les Troyens dates back to 4 November 2001 (0-1, at Troyes).
This run of 17 matches isn't far off the club's top 5, behind Angers (27 matches since 1975, ongoing, Saint-Etienne (24 matches since 2012, ongoing), Brest (23 matches since 1985, ongoing), Nantes (22 matches from 2004 until 2019) and Marseille (20 matches from 2011 until 2020), and on a par with Caen (17 matches since 2008, ongoing).
At the Parc des Princes, the club from the capital go into the match on a run of 9 victories over Troyes, since the 0-0 in the league on 21 December 2000.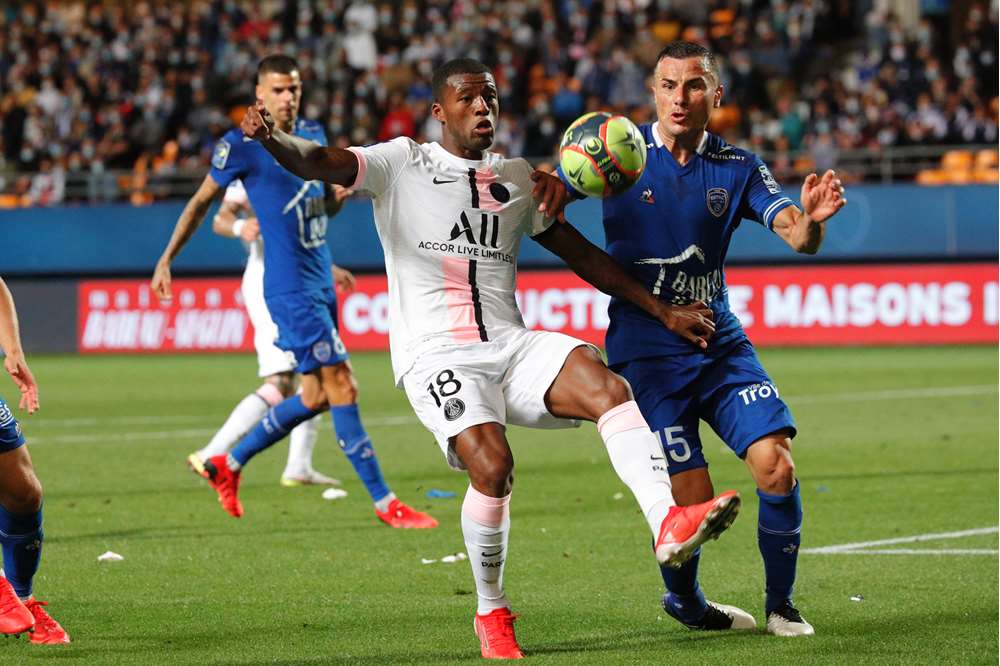 9-0 for Paris Saint-Germain in Troyes on 13 March 2016 was a club record in the top flight (equal with the  9-0 win over Guingamp at the Parc des Princes on 19 January 2019) after 1830 matches in the French top flight. It's also the record for an away win in the whole of the history of the French league. 
13 players have worn the shirts of both clubs: Jean-Christophe Bahebeck, Selim Benachour, Branko Boskovic, Fabrice Fiorèse, Yann Lachuer, Ronan Le Crom, Laurent Leroy, Patrice Loko, Blaise Matuidi, Granndi Ngoyi, Grégory Paisley, Thierry Rabat and Jérôme Rothen.
Pedro Miguel Pauleta and Zlatan Ibrahimovic are Paris Saint-Germain's top scorers against Troyes, with 7 goals each. They sit ahead of Carlos Bianchi, Edinson Cavani, François M'Pelé and Guy Nosibor (4 goals), Laurent Robert and Ronaldinho (3 goals).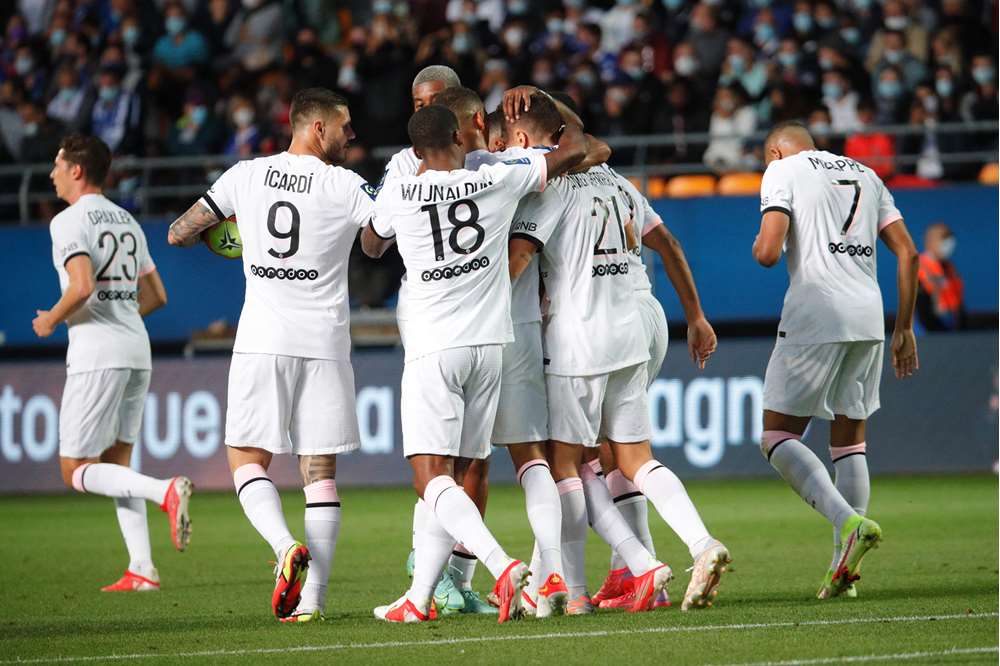 The stakes...
Paris Saint-Germain, who were officially crowned champions in their last match at the Parc des Princes against Lens (1-1), will try to finish the season in style, before taking on Metz.
The club from the capital are still the only team to go unbeaten at home in Ligue 1 this season. Les Parisiens have managed the feat on 5 occasions in the league at the Parc des Princes, during the 1985-1986, 1993-1994, 2014-2015, 2016-2017 and 2018-2019 seasons.
With 15 wins in 17 matches at the Parc des Princes in the league, PSG are also in the running to equal the club record (17 wins and 2 draws in 1985-1986 and 2018-2019).
The keys to the match…
Troyes are a club that the Paris strikers enjoy playing against! Carlos Bianchi was the first Paris Saint-Germain player to score four goals in the same match in the top flight, and it was against Troyes during the 1977-1978 season (8-2, on 14/10/1977). Patrice Loko, against Nice (5-0, on 27/04/1997), Christian, against Strasbourg (4-2, on 26/01/2000), Zlatan Ibrahimovic, at Troyes (9-0, on 13/03/2016), Edinson Cavani at Caen (6-0, on 16/09/2016), Neymar Jr at Dijon (8-0 on 17/01/2018) and Kylian Mbappé against Lyon (5-0, on 07/10/2018) have all repeated the feat in Paris colours.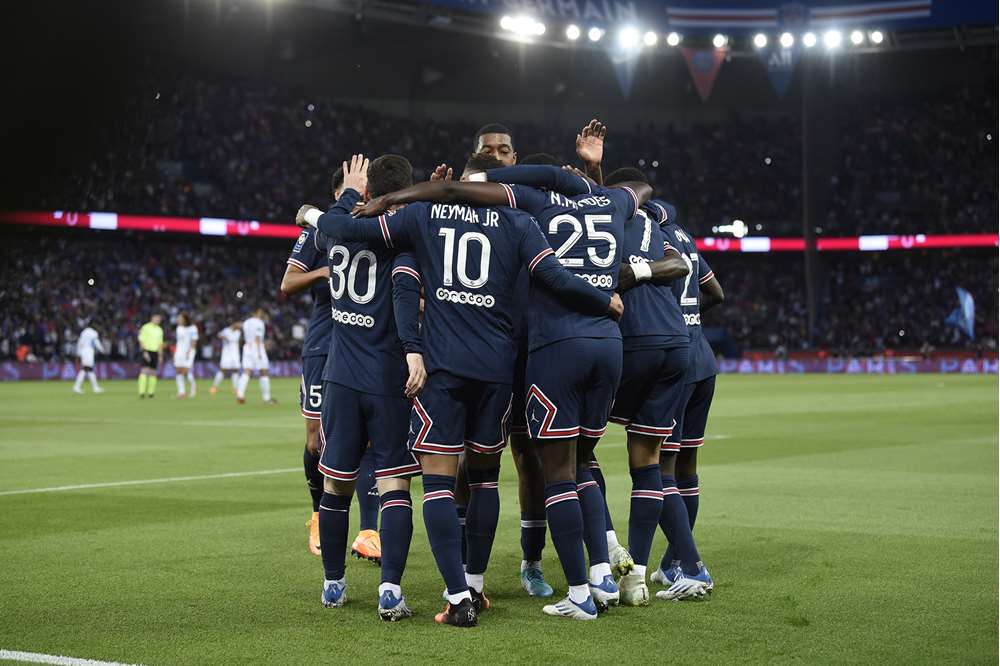 With two of the the club from the capital's seven quadruples coming against Troyes.
Kylian Mbappé, who is looking to make it an unprecedented double of league golden boot (24 goals) and most assists (15 assists), will look to open his tally against Troyes, the only team alongside Lens not to have conceded a goal from the Frenchman in Ligue 1 this season.
Neymar Jr has scored 98 goals in competitive matches for the club. Only 5 players have achieved the feat for Paris: Edinson Cavani (200 goals), Kylian Mbappé (165 goals), Zlatan Ibrahimovic (156 goals), Pedro Miguel Pauleta (109 goals) and Dominique Rocheteau (100 goals).
Note: the stats take into account matches against TAF (Troyes Aube Football), the professional club from Troyes before the creation of ESTAC in 1986.