Paris Saint-Germain Esports joins "Arena of Valor" In Thailand
Paris Saint-Germain, France's first club to venture into the esports scene back in 2016, is continuing to bolster its esports portfolio by putting together a new team for the mobile game Arena of Valor, one of the MOBA – Multiplayer Online Battle Arena – games that are extremely popular in Asia, particularly in Thailand.
Recently, Arena of Valor had successfully held its largest tournament called Arena of Valor World Cup (AWC) 2021, which has over 118 million cumulative views and a massive number of nearly 18,968,629 total watch hours.
From August 2021, the Parisian club will take part in RoV Pro League competitions, a league that is owned and run by video game developer and publisher Garena in Thailand. The first season will see a team made up of five first-team Thai players plus one reserve, and the recruitment process is already underway.
Fabien Allègre, Director of Merchandising and Brand Diversification at Paris Saint-Germain, said: "The creation of the Paris Saint-Germain's Arena of Valor team ties in with our esport strategy. It marks an important new phase in developing Paris Saint-Germain Esports' mobile games in one of the regions of the world where it has grown fast in the last few years."
Sebastien Wasels, General Director Asia-Pacific at Paris Saint-Germain, added: "We are delighted to enter the Thai esports scene. It is a concrete step forward that reinforces the club's presence in Thailand and throughout Southeast Asia. Paris Saint-Germain has already developed a strong relationship with millions of fans in Thailand and we are looking forward to strengthen the community, offering them exciting experiences."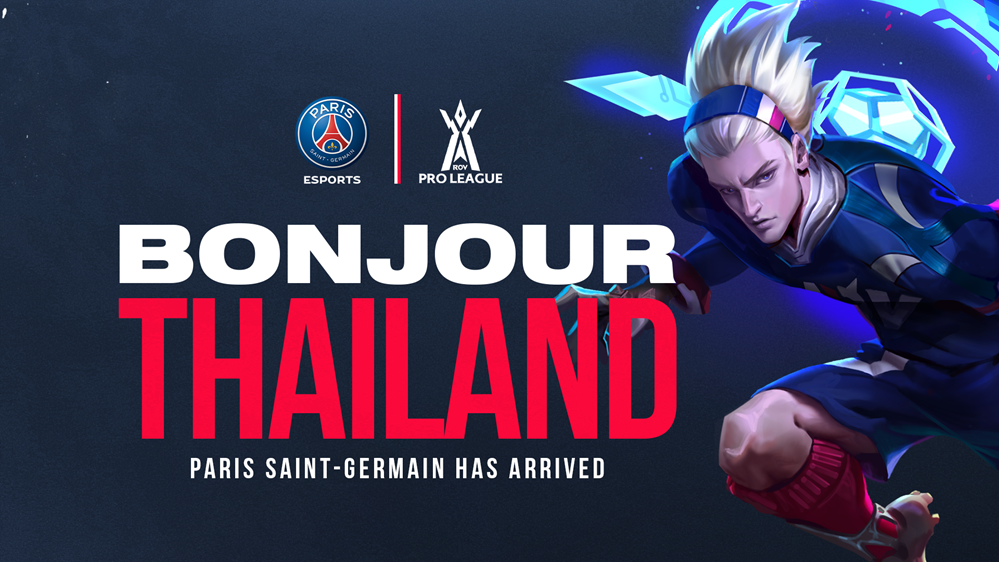 As part of the club's fierce commitment to inclusion, diversity and the fight against all forms of discrimination, the Parisian team is aiming to have a mixed-gender team in the near future. The team will be actively engaging with the local community, hosting Arena of Valor tournaments to encourage greater female participation and identifying female gamers in the process to join the professional team for subsequent seasons.
This summer, the RoV Pro League is kicking off its eighth season. PSG Esports will have the opportunity to compete alongside two other teams connected with football clubs: Valencia FC and Buriram United, a local Thai club.
About Paris Saint-Germain Esports:
Paris Saint-Germain football club was created in 1970 and celebrated its 50th anniversary in 2020. Since it was purchased by QSI in 2011, Paris Saint-Germain has been transformed and is now one of the world's largest sports brands and one of the best football clubs on the planet. The club won 27 trophies in the space of just ten years, and with a grand total of 43 titles in its trophy cabinet, it is France's most decorated football team. This ground-breaking club has men's football, women's football, handball and judo teams, and added esport to its portfolio in 2016, making it one of the pioneers in this field. Paris Saint-Germain Esports currently competes on the video games League of Legends (PSG. Talon), DOTA 2 (PSG. LGD), Brawl Stars, FIFA Online, FIFA 21 and now Arena of Valor.
About Arena of Valor:
Arena of Valor is Thailand's most popular Multiplayer Online Battle Arena (MOBA) game. The game is one of the only ones to have seen a Southeast Asian team win an official eSport title, when Thailand won the gold medal in 2019. The ROV Pro League is Thailand's professional eSport league, as well as being the country's longest-running league and the only one made up of franchises.