Mengniu become the official regional partner of Paris Saint-Germain
On November 28th, Paris Saint-Germain officially announced China's leading dairy brand Mengniu Group as their new Official Regional Partner in China.
As a leading dairy producer in China, Mengniu Group continuously pays attention to and actively promotes the popularization of national sports spirit and provides consumers with nutritious and healthy food. In the field of football, Mengniu Group became the official global sponsor of the 2018 and 2022 World Cup, and signed two Paris Saint-Germain players, Lionel Messi and Kylian Mbappé, as brand ambassadors. Today's announcement builds on Mengniu Group's continued commitment to spread the happiness of sports and promote healthy lifestyle to consumers by relying on the great influence of football and internationally renowned football club like Paris Saint-Germain.
Additionally, Mengniu Group aims to build on Paris Saint-Germain world-acclaimed know-how growing football talents to support youth football development in China. The French Champion is currently developing state-of-the-art training facilities in which will train the future stars of world football. The center will open in Greater Paris in June 2023.
Executive President of Mengniu Group Li Pengcheng said: "It is an honor to be the partner of Paris Saint-Germain in China. Paris Saint-Germain is one of the most successful football clubs in Europe, with a world-class professional youth training system. We will work with Paris Saint-Germain and our brand ambassadors in the team to cultivate more football star in the future and bring more health and happiness to global consumers."
In the future, Mengniu hope to join hands in Paris Saint-Germain to carry out football public activities. With the help of PSG's global leading football concept and training resources, both parties hope to continue support of Chinese youth football, provide a broader platform and communication opportunities for Chinese football, and help more Chinese youth enjoy the fun of football.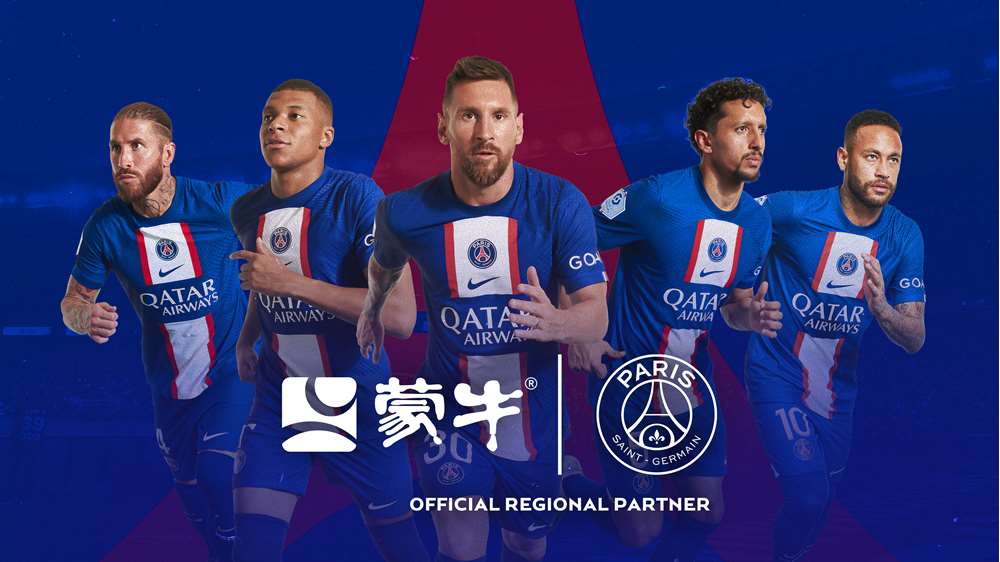 "We are delighted to welcome Mengniu Group to the Paris Saint-Germain family. It is a great honor that Mengniu has chosen Paris Saint-Germain, one of the most ambitious and dynamic Clubs in the world, as its first ever partnership with a Football Club", added Sébastien Wasels, Managing Director Asia-Pacific at Paris Saint-Germain.
"This partnership provides an excellent opportunity for the Club to further integrate itself in the daily lives of the Chinse fans and allow both Mengniu and the Club to contribute to the development of youth football in China. We look forward to welcoming young Chinese players to the Paris Saint-Germain facilities to receive dedicated coaching by our PSG Academy coaches. Over the recent years and since the opening of its Asia-Pacific office in 2018, the Club has boosted its presence in China and across Asia through partnership deals with many leading Asian brands, establishing a network of stores, PSG Academies, and Esports teams, as well as organizing Summer Tours in Singapore, China, and Japan. In addition, the Club has collaborated with world-famous Asian artistes like Jay Chou. We are looking forward to working with one of China's leading consumer brands and to promoting the game with China's younger generations."