Les Parisiennes need you!
In Munich, Marie-Antoinette Katoto and co. showed clinical efficiency and impressive composure to beat Bayern 2-1 and set up a potentially memorable second leg at the Parc des Princes with what could well be a new record attendance for the occasion.
Les Parisiennes were expecting to suffer at the Munich Stadium against a Bayern side who were unbeaten in their last 13 games in all competitions. Incidentally, Didier Ollé-Nicolle was particularly wary ahead of the first leg: "They don't have weak points; Bayern's strength is that they're one consistent collective. They're a formidable opponent." However, Les Rouge et Bleue can also rely on rock-solid collective strength that practically never falters, and they once again proved this in Bavaria.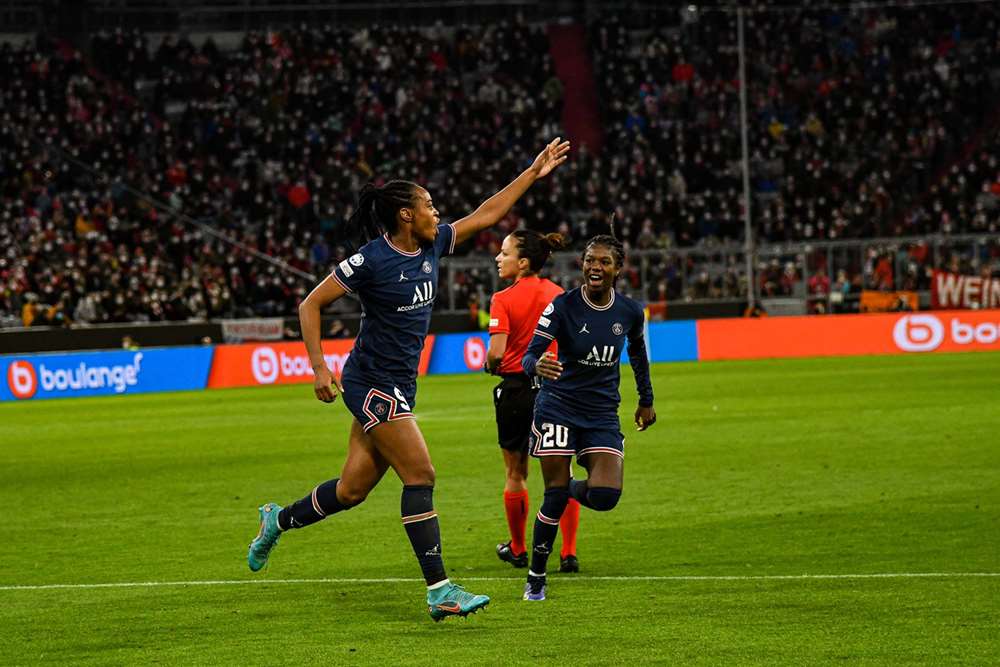 As they had envisaged, the reigning French champions were dominated by the Germans, with the stats backing this up: 48% possession, 375 passes completed compared to 466 for the hosts, as well as seven shots compared to Bayern's 15. Paris Saint-Germain's women put up faultless resistance, though, and most importantly, they were much more incisive than their opponents. Les Parisiennes only needed three shots on target to score two goals, whereas the Bavarians only managed to beat Barbora Votíková once despite their five shots on target. Of course, one player perfectly illustrates Paris Saint-Germain's ice-cold efficiency: Marie-Antoinette Katoto. "We were under pressure at the start, but we scored when they had the momentum, which is what hurt them [...] We were surgical in front of goal, which is essential in matches like this," Katoto said.
The club's all-time top scorer was ultra-efficient, making no mistake when it mattered, and with two headers, she got the better of Janina Leitzig to give her side the win.
By getting her second brace of the season in the Champions League, following the one against Real Madrid, the France international is well and truly establishing herself as one of the very best in her position on the European stage. With five goals in four games, she quite simply holds the best goal-to-game ratio in the competition. Admittedly, throughout this year's European campaign, the entire Paris attacking line has shone. 27 goals scored in seven games are numbers that no other team is beating.
Didier Ollé-Nicolle's players aren't just making names for themselves in attack, either. They have the best defence in the competition, having conceded their first goal of the campaign against Bayern, and also rank first for their number of ball recoveries (363), which is testament to their sense of self-sacrifice and fighting spirit. With seven wins in as many games, Paris Saint-Germain's women and their coach can keep on dreaming: "It would be historic and wonderful to win this competition, both for Paris Saint-Germain as a club and for this squad. It's one of our aims."
GET YOUR TICKETS FOR THE SECOND LEG
Before they can think about going all the way, though, there's a second leg to be played and won. It's a match that's already promising to be historic. Whilst there were nearly 15,000 people in Munich, more than 20,000 fans are expected at the Parc des Princes next Wednesday for the second leg, which is enough to make this quarter-final a historic moment, as the current attendance record for a Paris Saint-Germain women's team game is 19,012 spectators against Barça in 2017. Les Parisiennes won that game 2-0, and there's no doubt that they'll want to have a party with their fans again this time.