Strong start to a busy week
Voir cette publication sur Instagram
On Saturday evening, Paris Saint-Germain Handball kicked off a week of four matches (three away from home). For this first outing, Les Rouge et Bleu did not have to travel far, making the short trip to neighbours Chartres for their Lidl Starligue Round 17 clash. League leaders with a perfect record of 14 wins from 14 matches, Paris's mission was to continue their flawless start and dominate the league's 13th-placed side. But as Adama Keita noted, in this championship, there are no easy matches.
While the very first minutes were even (3' : 2-1), Raul Gonzalez's men quickly imposed their rhythm. In particular Luc Steins, who offered himself a quick-fire triple and helped his side to make a first break (7': 3-5). Our centre-half made an excellent start to the game and succeeded in everything he tried, notably producing a victorious solo rush (10': 5-8). Our defence was in good form, our attack was effective and Paris logically took a solid lead in the first quarter of and hour.
16' : Encore buteur, Dylan donne cinq buts d'avance à Paris ! (6-11) #CCMHBPSG pic.twitter.com/BfK7mjYPyT

— PSG Handball (@psghand) February 20, 2021
Les Rouge et Bleu were in a no-nonsense mood and controlled them match well (19': 8-13), clocking style points as the match went on as Nedim Remili produced a superb no-look assist for Henrik Toft Hansen to strike (21': 9-14). Elohim Prandi, meanwhile, used his power to almost take the net off the Chartres goal (23': 10-15). In goal, Yann Genty (seven first-half saves) was also in strong form and played a key role in his team's staying in the lead (27': 14-18).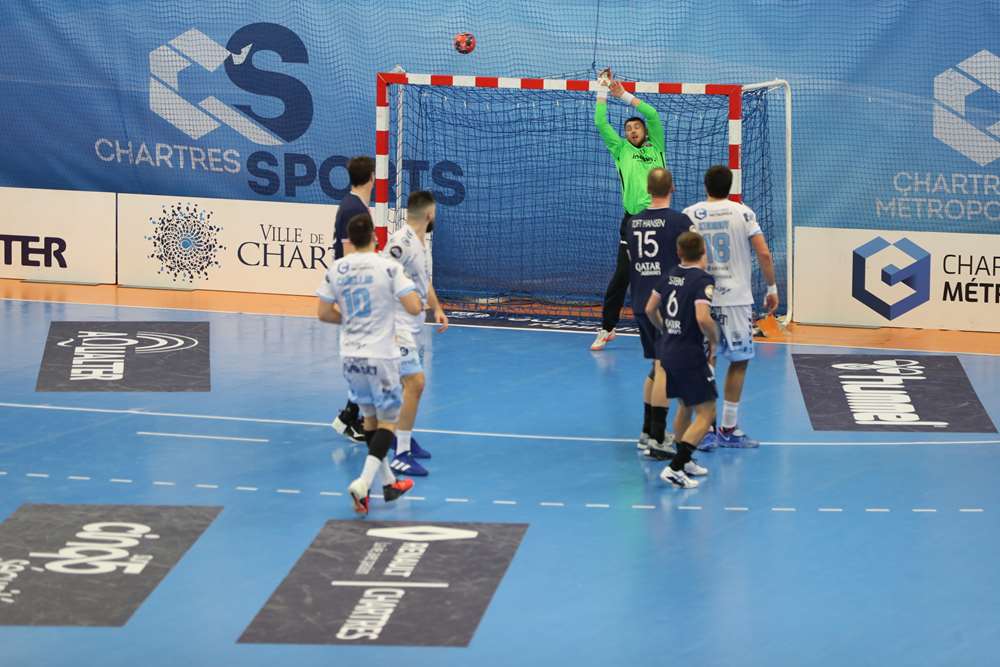 Despite some errors, the Parisians remained very skilful in front of the opponent's goal (79% success in the first period, compared to 60% for Chartres). They ended the first half very well and were still ahead at the break!
Voir cette publication sur Instagram
On the return from the changing rooms, the capital club resumed its domination (32': 15-21). Even when playing a 5-1, with Benoît Kounkoud as an outfielder, the Parisian rearguard still posed problem for the home attack (37': 18-25). Our right-winger, who scored a double as soon as he came on, also excelled in attack. Well played in by Nedim, he scored his 200th Lidl StarLigue with a stunning shot that cannoned in off the post.
38' : Le 200ème but de @benileven en @LidlStarligue ! (18-26) #CCMHBPSG pic.twitter.com/ElyJa5lW3e

— PSG Handball (@psghand) February 20, 2021
Two of the game's best performers were in the back line. The first: none other than Elohim. The Parisian left-back took most of the shots and catapulted several balls from into the goal from nine metres out (43': 22-30). The second was Nedim. The French international was not only setting them up, he was also scoring - most notably a magnificent chabala that left the opposing goalkeeper no chance (46': 23-31). It even happened that our two key players combined, with Remili making the assist and Prandi converting in trademark fashion (48': out of 24-32).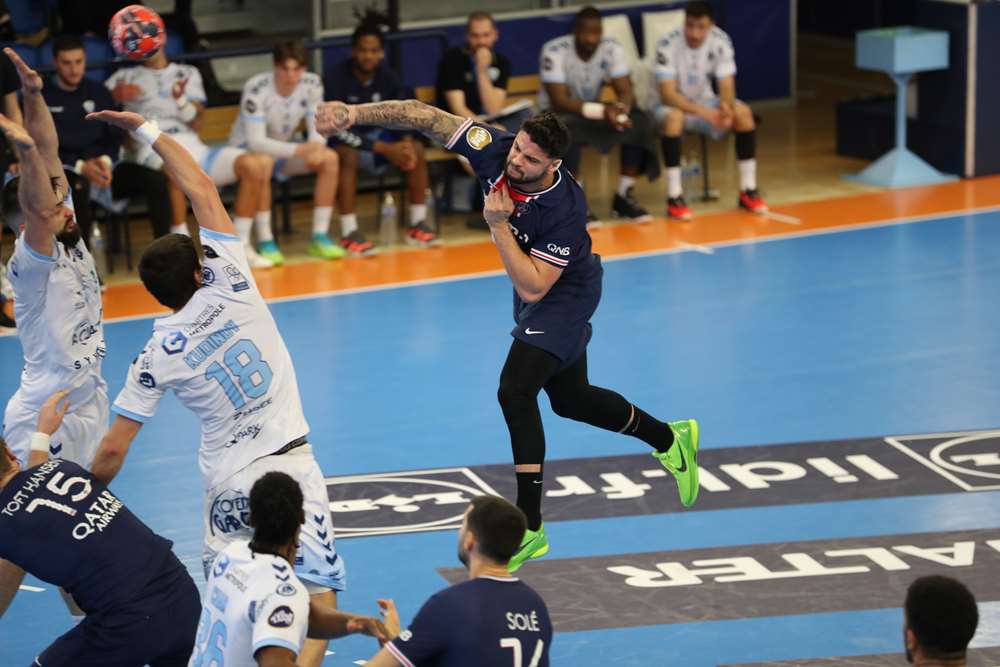 As the last ten minutes approached, Chartres clawed back some of their deficit (49': 27-32), but several sees by Vincent Gérard, combined with the long-range strikes (into an empty net) of Kamil Syprzak and Ferran Solé Sala, allow the Parisians to get back to safety (53': 27-35). Raul then took the opportunity to bring on the academy youngsters Gauthier Loderon and Baptiste Clay. The latter gave his team a ten-goal lead (57': 28-38) and scored the last goal of the match. Paris Saint-Germain Handball managed the final stages perfectly won for the fifteenth time in as many Lidl StarLigue matches this season.
Voir cette publication sur Instagram
(Credits: J. Azouze/PSG)