View this post on Instagram
On Saturday evening, Paris Saint-Germain Handball were in a top-of-the-table Liqui Moly StarLigue clash away to the only team that had the same record as them (four wins in four games): Nîmes. The match was expected to be a heated affair, especially as it was being played at the Parnasse arena, which can be a real fortress, as Adama Keita reminded us before throw-off.
Les Rouge et Bleu got off to a great start! Especially our left-winger Adama, who put his money where his mouth is, scoring twice and giving his team a three-point lead (5': 1-4). Our team dominated, but couldn't break clear and had to look to 'keeper Vincent Gérard in order to stay in front (11': 5-7). Our last rampart even saved a 7m throw from Mohammad Sanad (14': 6-8), but the problem was that his counterpart from Nîmes also got stronger and prevented the Parisians from capitalising their 'keeper's prowess (17': 8-9).
Meanwhile, our defence did well to hold out! They forced the local attackers to delay their shots and thus caused several errors (20': 9-12). With a second saved penalty that denied France teammate Michael Guigou - and then a third to deny Ahmed Hesham - Vincent continued to dominate his direct opponents (23': 10-13). The Green Team's attack struggled to find solutions against the efficiency of the Parisian 'keeper, who had an incredible first half (12 from 24). At the break, Paris led by three points!
View this post on Instagram
After the break, Nîmes seemed to have gotten back on track (34': 18-19) and the match was evenly balanced (38': 20-21), but Raul Gonzalez's men can still rely on Vincent, who saved another penalty to carve out some breathing space (41': 20-23) and then to go to +4 (43': 20-24). The Parisians weathered the storm without trembling. After a period of hesitation, they accelerated again and took full control of the situation (46': 20-27).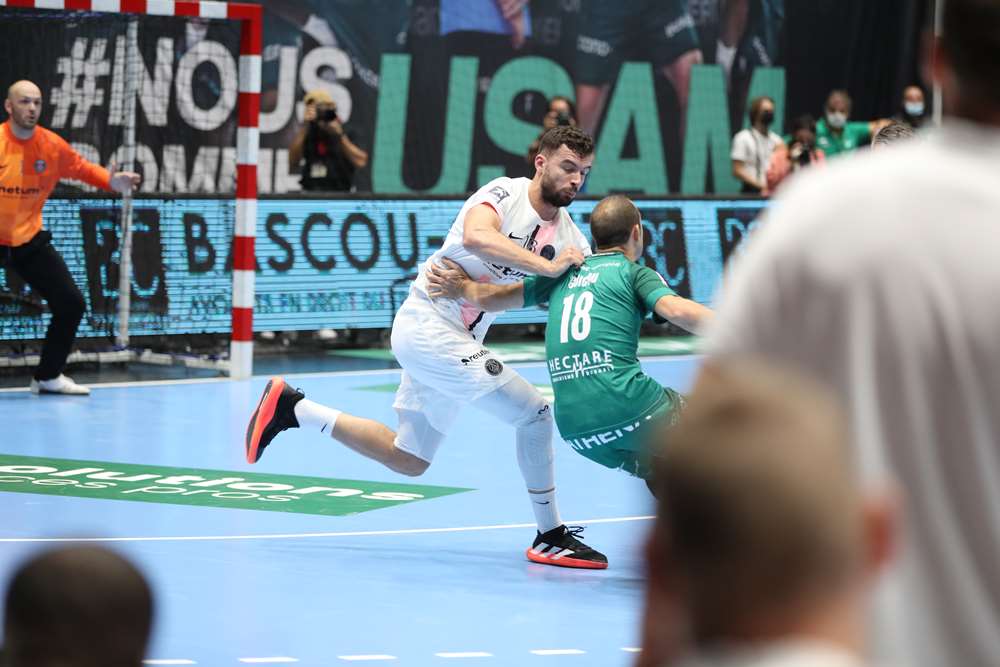 With little time left, the capital club seemed to be well on their way (50': 21-29). Spurred on by their fans, USAM threw their last shreds of energy into the battle (56': 24-30), but it was too late. At the very end of the game, Vincent saved a fifth penalty (a personal best in the league) and Paris Saint-Germain Handball wins! Our team is thus the last in the league to still boast an unbeaten record this season (five victories in as many matches), and now sits clear atop the standings!
Reactions from Vincent Gérard, Nedim Remili and Raul Gonzalez:

Les 🔴🔵 ont remporté le choc de #LiquiMolyStarLigue face à Nîmes !@Gerard_Vincent : « quand on repousse des penalties, c'est plaisant »@Nedim_Remili : « on a mis les bons ingrédients »
Raul #Gonzalez : « la défense a bien marché » #NIMESPSG (25-32) pic.twitter.com/a0REqyvvQj

— PSG Handball (@psghand) October 9, 2021
(Credits: J. Azouze/PSG)