View this post on Instagram
A few days after kicking off their the EHF Champions League campaign in Veszprém (34-31), Paris Saint-Germain Handball were back in Liqui Moly StarLigue action on Sunday afternoon. Round 2 saw Les Rouge et Bleu took on Toulouse at the Stade Pierre de Coubertin. Their objective: to build on their last week's opening-day win over Istres (34-29) against a team that had fallen to a home defeat to against Chambéry (27-30).
C'est l'heure des retrouvailles pour Luc Steins et Ferran Sole qui affrontent cet après-midi leurs anciens partenaires du @FENIX_HB #PSGTOUL pic.twitter.com/w3ONZmDGn3

— PSG Handball (@psghand) September 19, 2021
The throw-off was given and the capital club started well! The backline was on fire, with Mikkel Hansen scoring from distance before Dainis Kristopans and Elohim Prandi each struck (7': 5-2). Their strong form inspired keeper Vincent Gérard - already at ease against the Fenix attack - to turn scorer wit ha shot from his own area (9': 7-3). Our players made a very good start and forced Toulouse coach Danijel Andjelkovic to call an early time-out.
10': Très bon début de match des Parisiens qui prennent 5 longueurs d'avance et qui pousse le @FENIX_HB à poser un premier temps mort.

8-3 #PSGTOUL pic.twitter.com/mqWUJG7fVT

— PSG Handball (@psghand) September 19, 2021
Les Rouge et Bleu were solid in all areas, with Dainis distinguishing himself by countering an opponent's shot (13': 10-5) before firing directly into Jef Lettens' top corner (14': 11-6). A few moments later, he brought Coubertin to its feet with a superb jinking run before finishing triumphantly (16': 12-7). With the last ten minutes of the first half approaching, our captain Luka Karabatic gave his team a seven-point lead (19': 16-9).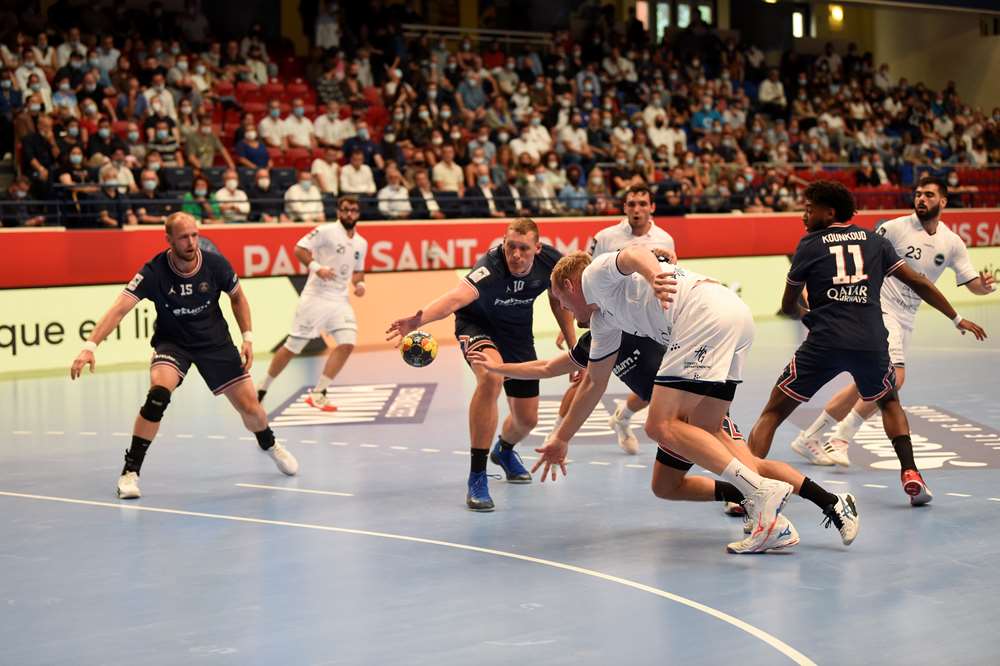 The solid defending of the Parisians saw them delay the visitors' shots as much as possible, forcing them to pushchair luck rather than pick their shots. Vincent took advantage of this to show off his world-class shot-stopping (24': 18-11). At the other end of the court, the attack started putting on a show! Nedim Remili found Nikola Karabatic, who scored with a kung-fu/chabala combo (26': 19-23). After 30 well-controlled minutes and a last goal from Niko, Paris went back to the locker room with a comfortable advantage. The efficiency in front of the target made the difference at the break, with 83% of attempts converted into goals for our players, against 62% for the visitors.
View this post on Instagram
The restart went well, Les Rouge et Bleu continuing to score (34': 27-18). After a save from Yann Genty and a missile from Elohim, they went ten points clear (36': 28-18). The Toulouse attack could find no solutions in front of our rear-guard, with our defenders provoking technical errors and Yann finishing the job. This complicity saw our team shut Toulouse out for several long minutes (42': 31-18).
40': Seulement 2 buts inscrits en 10min par le @FENIX_HB contre 6 déjà pour nos 🔴🔵 la défense répond présente !

30-18 #PSGTOUL pic.twitter.com/7GJjRUvvea

— PSG Handball (@psghand) September 19, 2021
There was still more than a quarter of an hour to play and the Parisians had just about killed the match off (44': 33-19), but Raul Gonzalez's men refused to ease the pressure, keeping their collective foot on the gas and maintaining the gap. (48': 35-21). Meanwhile, Toulouse could only find the opening from the penalty line, faced with our youth academy goalkeeper, Léo Villain (49': 35-28).
Leo Villain peine toujours à trouver la solution sur les 7m adverses, mais le jeune gardien va très certainement profiter de cette expérience du haut niveau ! #PSGTOUL pic.twitter.com/4oTwM1dOE8

— PSG Handball (@psghand) September 19, 2021
A the final minutes ticked down, the result seemed beyond doubt (53': 37-24). In the final moments, former Toulouse man Ferran Solé Sala cooked up a wicked lob while Léo earned a standing ovation following a save to deny Tobias Wagner (58': 41-26). Paris Saint-Germain Handball ran out comfortable winers to continue their perfect start to the season with two wins from as many games! On Thursday, they will face Dinamo Bucharest, who defeated Kielce on Matchday 1, at Coubertin.
View this post on Instagram
Reactions from Ferran Solé Sala, Leo Villain and Raul Gonzalez:

Dimanche, les 🔴🔵 se sont imposés face à Toulouse en J2 de @LNHofficiel !

Ferran #SoleSala : « garder cet état d'esprit »
Léo #Villain : « la salle a fait du bruit, c'était super »
Raul #Gonzalez : « il faut profiter de la victoire et se remettre au travail » #PSGTOUL (43-28) pic.twitter.com/DAITt19Xw1

— PSG Handball (@psghand) September 19, 2021
(Credits: A. Gadoffre/TeamPics/PSG)