Voir cette publication sur Instagram
After an excellent win in the first leg of their EHF Champions League Round of 16 clash in Celje on Thursday night (24-37), Paris Saint-Germain Handball were back in Lidl StarLigue action as they hosted Chambéry in their rescheduled round 21 fixture. The two teams should have faced each other last weekend, but the match was postponed after several cases of COVID were detected in the Parisian camp. Heading into the match, our team boasted a perfect league record of 17 wins in as many games, while the visitors had a chance of confirming their place in the top half of the table.
Avant le coup d'envoi de #PSGCSH, découvrez la suite de notre entretien avec Luc Steins !

— PSG Handball (@psghand) April 4, 2021
From the beginning, both attacks stepped right up to the plate! The Savoyards had clearly come to the capital to take their chances and managed to keep pace with the league leaders during the first minutes (4': 3-3). In spite of a superb spin-shot from Dylan Nahi, which nutmegged Nikola Portner before Ferran Solé Sala struck with a chabala from the penalty line, Les Rouge et Bleu couldn't find a way to make the break (7': 5-5). For that, we had to wait for two saves from former Chambéry man Yann Genty and a trademark power goal from Elohim Prandi.
10' : Paris prend les devants grâce à la puissance de @PrandiElohim ! (7-6) #PSGCSH pic.twitter.com/4FkmCArB3u

— PSG Handball (@psghand) April 4, 2021
Once in front (15': 8-9), Paris broke clear! The key figures from the early stages of the game continued to fire and increased their side's lead. Already at ease offensively, Dylan graced us with some heroic defending, diving to prevent a goal and recover possession. His counterpart on the right wing, Ferran, cheekily produced another chabala from the penalty line to make the first break of the game (19': 10-8). On his side, Elo' slammed another one home to see the Parisians go three goals to the good (22': 14-11).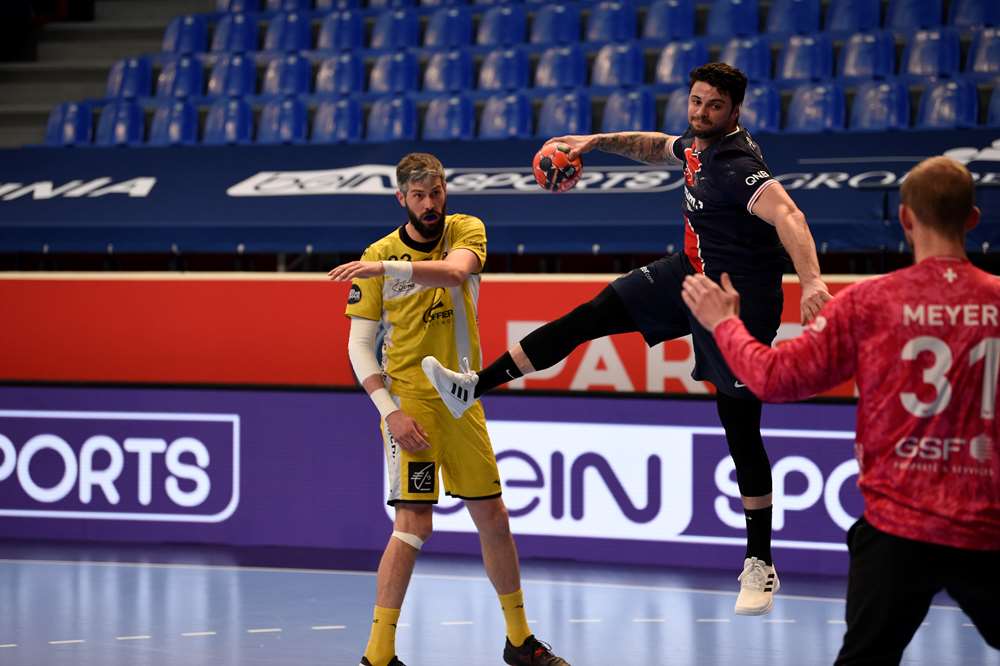 In the last minutes of the first act, Raul Gonzalez's men accelerated once again, well led by their two playmakers, Luc Steins and Elohim (24': 16-12). At the break, they still had a four-goals lead over Chambéry.
Voir cette publication sur Instagram
After the break, the capital club and Dainis Kristopans (who hit a quick-fire double) picked up where they had left off in the first (32': 20-14). The Savoyard rear-guard was obliged to show more aggressiveness and a number of sanctions followed, with the visitors reduced to five men on a number of occasions - on all of which Paris took full advantage of their numerical superiority (36': 23-14). Following another excellent defensive sequence from Les Rouge et Bleu and a counter-attack well led by Nedim Remili, Paris blew their lead out to +10 (36': 24-14).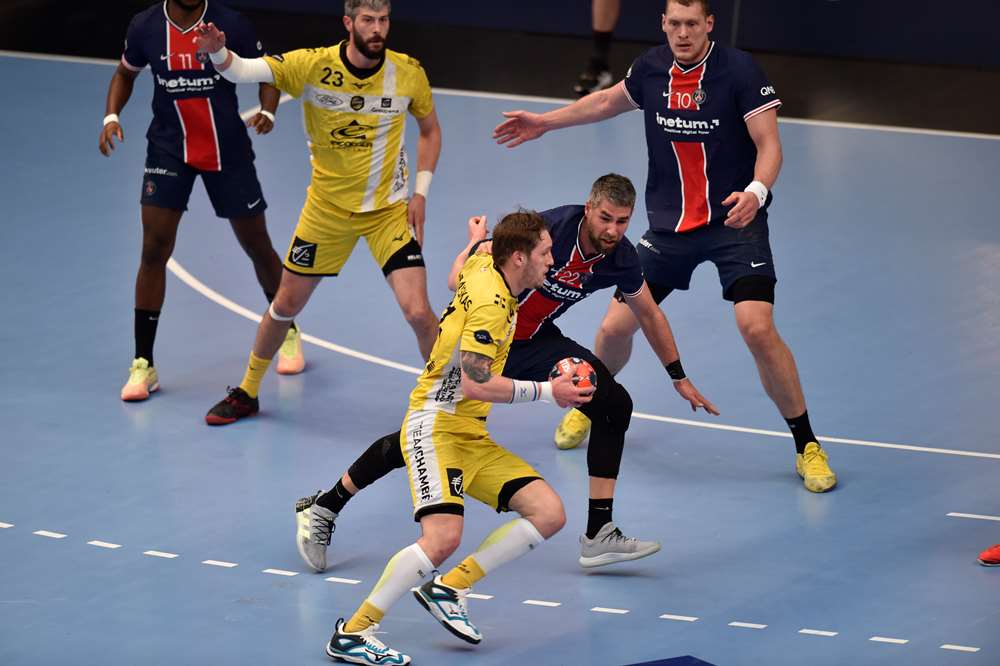 A few moments later, after a magnificent catch followed by a deadly shot from Benoît Kounkoud (38': 25-14), the visitors finally found the back of Yann's net, thus putting an end to a 12-minute drought that had started late in the first half. The goal got Chambéry going in the right direction once more but they couldn't manage to make up much of their deficit (46': 26-18). It must be said that the Parisians' defensive efficiency gives Chambéry very few opportunities to come back - and when they did have a chance, Vincent Gérard came on and stopped a penalty from Hugo Brouzet (50': 27-19).
50' : Entrée de @Gerard_Vincent, penalty stoppé 👉 100% d'arrêts ! 💪 (28-20) #PSGCHS pic.twitter.com/Mjbyei29fC

— PSG Handball (@psghand) April 4, 2021
In the final minutes, while the outcome of the match seemed fairly clear (53': 29-21), the two goalkeepers did their best to outdo each other. The offensive lines, who had been so inspired up until that point, started to have difficulties making the breakthrough. Fortunately, the Parisian attack got back to its best and widened the gap again (56': 32-21) to seal the deal and continue the club's perfect run in the Lidl StarLigue. With this 18th victory in a row, Paris Saint-Germain Handball notched its best-ever start in the league and took a six-point lead over nearest chasers Montpellier.
Voir cette publication sur Instagram
(Credits: TeamPics/PSG)