Paris Saint-Germain Handball won 31-39 at the Arena du Pays d'Aix on Sunday to take sole possession of top spot in the league. Take a look back at the Liqui Moly StarLigue Round 10 match...
View this post on Instagram
Les Rouge et Bleu travelled to Pays d'Aix on Sunday for LiquiMoly StarLigue Round 10. The Parisians were aiming to continue their unbeaten run in the league and take sole possession of top spot following Montpellier's 35-35 draw with Saint-Raphaël on Saturday.
Luc Steins was the game's leading scorer, taking his career tally in the LiquiMoly StarLigue past the 400-goal mark. It didn't take long for the game to get going, with both teams showing their eye for goal but failing to break the deadlock (6': 3-3). Taking advantage of their first numerical superiority of the match, the Parisians stepped up a gear and put three quick unanswered goals past Aix - including one form Jannick Green (10': 4-7)! However, the hosts managed to get back on level terms when the Parisian rearguard took their foot off the gas (13': 7-7).
Elohim Prandi, who had just come on as a substitute, then scored a superb goal that flew into the top corner and gave the capital club the lead in a first half that was becoming increasingly exciting (24': 12-13). As the end of the first period approached, Paris regained their lead thanks to Ferran Solé's fourth goal (28': 14-16). Raul Gonzalez's men then scored a final goal right on the buzzer following a time-out called by the Rouge et Bleu coach. At the end of a balanced first half, our team went into the locker room with a two-point lead (30': 16-18).
30' : C'est la pause à Aix, Paris mène de deux longueurs ! #AIXPSG pic.twitter.com/oNpH6YJO41

— PSG Handball (@psghand) November 19, 2023
With a numerical advantage at the start of the second half, the Parisians took advantage of every gap left by Aix-en-Provence. Led by a brace from Kamil Syprzak, the capital club took control of the scoreboard (33': 16-21). A few minutes later, Elohim Prandi added a hat-trick to extend the lead and give his side a comfortable advantage (39': 19-26). The home side's time-out had little effect on Les Rouge et Bleu, who maintained their seven-goal lead going into the final quarter (45': 22-29).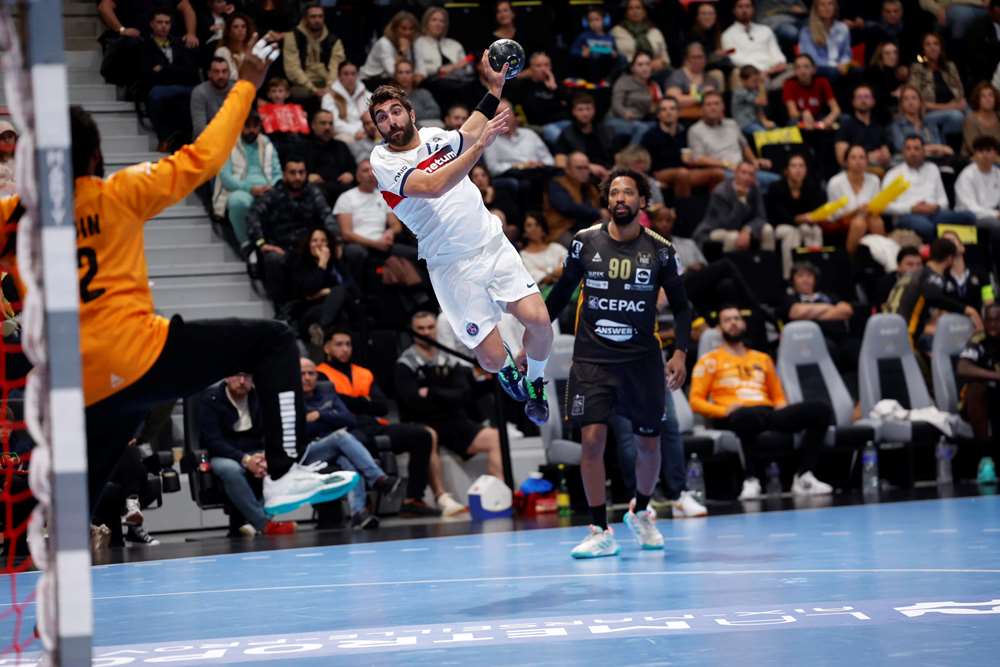 Although victory was already assured as money-time rolled around, Raul Gonzalez's men spared no effort and kept up the good work (55': 28-37). Serious and diligent, Les Rouge et Bleu came out on top at the Arena du Pays d'Aix and took sole possession of top spot on the the Liqui Moly StarLigue table (60': 31-39). In statistical terms, Luc Steins and Elohim Prandi did themselves proud, the Dutchman scoring his 400th league goal and the French international his 400th goal in this competition with our team. The Parisians are thus boosting their confidence ahead of a week that promises to be decisive for the rest of the season.
The capital club host Kolstad at 20:45 on Wednesday as part EHF Champions League Matchday 8, before welcoming Montpellier on Sunday in a summit clash to close out Liqui Moly StarLigue Round 11.
60' : C'est terminé à Aix ! Paris s'impose, poursuit son sans-faute en #LMS et s'empare seul des commandes du championnat ! #AIXPSG pic.twitter.com/Uu2do59XMI

— PSG Handball (@psghand) November 19, 2023
REACTIONS FROM RAUL GONZALEZ, NIKOLA KARABATIC AND KAMIL SYPRZAK:
🎙️ Après #AIXPSG (31-39), découvrez les réactions de Raul #Gonzalez, @NKARABATIC & @syprzak_kamil 🔽 pic.twitter.com/6v7S7p0NoZ

— PSG Handball (@psghand) November 19, 2023
(Credits: J. Azouze/PSG)