Paris caught out in Veszprém
View this post on Instagram
On Thursday, Paris Saint-Germain Handball were back on the European stage! For this first outing in the EHF Champions League, Les Rouge et Bleu did not do things by halves as they went to the Hungarian team of Vespzrém. Before the match, the two teams already knew each other well - it was their thirteenth meeting in this competition (seven wins, one draw and four defeats for Paris).
Les 🔴🔵 sont bien arrivés à Veszprém où ils affronteront le club Hongrois demain en @ehfcl.

La suite du programme de la journée :
🍝
😴
🤾‍♂️
🚿
🥘
📺⚽️👀 @ClubBrugge vs. @PSG_inside pic.twitter.com/cjxZ4S0nvd

— PSG Handball (@psghand) September 15, 2021
The match started at a frantic pace! The goals rained down, but some with more style than others - notably a nice chabala from Nikola Karabatic (3': 2-3) and a spin-shot from Yahia Khaled Mahmoud Fathy Omar (6': 4-4). The match was very tight from the start and even when our team took a two-length lead (7': 4-6), the home team immediately levelled matters (8': 6-6)... but the reverse was also true.
View this post on Instagram
After the scorers, it was the turn of the two goalkeepers, Rodrigo Corrales and Vincent Gérard (former teammates at Paris), to go head to head. As the minutes passed, each side held the other in check (14': 8-8) and neither team managed to break away. As soon as the first one scored, the other one equalised. And when one missed, so did the other (20': 11-11).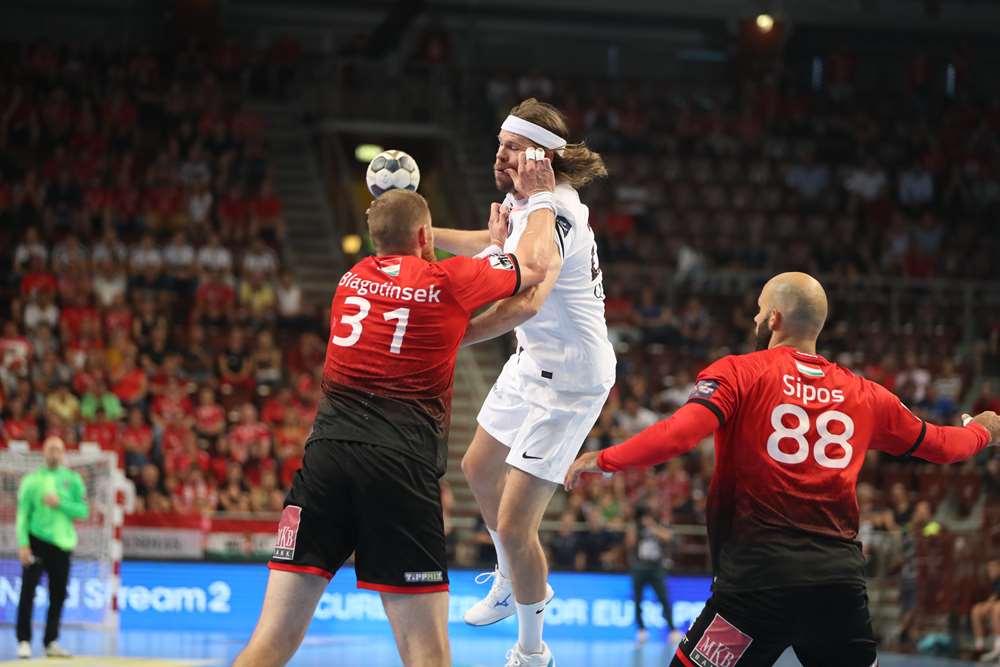 Veszprém had a chance to break clear, but Yann Genty denied the Hungarians' penalty and a counter-attack by Mathieu Grébille further thwarted the hosts' plans (23': 12-12). Les Rouge et Bleu took full advantage and turned the situation around - Dainis Kristopans and Benoît Kounkoud got their team back to +2 (26': 12-14) and even a Veszprém time out did nothing to change matters. The Parisian defence had raised the bar! At the break, after a last goal from Luc Steins at the buzzer, Raul Gonzalez's men led by four goals.
View this post on Instagram
The return from the locker room was initially more delicate; our team was reduced to five men and the Hungarians made up some of their deficit (33': 15-17). After another temporary send-off for our side, Veszprém got back to within a single goal (36': 18-19). Yann then made a few saves - including a magnificent one from close range to deny Adrian Sipos and a penalty save from Petar Nenadic - and the Parisians regained breathing space (38': 18-21)
🤯 30 seconds of sheer brilliance from Yann Genty & @Rodrigao016 @telekomveszprem vs @psghand #ehfcl #showtimeforchampions pic.twitter.com/eTvD6fsca8

— EHF Champions League (@ehfcl) September 16, 2021
The capital club managed their second half perfectly and were still in a favourable position heading into the final quarter of the match (43': 20-24), but things can change quickly in a game of handball. A few failed attacks and a few conceded goals later and the suspense was right back in the game (46': 23-24). Our team still were dominating, but were now within striking distance of their opponents (49': 24-26). The tension as the minutes ticked down was unbearable (50': 25-26).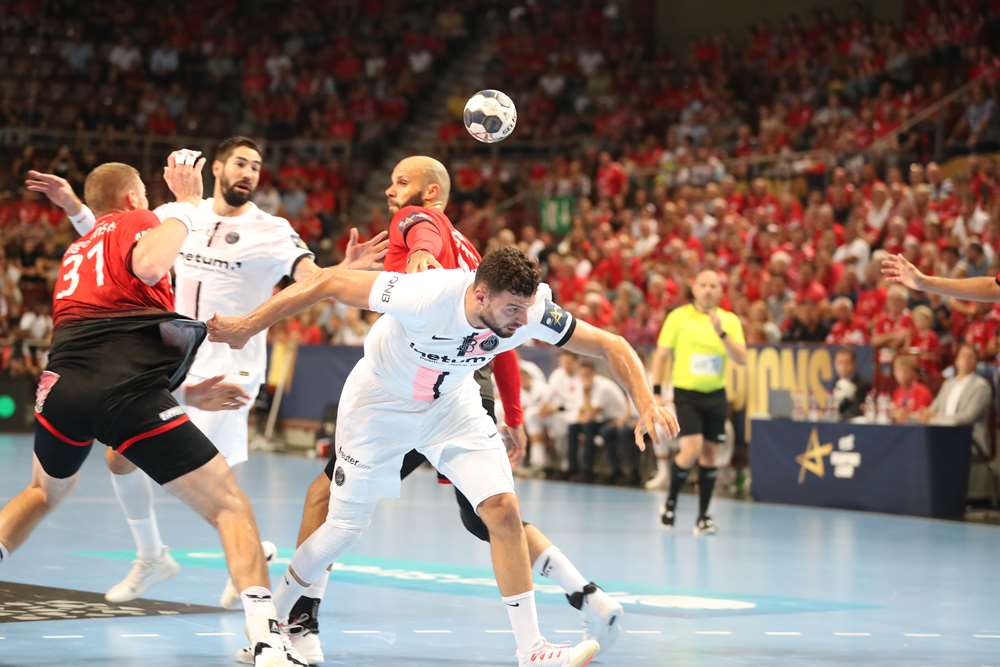 The last ten minutes started badly... spurred on by their fans, Veszprém took advantage of a strong spell and went in front (51': 27-26). The rub of the green had changed sides and it was the Hungarians who were in control of the game (53': 28-26). Paris hit back through Niko and a sublime spin-shot from Dainis (54': 28-28), but couldn't avoid falling in the very last moments of the match. Despite giving it their all, our players kicked their European campaign off with a defeat. See you on Sunday, for Round 2 of the Liqui Moly StarLigue season as Paris take on Toulouse, before playing host to Bucharest at the Stade Pierre de Coubertin on Thursday.
View this post on Instagram
Reactions from Luka Karabatic, Luc Steins and Jesus Gonzalez:

Paris s'est incliné face à Veszprém, en J1 d'@ehfcl @LKARABATIC_Off : « il n'y a pas à rougir »
Luc #Steins : « retenir le positif, travailler le négatif »@jota_glez : « nous avons mal géré nos supériorités numériques »#VEZPSG (34-31) pic.twitter.com/TrPpY33t0t

— PSG Handball (@psghand) September 16, 2021
(Credits: J. Azouze/PSG)