A great win to go six points clear!
Voir cette publication sur Instagram
On Saturday evening, Paris Saint-Germain Handball played host to nearest rivals Montpellier in their Round 23 clash at the Stade Pierre de Coubertin. After breaking the record for the best-ever start to a French league season (20 wins in as many games, topping Montpellier's 19 out of 19), Les Rouge et Bleu had an opportunity to make a big impact on the table: with a win they would put their nearest rivals six points adrift. But it was not going to be easy against the Héraultais, who had only lost once before travelling to the capital.
Aware of the importance of this match, Raul Gonzalez's men started off with a bang. They defended well, attacked perfectly and quickly created a first promising lead (4': 4-1). One of the strongest players at the start of the game was Luc Steins. The Dutch international, sometimes a scorer, sometimes an assist provider, succeeded in almost everything he did and allowed his team to keep its advantage (10': 8-4).
But in spite of this good start, the danger still was still there, largely thanks to the efficiency of the Montpellier left-winger Hugo Descat (13': 8-7). At the quarter-hour mark, Paris were still in the lead, but the match had started to even out (18': 11-10) and our team found it tougher to beat Marin Sego. However, the power of Elohim Prandi was enough to make the break (20': 12-10) and give Les Rouge et Bleu some oxygen! After a penalty from Mikkel Hansen, they were once again four goals to the good (22': 15-11).
19': Le un contre un de @PrandiElohim tout en puissance qui redonne 2 buts d'avance à Paris.

12-10 #PSGMHB pic.twitter.com/LxDLTH9YWg

— PSG Handball (@psghand) April 17, 2021
Our players then stepped on the gas even harder (24': 17-12). The visitors were forced to up their aggressiveness and, even before the break, France internationals Melvyn Richardson and Valentin Porte were each given two temporary send-offs. Our attack took full advantage to increase the lead a little more (26': 18-12). Sprinkle in several saves from Yann Genty and you get a +4 advantage in favour of the Parisians, at the end of the first half, after a final corner from Dainis Kristopans and a save from Elohim at the buzzer.
Voir cette publication sur Instagram
Although the second half started a little more delicately, with a new Montpellier comeback and a few saves from Sego (33': 19-17), the capital club took very little time to regain a four-goal lead (35': 21-17). The battle had been very intense during the first half, and the two teams were once again fighting, both literally and figuratively (50': 24-20).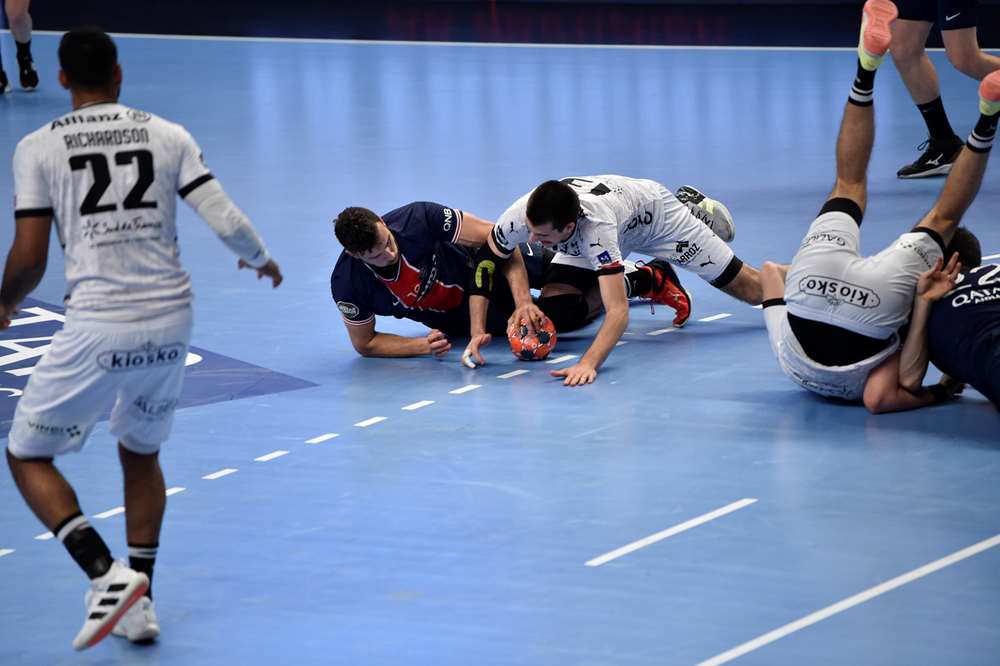 Even when our opponents seemed set to get back in the game, they were immediately pushed back onto the ropes and relegated to five and then six points after a double of Mikky - in style too, with a deft feint and crisp finish into the top corner (42': 26-20)! In the same style, Dainis managed a superb 360 in front of the Hérault defence before finding the back of the net (46': 27-21). The last ten minutes were approaching, and Paris were still in control of the game (49': 28-23) - but the tension was still palpable.
43': Il faudra revoir ce but de @mikkelhansen24 qui a bien fait marcher la défense du @mhbofficiel sur la feinte de tir !

26-20 #PSGMHB pic.twitter.com/B0jBZtrIGI

— PSG Handball (@psghand) April 17, 2021
Both teams' benches were like an eighth man in final minutes. On the court, our players remained imperious on the edge of the penalty area and caused a lot of problems for the opponent's offensive line. Thanks to this efficiency, they remained masters of their destiny while the clock was ticking (53': 29-24) and, when the buzzer sounded, they emerged as the only side in the history of French handball to win the first 21 matches of a season! And they now have a six-point lead over their nearest rivals!
Voir cette publication sur Instagram
(Credits: TeamPics/PSG)