A festive start to the season
View this post on Instagram
On Friday evening, Paris Saint-Germain Handball were back in action in the opening round of the Liqui Moly StarLigue season. At the Stade Pierre de Coubertin, they played host to an Istres side featuring former Parisians Samuel Honrubia and Clément Gaudin.
L'échauffement a débuté à Coubertin #PSGISTRES pic.twitter.com/mQQCKfIuXE

— PSG Handball (@psghand) September 10, 2021
As well as getting back to business, it was an opportunity to pay tribute to our Olympic medallists, including the five French gold medalists, Yann Genty, Vincent Gérard, Luka Karabatic, Nedim Remili and Nikola Karabatic.
🤾♂️#HandAction
🥇 Les médaillés des #JO2020 du PSG célébrés avant le match
📺 @psghand - @IstresHB en direct sur beIN SPORTS 3 pic.twitter.com/Jtkkso2JYg

— Hand Action (@HandAction) September 10, 2021
After several months of waiting, Les Rouge et Bleu are once again taking the court in an official match! The first one to make his presence felt was Adam Keita, who put the count back to zero (2': 1-1). However, it was the visitors who started the game better; Istréan goalkeeper Arnaud Tabarand was efficient early on and allowed his team to take the lead (11': 6-7).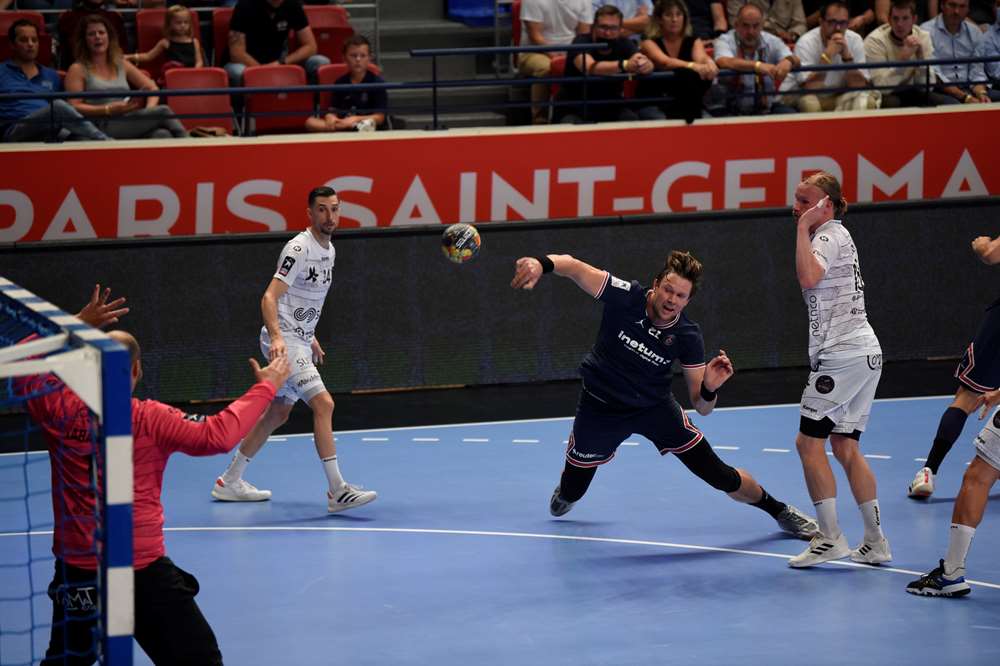 A few minutes later, our players turned things around (15': 9-8), and after a penalty converted by Mikkel Hansen, the capital club saw its advantage increase to +3 (18': 11-8). The attack was on target, and the defence was in tune, Vincent Gérard imperiously stopping a penalty (19': 12-8). It was then Nedim Remili who flew through the air to prevent Tabarand from scoring into an empty net from his own half (22': 13-9). 
22': Il rentre et il s'envole déjà, sans gardien, @Nedim_Remili se jette dans les airs pour contrer le tir du gardien adverse qui ne terminera pas sa course dans nos buts. @Gerard_Vincent termine le travail et permet à Paris de conserver la balle ! 13-9 #PSGISTRES pic.twitter.com/5xo88HqL19

— PSG Handball (@psghand) September 10, 2021
Istres finishes the first act as they started it: by causing Les Rouge et Bleu plenty of problems (27': 14-13). It took a masterpiece from Elohim Prandi - right on the buzzer - to find the top corner and give the Parisians some breathing space at the break.
View this post on Instagram
After the break, Paris stepped on the gas once more (34': 20-16) and took advantage of this very good start to take a five-point lead for the first time in the game, Nikola Karabatic firing a missile into the back of the net (37': 21-16). In the aftermath, Adama Keita, perfectly played through by Elohim, won his duel with his former youth academy partner Clément Gaudin and put his side six points to the good (39': 23-17).
The minutes ticked by and Raul Gonzalez's men maintained control of the situation (45': 25-20). Already on fire in the Parisian backline at the beginning of the game, Nedim also stood out in front of goal, getting past the entire Istres defence before scoring with extreme power (47': 28-22). With less than ten minutes left, our team was in a very favourable position (52': 29-23) - and even more so when Vincent brought Coubertin to its feet with a sublime double save.
53': Je crois que @Gerard_Vincent vient de nous sortir une double parade de l'espace ! Des Vincent Vincent descendent des tribunes ! 29-24 #PSGISTRES pic.twitter.com/ldeAguO4yK

— PSG Handball (@psghand) September 10, 2021
Paris Saint-Germain Handball were happy to be back with their fans and let them know it with a stylish win. In the final moments, Vincent won another face-off, while on the counter, Kamil Syprzak scored with a nice spin-shot. Les Rouge et Bleu held on for the win and got their 2021-2022 season off to a perfect start. The next match will be European, away to Veszprém next Thursday for the first matchday of the EHF Champions League campaign.
View this post on Instagram
Reactions from Vincent Gérard, Adama Keita and Raul Gonzalez:

Vous avez manqué aux 🔴🔵 ! @le8emehomme @les_assidus @Gerard_Vincent : "ça fait plaisir de pouvoir célébrer avec des supporters"@Adams_Keita : "avec notre public, on peut faire des choses incroyables"
Raul #Gonzalez : "on peut enfin profiter de notre public"#PSGIST (34-25) pic.twitter.com/umm1GRy65Y

— PSG Handball (@psghand) September 10, 2021
(Credits: A. Gadoffre/TeamPics/PSG)