Record breaking Bleus, Les Parisiens lead the way
The France national team ran out 14-0 winners over Gibraltar on Saturday 18 November 2023, in the qualifiers for the UEFA Euro Championships Germany 2023, at the Allianz Riviera in Nice.
An exceptional evening for Les Bleus who broke the record for the biggest victory in their history, overtaking France-Azerbaijan in 1995 (10-0).
On this historic evening, the national team was able to heavily rely on its Parisiens. Warren Zaïre-Emery first and foremost, became the youngest player to represent Les Bleus since 1914. He is now the fourth youngest player in the history of the French national team. 
Warren Zaïre-Emery est titulaire pour affronter Gibraltar aux côtés de @KMbappe ! 🤩🇫🇷

Les premières minutes en @equipedefrance pour notre Parisien, plus jeune joueur tricolore depuis 1914 ! 👏

Bon match à nos Parisiens ! ❤️💙#MadeInParis pic.twitter.com/plnXKR2hgo

— Paris Saint-Germain (@PSG_inside) November 18, 2023
With the third goal of the encounter, he became the 2nd youngest goalscorer for Les Bleus, behind Maurice Gastiger. Warren was unfortunately forced to leave the field early and couldn't finish the match.
Ousmane Dembélé (1 goal) and Kylian Mbappé (3 goals) also found the back of the net yesterday, taking the number of goals scored by members of the Paris Saint-Germain squad in the same match to 5, another record, which dated back to 1985, with a hat trick for Dominique Rocheteau and a goal from Luis Fernandez, against Luxembourg. It's also the first time in a France match that 3 different goalscorers from the club from the capital have hit the back of the net.
Kylian Mbappé continues to defy the norms of world football! He scored his 300th career goal (club + country). He achieved this feat before his 25th birthday, bettering the records of Lionel Messi, Cristiano Ronaldo and even Neymar Jr.
And with 44 goals for the French national team, Kylian has now stepped onto the podium for the top scorers for Les Bleus, on a par with Antoine Griezmann, and behind Thierry Henry and Olivier Giroud.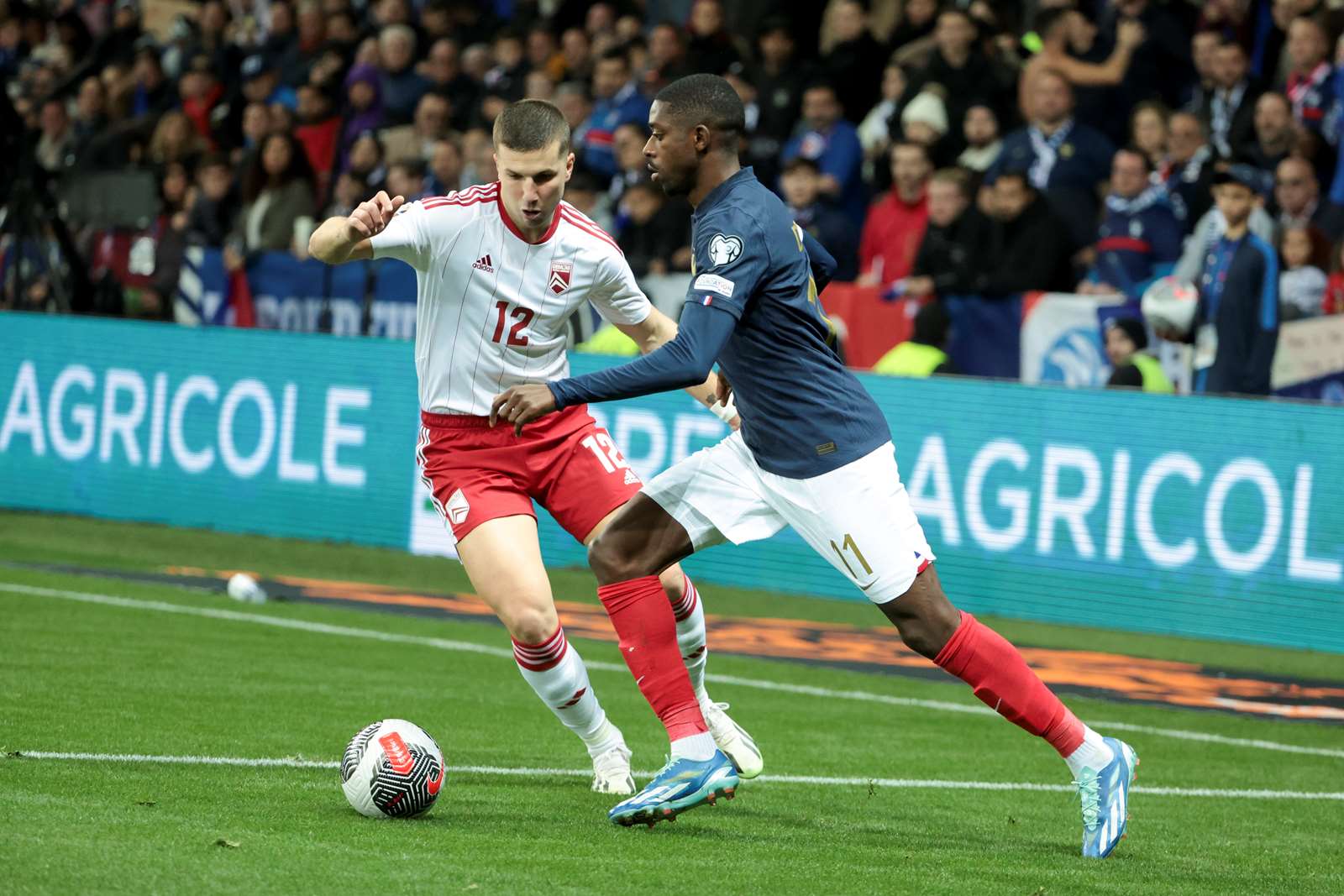 FRANCE - GIBRALTAR: 14-0 (7-0)
UEFA Euro Germany 2024 - Qualifiers - Group B - Matchday 9
Allianz Riviera (Nice)
Goals: Santos (o.g 3') Thuram (4') Zaïre-Emery (16') Mbappé (pen. 30', 74', 82') Clauss (34'), Coman (36', 65'), Fofana (37'), Rabiot (63'), Dembélé (73'), Giroud (89', 90+1').
FRANCE: Maignan, Clauss, T. Hernandez, Upamecano (Saliba, 81'), Todibo, Rabiot (Kamara, 67'), Zaïre-Emery (Fofana, 20'), Griezmann, Coman (Dembélé, 66'), Thuram (Giroud, 67'), Mbappé. Coach: D. Deschamps.
GIBRALTAR : Coleing, J. Chipolina (Olivero, 61'), Mouelhi, Sergeant,  R. Chipolina, Santos, Walker (Jolley, 62'), De Haro, Pozo, Casciaro, De Barr (Coombes, 81'). Coach: J. Ribas.