Christophe Galtier: "We created a lot of chances"
Here are the reactions from the Parisians after the 1-1 draw between Paris Saint-Germain and AS Monaco.
Christophe Galtier
"Frustrating is not the word, because Monaco played a great first half-hour. Monaco caused us a lot of problems in terms of what we wanted to do with the ball, in terms of our play, a little too much positional play. Monaco came looking for us on our first passes out. They are a team that defends well going forward, that has big strengths when we play against them without any movement, and we missed a lot of that in the first half. We conceded that goal in transition, we knew that was their strong point. There were risks taken in the game. The first half-hour was difficult, we reacted at the end of the first half, we could have scored when we hit the post twice from Leo and Kylian. In the second half, we varied our game, we reorganised our attacking style, we brought our wing-backs into the game more, there was more movement, more depth than in the first half. As soon as we got higher, it stretched the Monegasque block, it allowed us to win the ball higher, and therefore to put Monaco in a very low block. Even if we had to be very careful on the transitions. They are a strong team with good attacking players. We created a lot of chances in the second half, but unfortunately we didn't manage to score that second goal to win."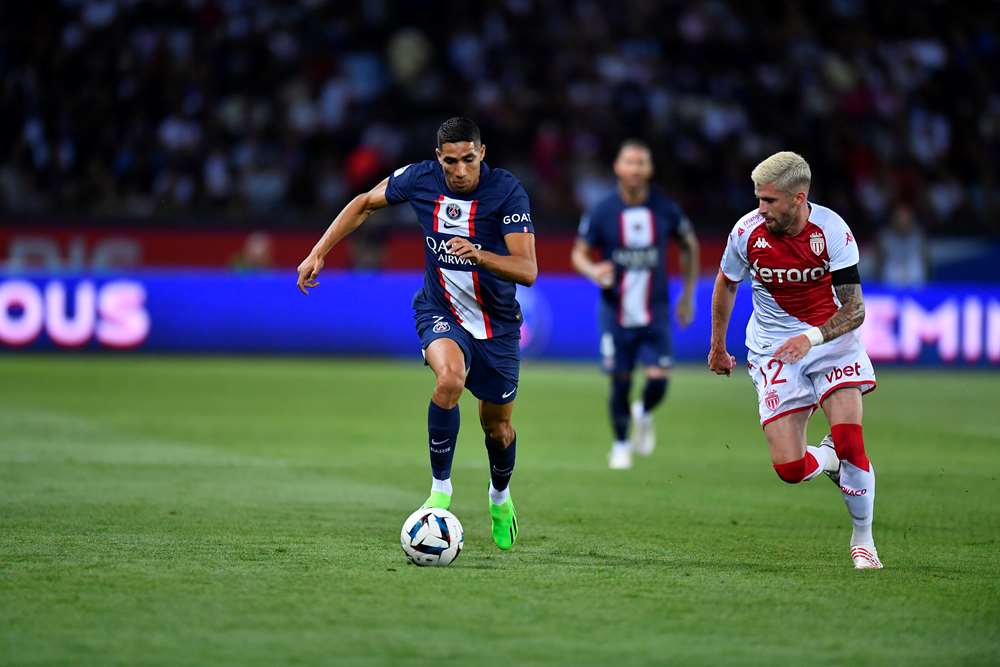 Achraf Hakimi
"Yes, in the end a bit frustrating with the chances we had but we're happy because we created a lot. I think that's the right path and little by little the chances will go in and we'll get on the scoresheet. It's a big step, as you say, to create lots of chances, it's a good for the team as it means we have good things in an attacking sense. But anyway little by little we'll improve our shooting. Today the ball didn't want to go in, on other days we would have scored 5 or 6 goals but this game wasn't possible. Monaco's goalkeeper also made some saves and I think he should be congratulated. We have a busy schedule of matches now and we have to think, and prepare ourselves mentally and physically. Now we have to prepare ourselves for Wednesday's match against Toulouse, now we need to recover well and think about this match which is important and we need a victory."