A final tribute from the Parc des Princes for Marco Verratti
Relive the Parc des Princes' tribute to Marco Verratti ahead of Friday's Ligue 1 Round 5 clash between Paris Saint-Germain and OGC Nice.
Paris Saint-Germain legend Marco Verratti received a final tribute at his home ground, the Parc des Princes, before heading off to his new adventure. Before the match against OGC Nice, the stadium sang the little owl's name one last time, to salute a career in Rouge et Bleu full of emotion, trophies and magic!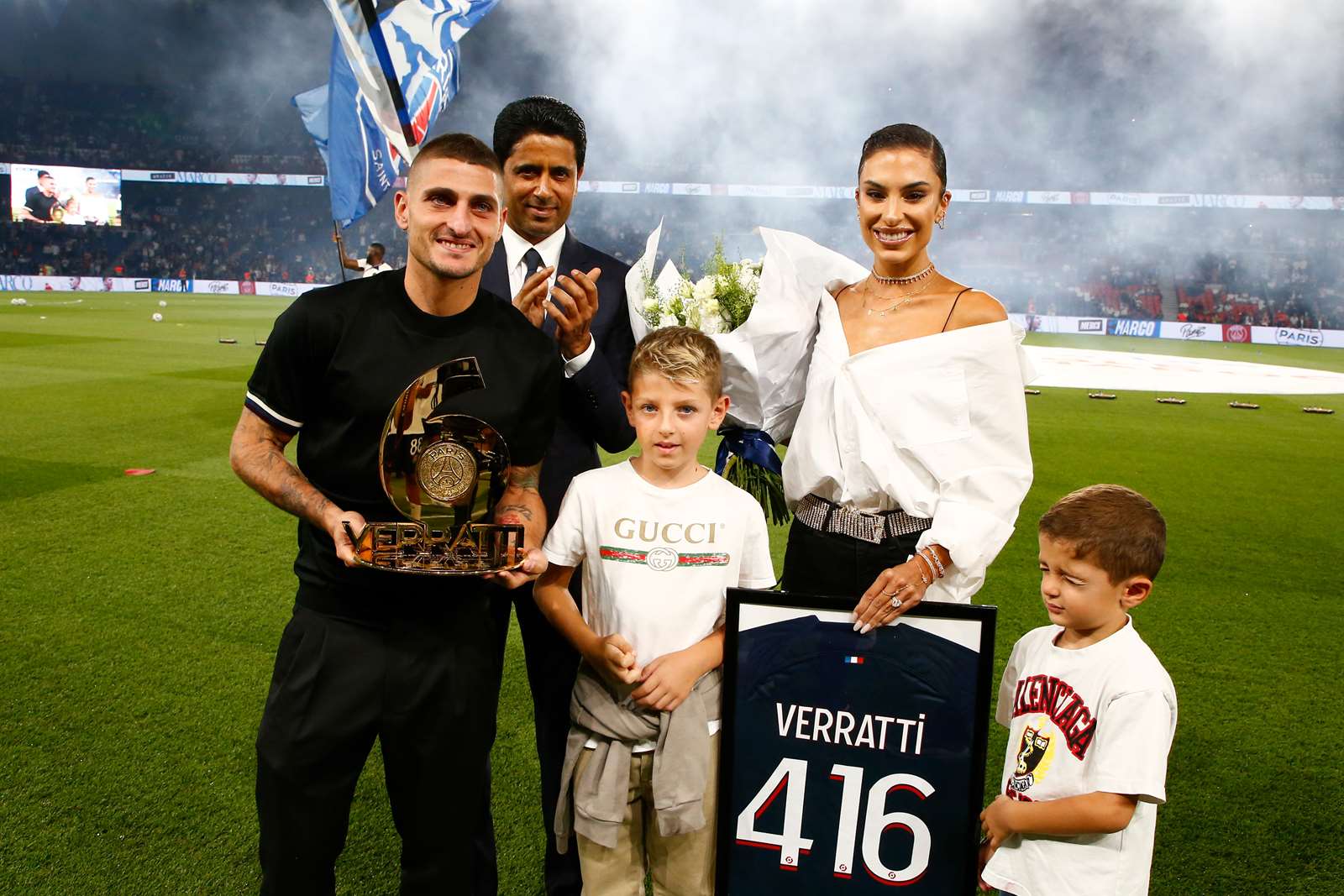 Just like the banners dedicated to the Italian in the Auteuil and Junior Club stands, the festivities were not confined to the pitch.
"A decade of magic, 30 trophies with Paris. A monument named Marco Verratti"
The atmosphere at the Parc des Princes this evening was worthy of the player being celebrated. Players and staff alike were there to salute him, and in style. A guard of honour awaited the Italian maestro as he took to the pitch, his pitch.
His former team-mates were also keen to send him a message. Blaise Matuidi, Ezequiel Lavezzi, Thiago Motta, Javier Pastore, Zlatan Ibrahimovic and Thiago Silva all had words full of love and nostalgia for the great years they spent playing alongside Paris Saint-Germain's No.6.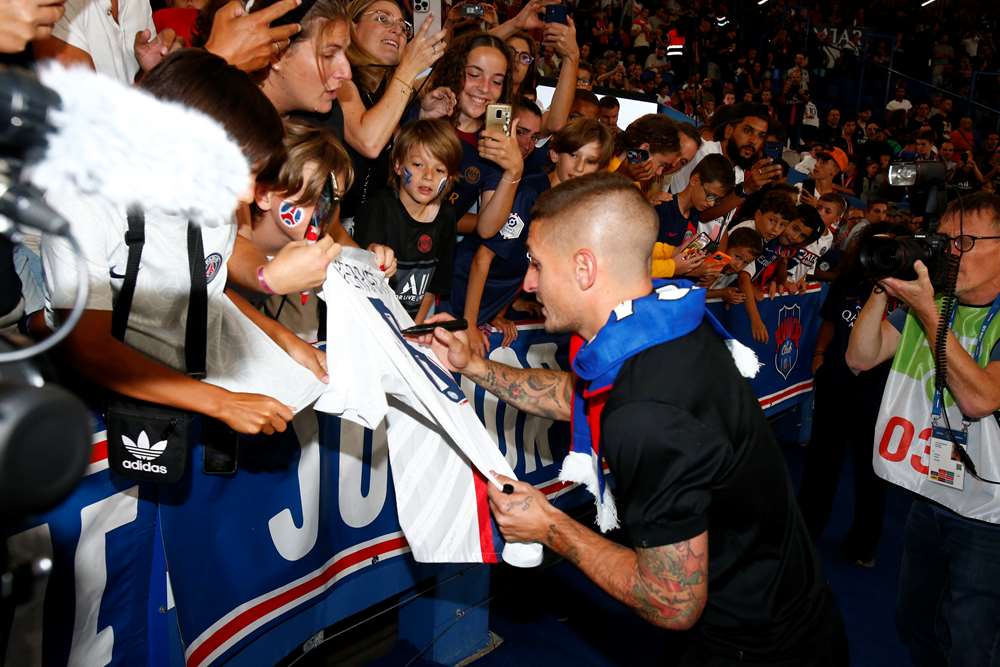 One last time, Marco Verratti was able to greet everyone in the stands. A decade with Les Rouge et Bleu is something you don't soon forget, and the crowd of supporters present at the stadium this evening were well aware of that. It was with hearts soaked in unforgettable moments, memorable actions and memories of an unrivalled game that the Parc honoured the most successful man in Parisian history. His 30 titles, including nine French championships, make Marco Verratti the player to have won the French league title the most times in the history of the competition. The Pescara-born player waved goodbye to the Auteuil tribune as he recalled the years gone by, the passes he had delivered and the sentiment he had generated.
"Italian and Parisian, the talent of a magician"
A stadium in unison, the reverberations of a cry, of a name chanted, that of Marco Verratti! After posing alongside the many trophies he has won, the Italian midfielder had a few words for the crowd. It was a moving speech, during which the little owl thanked the fervent Paris Saint-Germain supporters: "Thank you all, I've had eleven wonderful years. I really wanted to thank you, from the bottom of my heart."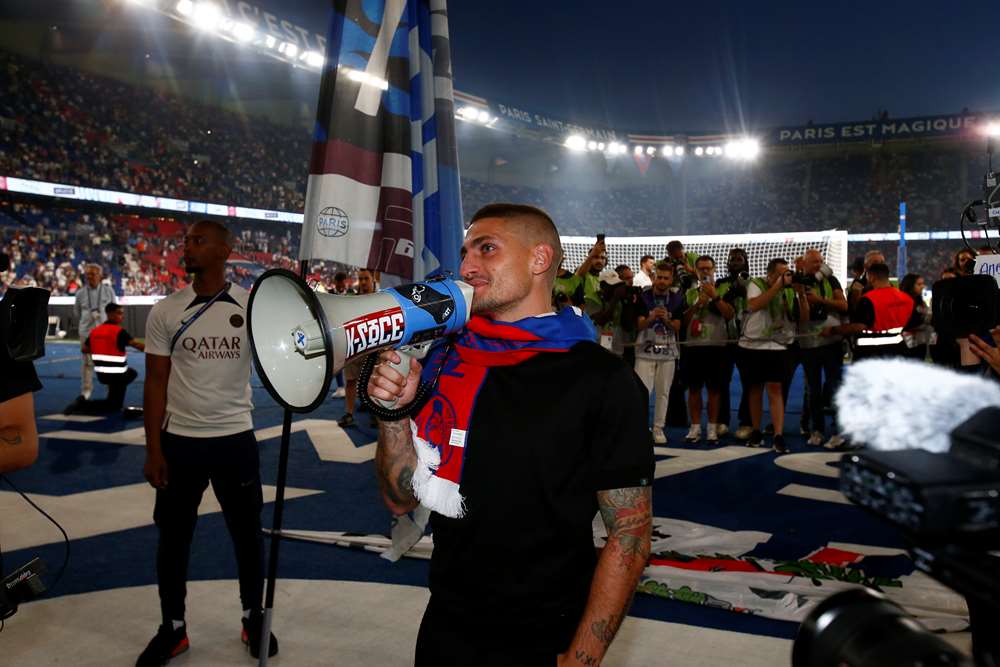 So it was with a heavy heart that Parc was able to shout, sing and honour the name of Marco Verratti one last time. Grazie Marco!