Teddy Riner: "The adventure isn't over"
After extending his contract with Paris Saint-Germain Judo until 31st August 2024, the most successful athlete in the history of his sport spoke about what keeps him close to the capital club, his role within the judo section and his upcoming aims, the most important of which are the 2024 Olympic Games in Paris.
Teddy, how do you feel after signing a two-year contract extension with Paris Saint-Germain?
"I'm proud to be staying at my first club until the 2024 Olympic Games in Paris. Being able to experience that event on home soil in Paris Saint-Germain colours is part of the wonderful history that we're still writing together. I'm comfortable here, and I feel good within this squad, who are continuing to grow in a superb atmosphere. It's a real pleasure, and as long as I have a smile on my face when I wake up in the morning, there's no reason for me to stop! The adventure isn't over for me, and whilst the aim is obviously to win at those home Olympics, I'm keeping what might happen after Paris in the back of my mind."
Maybe Los Angeles 2028?
"Why not?"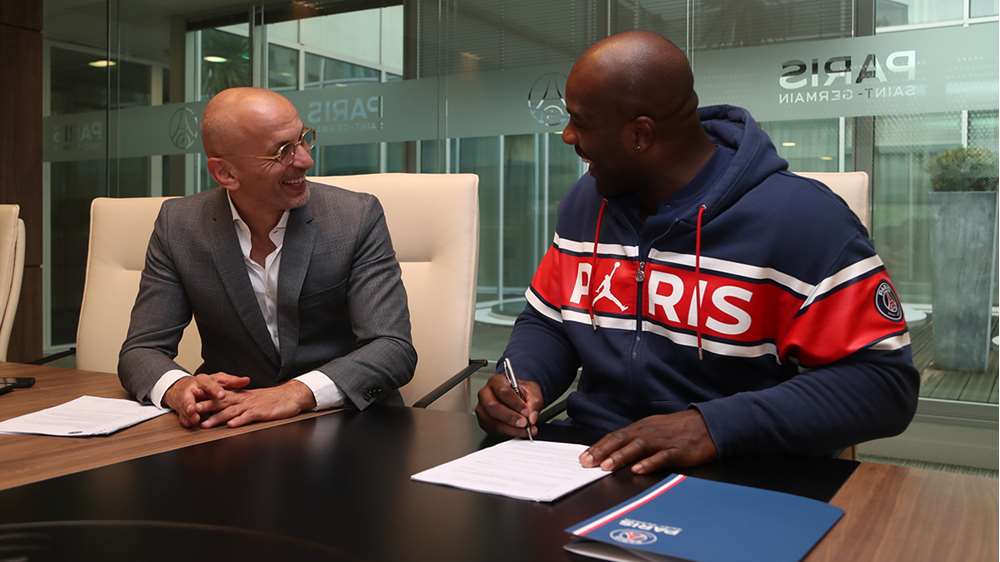 How is the club helping you to achieve your aims?
"Even though judo is an individual sport, we athletes need coaching staff and a structure around us so that we're in good company. Everyone is attentive to allow me to be at my best on the judo mat, and they respond to what I need on a daily basis: coaches, a sparring partner and a competitive squad to go out there, win medals and compete in a motivating environment. That gives me aims outside of the ones that I have with the French team, as I know that we can go far with such a consistent and close-knit squad. We've won the Europa League and the French championships on both the men's side and the women's side, and the Champions League now awaits us. Given that I don't like losing, we'll go into it with everything we've got so that we can finish at the top of that podium."
What role do you hold within the group?
"When you look at the club's members, at the grand old age of 33, I'm a bit like their big brother! That comes naturally to me. If I can contribute my experience and what I've managed to achieve in judo, I'll gladly do so, and when people want to listen to me, it's even better; it goes ten times faster, and that's what's happening in our squad right now. Seeing the young ones go one step further to get their point in team competitions helps me, too. I feed off that collective enthusiasm."
You'll shortly join the club's footballers on a tour of Japan. What are your relationships like with Paris Saint-Germain's other athletes?
"Being able to mix the two sections on that trip – to the home of judo as well – shows that we're all part of the same family. We'll have a good time together, as we're human beings just like anyone else, who enjoy laughing, having fun and sharing things with each other. It's really cool to be able to spread the club's name around the world in this way. I think that Paris Saint-Germain are the number-one club in France, with the football team, the handball team and the judo team all being champions of France. It's an honour to play for such a big, multi-sport club, particularly for me, as I was born into this club and hope to end my career here."