Paris Saint-Germain united with Japanese high school students on tenth anniversary of 2011 earthquake and tsunami
Paris Saint-Germain joined Japanese children's non-profit organisation Kidsdoor at a special event held to commemorate the earthquake and tsunami of 2011.
In continuing to fulfil its pledge to support disadvantaged children, Paris Saint-Germain took part in a commemorative day held to mark the tenth anniversary of the earthquake and tsunami that devastated Japan's east coast in 2011. Responding to a call from the non-profit organisation Kidsdoor, which fights child poverty, a representative from Paris Saint-Germain's Japanese fan club travelled to Minamisanriku on Saturday 20 March to meet students from Shizugawa High School. A port town in the Tohoku region, Minamisanriku was badly hit by the disaster.
As part of the event, the four trophies won by Paris Saint-Germain in the 2019/20 season went on display in the region as a symbol of hope. Also making the trip was club mascot Germain, who handed out goodies on behalf of the first team to the high school team's young players. Several of the Paris Saint-Germain players also recorded a video conveying a message of positivity and courage over adversity for the students, who watched it enthusiastically and also gratefully took receipt of a jersey signed by the whole team.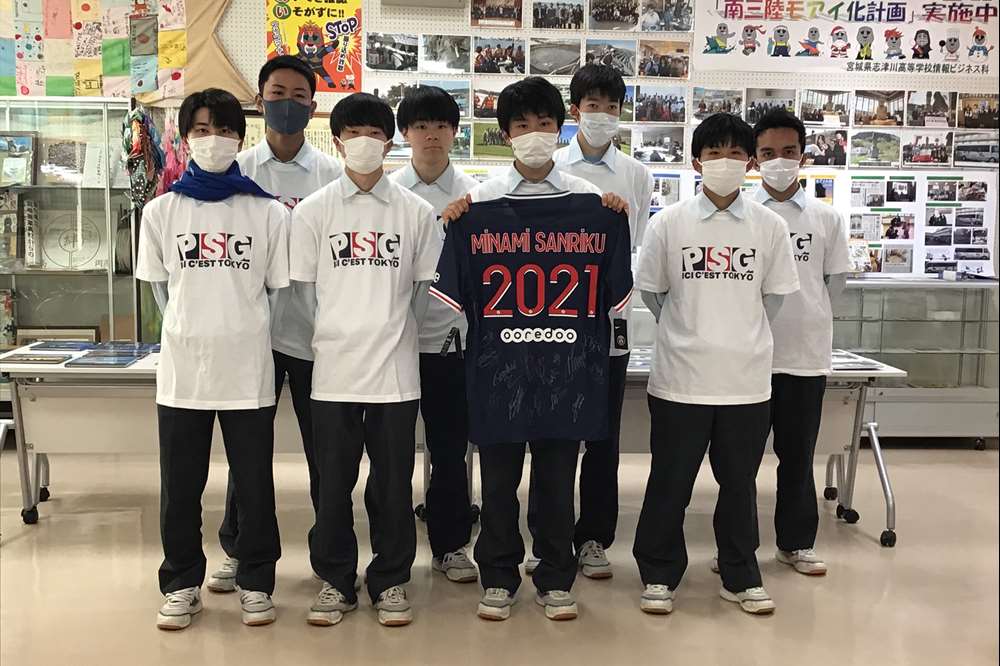 Sébastien Wasels, Managing Director Paris Saint-Germain Asia Pacific, said: "Supporting Kidsdoor was an easy decision to make for Paris Saint-Germain. It's an organisation that undertakes educational initiatives in Japan to combat the scourge of child poverty. With this visit to Minamisanriku, we hope to show our community of young Japanese fans that we stand by them when times are tough. The values of solidarity and respect that Paris Saint-Germain projects around the world take on all their meaning at commemorative events like this."
In the years since the 2011 earthquake and tsunami, Kidsdoor has been especially active in the Tohoku region – which was hit hard by the disaster – laying on free study sessions for students. In 2017, the organisation opened a learning centre at Shizugawa High School to help youngsters with their studies.
A firm believer in the positive contribution that education and the values of sport have to make in helping disadvantaged youngsters flourish and thrive, Paris Saint-Germain is ready to go anywhere in the world in support of youth charities such as Kidsdoor.