Paris Saint-Germain to hold its inaugural Academy Cup in Brazil
Joined by club legends Maxwell and Rai, more than 700 youngsters aged seven to 13 will take part in the first Paris Saint-Germain Academy Cup Brazil powered by Universal Orlando Resort TM, to be held in Rio de Janeiro from 30 October to 2 November. The final of the competition will be played at the legendary Maracanã Stadium.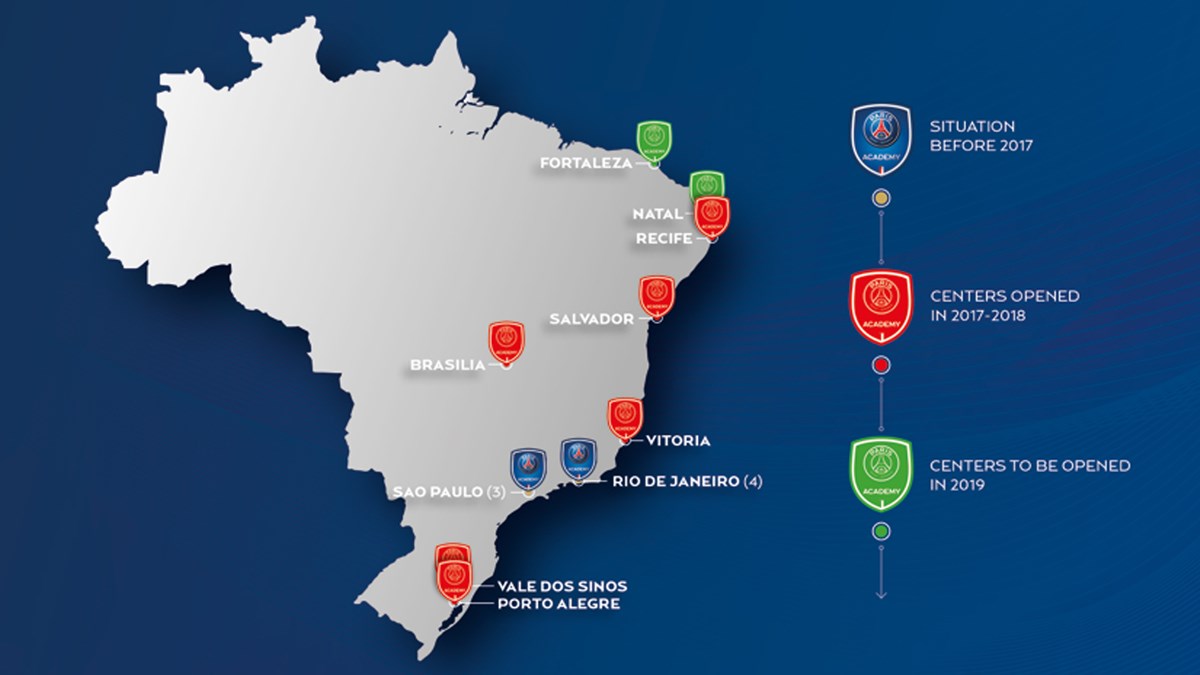 Celebratory in nature, this new competition is the biggest ever held within the Paris Saint-Germain football academy network and follows a season of strong growth for the Paris Saint-Germain Academy in Brazil.
The programme now welcomes more than 4,000 children, an increase of more than 470% in a year thanks to the opening of eight new centres across the country. The Paris Saint-Germain Academy is now present at 13 sites in 10 cities (Rio de Janeiro, São Paulo, Recife, Salvador, Vitoria, Brasilia, Porto Alegre, Sumaré, Guarulhos and Vale dos Sinos). Brazil now has the second largest number of Paris Saint-Germain academies after France, with two new centres due to open in Natal and Fortaleza in the north of the country in 2019.
"The Paris Saint-Germain Academy in Brazil is growing in popularity," said Fabien Allègre, Paris Saint-Germain's Director of Merchandising and Brand Diversification. "The event promises to be one big celebration, with a dream final at the Maracanâ attended by all the children and club legends Maxwell and Rai. We are delighted to give the youngsters of Brazil this unique opportunity to live their passion for football to the full and to perfect their skills all year round with coaches trained by Paris Saint-Germain. As is the case in Brazil, the Paris Saint-Germain Academy continues to grow around the world, to the delight of our ever-increasing army of young fans."
The Paris Saint-Germain Academy Cup in Brazil will begin with an opening ceremony held at the Riocentro. The tournament proper commences the following day with the group matches, which will run through to 1 November and will be held at the Rio Sport Center, in the suburb of Barra da Tijuca. During the tournament, the youngsters will also visit some of Brazil's most famous cultural sites, such as the statue of Christ the Redeemer atop Corcovado Mountain, and the Brazilian National Football Team Museum. The final phase of the competition will take place on 2 November, along with the trophy ceremony, at the iconic Maracanã Stadium. A closing ceremony will then be held at the Riocentro.