Paris Saint-Germain opens the doors of the club's boys pre-academy and U19 women's team for a brand new series
Paris Saint-Germain is continuing its collaboration with 15-year-old filmmaker Léna Jennequin by releasing a brand-new documentary series about four young players of Paris Saint-Germain. This is the first time that this kind of series has been created about players from these age categories.
After the release of her short film "Plus fort encore", which recounted the career and daily life of Siham Bacar, a young player from the Paris Saint-Germain Association, the Parisian club is proud to support Léna Jennequin in the release of her new documentary series.
A promising young filmmaker, 15-year-old Léna Jennequin won the Moteur! Clap d'Or award at Cannes film festival in July 2021. Léna grew up in Rocquencourt, just outside Paris, and as a huge Paris Saint-Germain fan she refuses to miss any of her favourite club's matches. At the start of the 2021-22 season, she contacted Paris Saint-Germain to tell them about her project to create a documentary series about the club's youth players, to "film young players of my age, seen through my eyes".
From November 2021 to June 2022, Léna followed Katia Imarazene and Eden Le Guilly (age 16), who are in the U19 Women's team, and Younes Idder and Adam Ayari (age 14), who are in the club's Pre-Academy. The young filmmaker recorded the daily life of these four rising talents, from early-morning wake-up calls to training and matches, not forgetting school and time off with their family. She was an invisible presence in their lives throughout the season, so that she could show their lives in as natural a way as possible.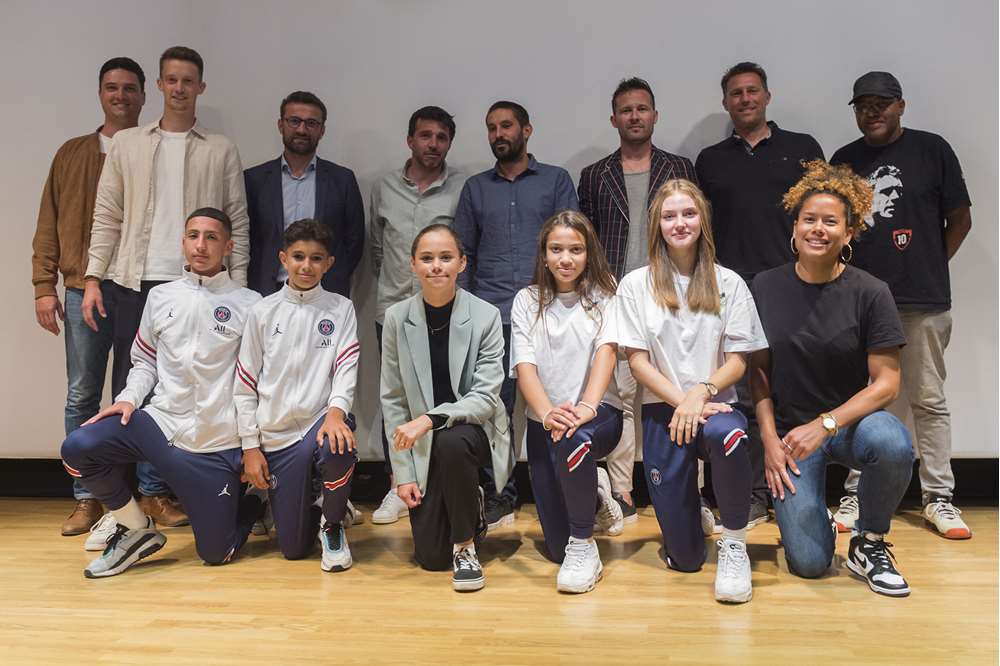 "We were immediately won over by Léna's project, announced Anthony Baca, Deputy Digital Director at Paris Saint-Germain. Léna is very mature and professional. She managed to create a feeling of trust with the young players and captured some unique moments. We are very pleased with this first episode, which shines the spotlight on the younger categories and talents at Paris Saint-Germain. We would like to thank her for her unfailing commitment, creativity and perfectionism, and we wish her luck in her future career in filmmaking."
This original project, called "Face à leur destin" (Face to face with destiny), is made up of four 40-minute episodes, with a different theme explored in each episode. The release of the first episode, entitled "Garder le rythme" (Keep the tempo), is scheduled on 23rd June - 6pm France time - on the club's PSGTV and YouTube platforms. The episode introduces the four young stars and immerses spectators in their busy lives.
Léna Jennequin, who produced the documentary series, said: "I'm very proud of this project with Paris Saint-Germain and to have been able to shine the spotlight on young players who, just like me and filmmaking, are following their childhood dreams. I wanted to show the determination of these young players who do everything they can to succeed and make sacrifices in a bid to achieve their goals. Filming the series was a fantastic experience, and I would like to thank the players as well as the club staff for their warm welcome and their valuable assistance in bringing this project to life."
The remaining three episodes of the series will be released over the summer and will address the following themes: risk of injury, discipline, nutrition, team spirit, the challenges of being a top-level athlete, and their hopes for the future.
ABOUT LÉNA JENNEQUIN:
Léna was born in Neuilly-sur-Seine in August 2006 and grew up in Rocquencourt, in the Yvelines region just outside Paris. At age 8, she made her first video with her cat, in which they tested out various toys. She then asked her parents to create a YouTube channel where she could post her videos, which she filmed and edited herself on her iPad. She taught herself by watching tutorials and called her channel "Léna et Robert" (after her cat). She continued adding to her YouTube channel until she was 14 and started to take more of an interest in the big screen. Léna discovered cult films and all the classic movies. She filmed anything that inspired her, and her close friends became the stars of her creations. She continued to excel at school and, at age 12, announced that she wanted to become a filmmaker and fought to get an internship at TF1 for her Year 10 (9th Grade) work experience, in the midst of the Covid-19 crisis. At age 14, she entered France's "Projet Moteur" competition. She won and took to the stage at the Cannes film festival to receive her Clap d'Or award from Thierry Frémaux. Since she was little, she has watched every Paris Saint-Germain match with her father and friends. Last July, just before her 15th birthday, she presented her project to "film young players of my age, seen through my eyes" to Paris Saint-Germain. Jean-Martial Ribes, the club's former Communications Manager, understood her idea and approved the project.