Paris Saint-Germain, Clown Skateboards and Fatma Al Sharshani launch Doha Capsule Collection
Paris Saint-Germain Football Club unveiled its newest collection stemming from their collaboration with UK brand, Clown Skateboards, during Qatar Creates Week 2023.
Qatar Creates is the year-round national cultural movement in Qatar that curates, promotes, and celebrates the diversity of cultural activities in the country, which recently announced upcoming spring and summer public programme showcasing art, culture, and creativity that kicked off on 10 March, and will and includes a series of programmes, panels and tours which will run until 18 March 2023.
The Doha capsule range is inspired by the art of calligraffiti artist Fatima Al-Sharshani and uses a unique pattern which reflects the Qatar's creative culture, and forms part of the PSG x Clown Skateboard Collection which highlights cities such as Paris, New York, and Los Angeles; locations where PSG maintains a year-round presence through its flagship retail stores.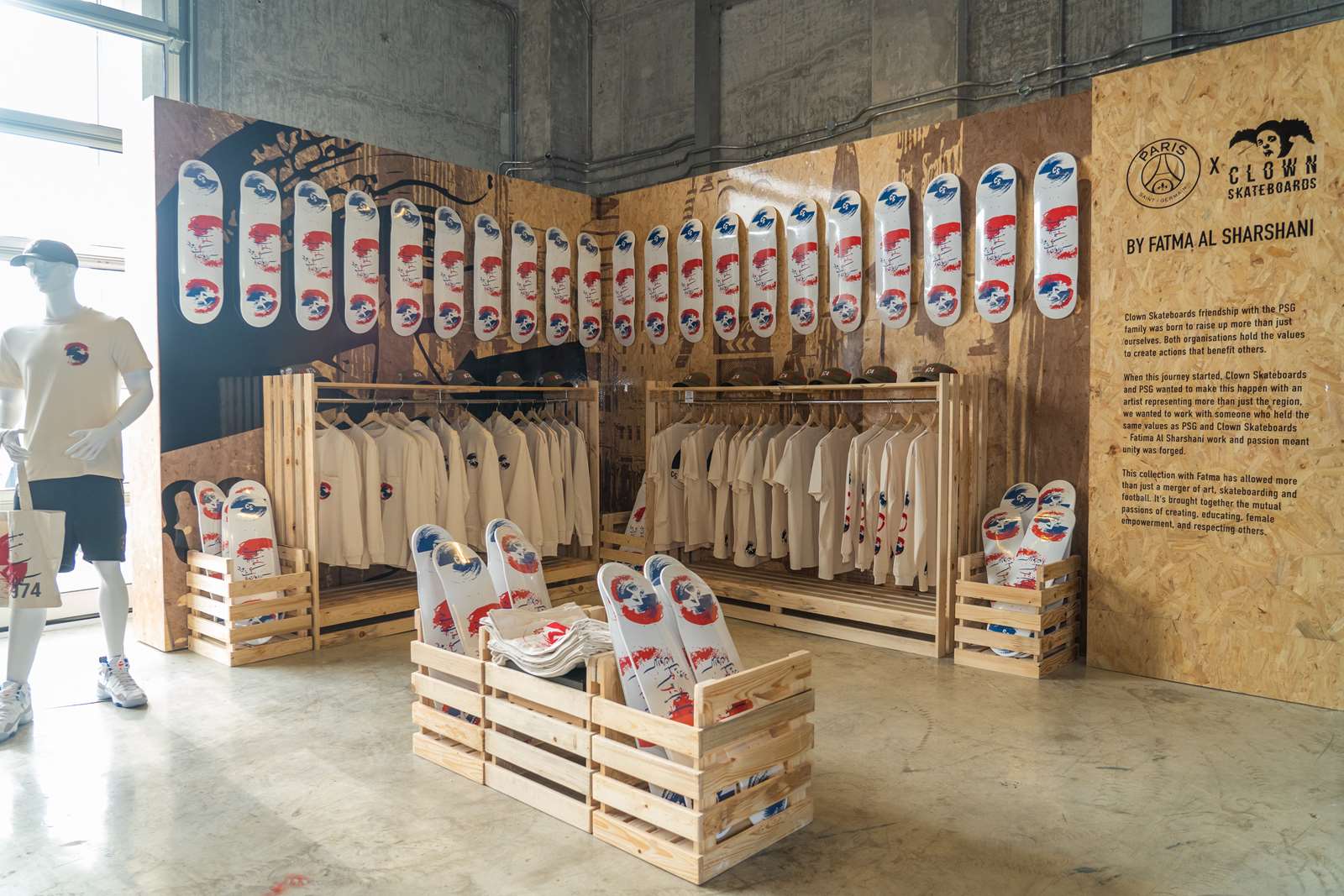 Fatima Al-Sharshani commented on the partnership, saying: "To be able to share my passion for Arabic calligraphy and work together with PSG x Clown Skateboard on this fantastic project is a great honour. The design we have created for the Doha capsule collection combines the vibrant and abstract shapes of contemporary graffiti, with the loops and swirls of traditional calligraphic letters, and perfectly captures the city's lively modern and artistic scene which stays true to its traditional values. I am very proud to represent Qatar in this international collaboration, and to share the beauty of this artform with the world."
Yesterday evening, the new collection was presented publicly for the first time at Fire Station – Doha's leading contemporary art space which hosts a world-class artist residency programme designed to nurture, energise and promote Qatar's artistic and creative community. Founded in 2015, it is located in a former fire station that has been repurposed to serve the needs of the artists in residence.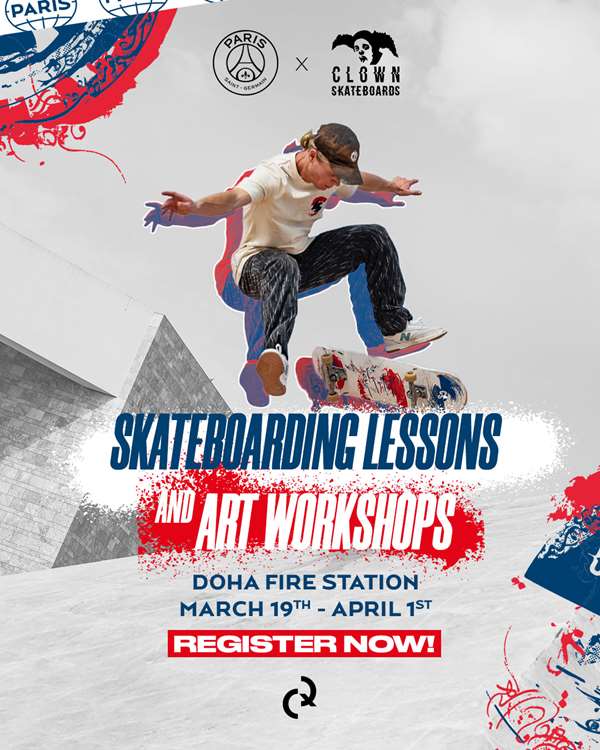 Fabien Allegre Chief Brand Officer of Paris Saint-Germain Football Club said, "We are extremely proud to continue our collaboration project with Clown Skateboard and add a unique spin by giving creative direction to the incredibly talented Fatima Al Sharshani for this exclusive Doha collection. Fatima's work is characterised by a delicate aesthetic that combines the poeticism and tradition of Arabic calligraphy with modern and abstract design. Fatima has innovatively combined our two worlds in this project, and we are ecstatic to be able to present it alongside this distinctive range of designs which embody passion, energy, and fun".
The unique Doha collection, made from an array of striking and vibrant organic materials, includes four t-shirts, two long-sleeve shirts, a hoodie, a hat, a tote bag, and limited-edition skateboards. The launch event showcased this exclusive range in a pop-up retail store presenting the latest collection, as well as the imaginative "Wall of Skate" Mural, which features a reimagined display of forty skateboards decorated with Fatima Al Sharshani's distinctive calligraffiti design.
"The Wall of Skate" mural will be dismantled following the exhibition, and each skateboard will be dispatched to Paris, Los Angeles, New York and Tokyo, giving fans the chance to participate in a 'Treasure Hunt' and locate the skateboards which are on display around each city.
To mark the unique collaboration, Fire Station: Artists in Residence will offer free skateboarding and art lessons for all ages until 1 April, 2023, and can be booked here.