History honoured with new shirt
At half time of the match between Paris Saint-Germain and Racing Club Strasbourg Alsace, nine former capital club stars were invited down pitch-side at the Parc des Princes to play their part in the launch of the new 2019-20 third jersey.
After meeting with Paris Saint-Germain Chairman and CEO Nasser Al-Khelaïfi, the nine former Paris Saint-Germain stars were presented to the fans at the Parc des Princes.
First to enter the arena was Dominique Bathenay (1978-1985 - 273 matches, 35 goals), Paris Saint-Germain captain that won the Coupe de France in 1982 and was also the first goal scorer with the white jersey on 28 July 1978 against Nîmes. He was followed by Boubacar Sarr (1979-1983 - 114 matches, 30 goals), Philippe Jeannol (1984-1991 - 219 matches, 15 goals) and Michel Bibard (1984-1991 - 182 matches, 2 goals). These last two players all won the capital club's first ever Ligue 1 title in 1986.
Then came the King of the Overhead kick, Amara Simba (1986-1993 - 109 matches, 22 goals), who twice scored the Ligue 1 goal of the season, as well as Pierre Reynaud (1986-1992 - 125 matches, 4 goals), Bernard Mendy (2000-2008 - 247 matches, 11 goals) and Paulo Cesar (2002-2006 – 67 matches, 6 goals).
The ninth player was none other than Danijel Ljuboja (2003-2005 - 56 matches, 8 goals), who was the last player to score with the famous white shirt against Toulouse on 14 February 2004.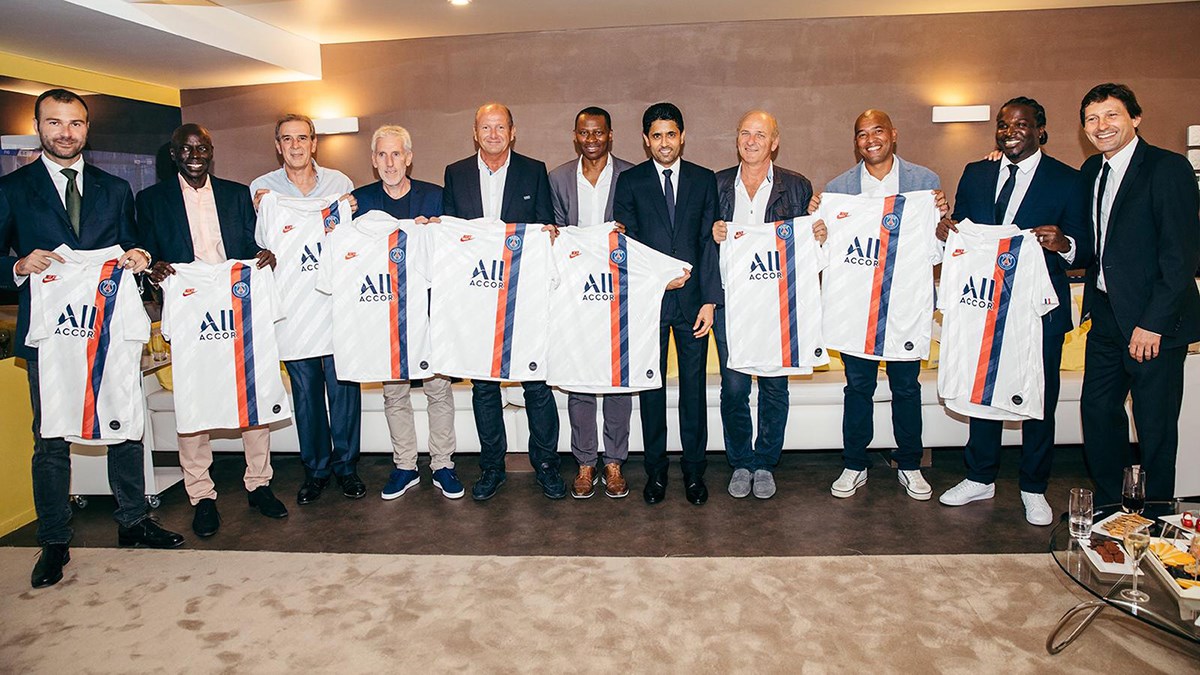 The nine players went on a lap of honour where they received several moving tributes from the fans at the Parc des Princes. Dominique Bathenay told PSG TV: "It is a beautiful shirt. It prepresent Paris and it is a very good idea to bring back this season. A club represents a lot of history, at represents the past, the present and the future. You mustn't forget a club's history."
🔝🏟️ #PSGRCSA

Nos #PSGlegend présents au Parc des Princes en compagnie de notre Président Nasser al-Khelaïfi et Leonardo 🔝

3⃣ générations de fans, membres du programme @MyParisSG, ont eu la chance de les rencontrer 📸 pic.twitter.com/pIO2POJK7m

— Paris Saint-Germain (@PSG_inside) September 14, 2019