50 years at the Parc: A look back at the premiere!
50 years later... On 10 November 1973, eleven players in red and blue took part in Paris Saint-Germain's first official match at the Parc des Princes. With a new, iconic jersey designed by Daniel Hechter...
Pour ses débuts, Paris affronte le Red Star, son principal rival pour l'accession en première division. Ce derby parisien était organisé en lever de rideau de la rencontre de championnat de première division entre le Paris FC et Sochaux.
Just Fontaine, témoin privilégié de cette rencontre, se
Paris made their debut against Red Star, their main rivals for promotion to the top flight. This Parisian derby was organised as a curtain-raiser to the first division championship match between Paris FC and Sochaux.
Just Fontaine, who witnessed the game first-hand, remembers his lads' first steps perfectly: "The Parc was discovering a new team, with a designer president and not a lot of resources. I explained to the players before the game that they had an important card to play, which was a change from the Camp des Loges and its 3,000 spectators in attendance. It was a unique opportunity to be recognised by the general public."
Justo vividly remembers the line-up: "There was Dogliani, my captain, my link on the pitch. And Jacky Laposte, a formidable defensive midfielder. Even the great Michel Platini had never flambéed in front of him! My team played attacking football and didn't take itself too seriously. It was a bit 'pop music'."
20,000 spectators turned out for this clash, which got off to a fast start: André scored a goal that was disallowed for offside (5'), Dogliani narrowly missed (7'), then Grabowski hit the post for Red Star (14').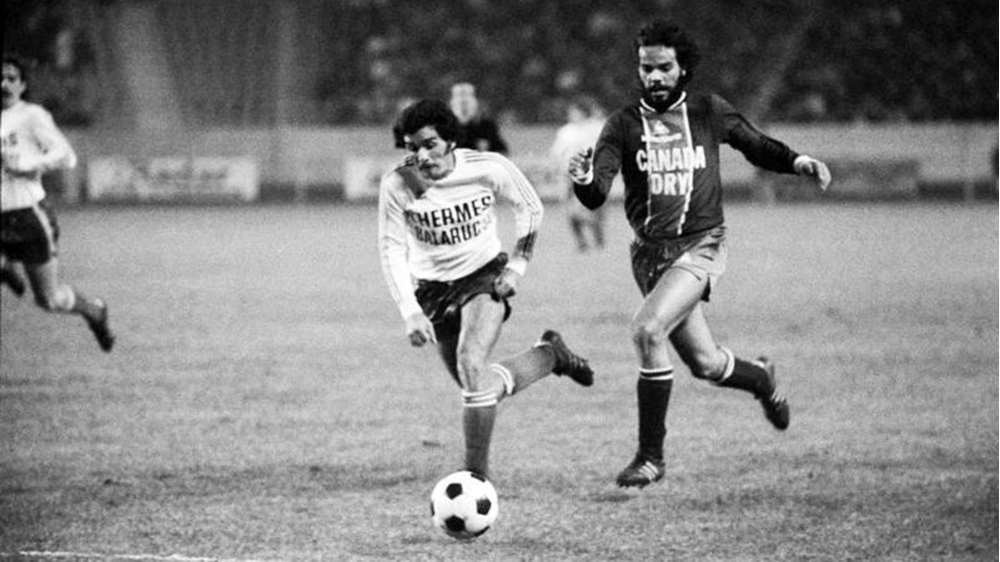 Paris Saint-Germain opened the scoring a few seconds later, when Dossevi got on the end of a Deloffre pass to beat Red Star keeper Landu from close range (1-0, 15'). The Parisian striker had just made history by scoring Les Rouge et Bleu's first goal at the Parc des Princes! Othniel Dossevi, who would go on to become an associate professor of literature in Bordeaux, has not forgotten, even though he prefers to focus on the team: "We were only interested in winning! With our defence, and a goal to our names, we had a good chance of winning. Above all, I remember that the more the game went on, the more the Parc filled up. At the final whistle, over 30,000 people were cheering us on."
André missed the chance to double his side's lead when he shot just wide of the goal (28'), and the game remained undecided at half-time.
Paris Saint-Germain took a decisive lead on the hour-mark when Dogliani fed Cardiet, who crossed for Monteiro to head Paris' second (2-0, 56'). It was Armando Monteiro who left Justo Fontaine with fond memories: "I saw him turn up at the Camp des Loges one day and offer me his services! He told me he'd been a youth international and had played for Flamengo at youth level, and I could see that he was pretty good on the ball."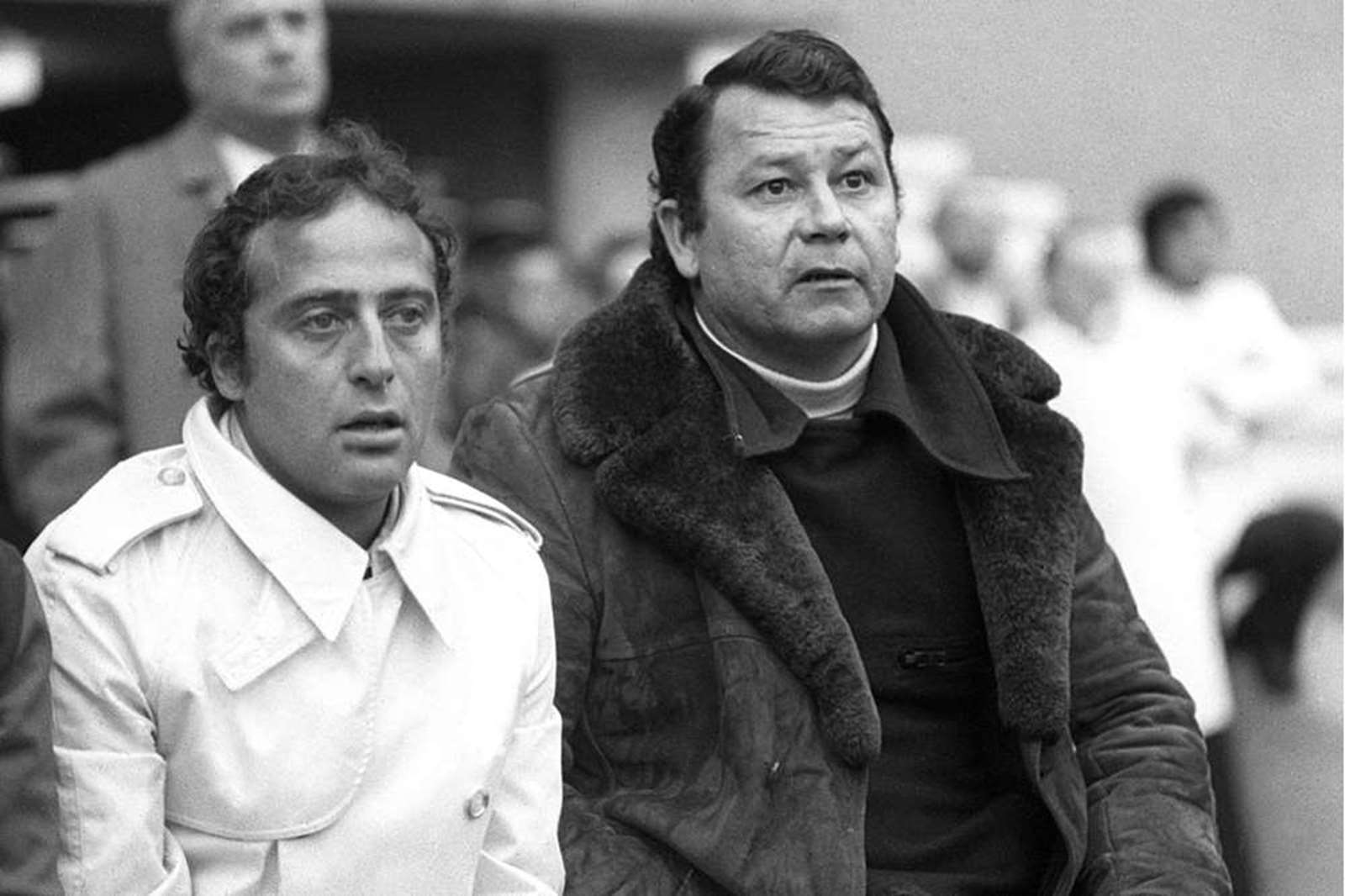 Combin reduced the deficit from the penalty spot after an initial effort was deflected off his goal-line by Leonetti (2-1, 67'), before Deloffre's shot after a throw-in quickly played in by Cardiet confirmed the Parisians' victory (3-1, 75').
Jean Deloffre was one of four professional 'musketeers' (along with Dogliani, Cardiet and Leonetti) hired by Justo Fontaine to coach the rest of the squad. Although he had no particular memories of that game, the international midfielder (one cap for the French senior team) has nothing but fond memories of his time in the capital: "We had a great season. Fontaine had fielded a very attacking team, as usual."
Béreau had one last chance late on (88') and Les Rouge et Bleu left the pitch to a standing ovation from the delighted crowd.
Paris Saint-Germain now trailed their rivals Red Star by just one point, and manager Justo Fontaine was ecstatic after their successful debut: "It's the best thing that could have happened to us, to win on our debut at the Parc with such a big crowd! My team played the way I like and I think they put on a great show. We won't always win, but the important thing is to keep our enthusiasm."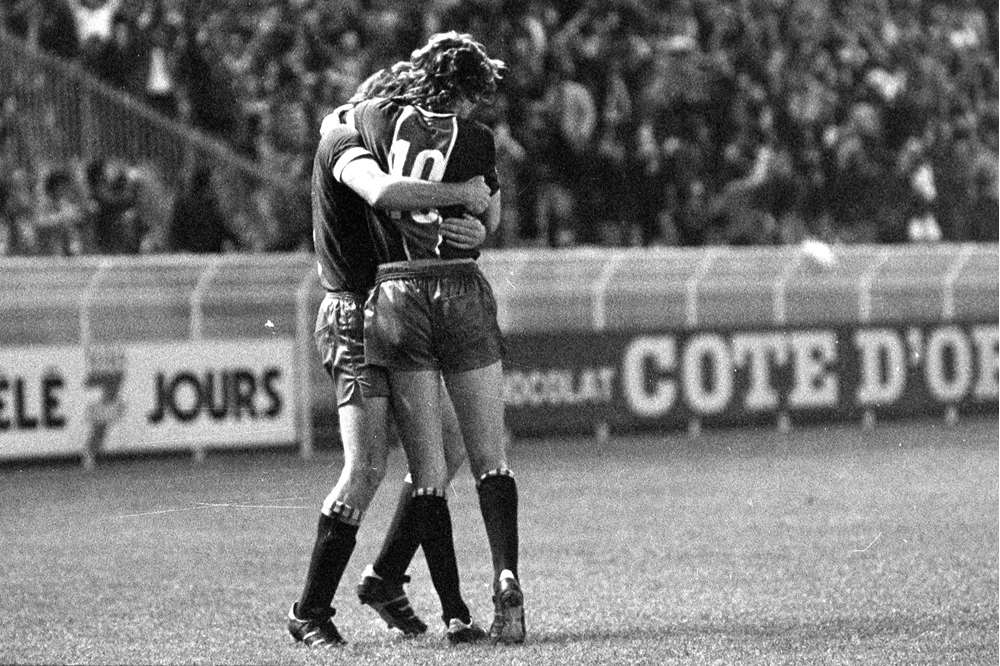 PARIS SAINT-GERMAIN - RED STAR FC : 3-1 (1-0)
Saturday 10 November 1973
French D2 Championship - Matchday 13
Parc des Princes (attendance around 20,000)
Goals: Dossevi (15'), Monteiro (56') and Deloffre (75') for Paris Saint-Germain, Combin (67') for Red Star.
PARIS SAINT-GERMAIN: Choquier - Béreau, Bade, Leonetti, Cardiet - Deloffre, Laposte - André, Dossevi, Dogliani, Monteiro. Coaches: Just Fontaine and Robert Vicot.
RED STAR FC: Laudu - Garrigues, Ahache, Jarra, Merelle - Grabowski, Besnard - Houen (Lefevre, 52'), Ducuing, Combin, Bras. Coach: José Farias.