Five things on PSG Handball - Chartres
On Sunday afternoon, Paris Saint-Germain Handball will play their rescheduled Lidl Starligue Round 9 clash against Chartres at the Stade Pierre de Coubertin.
An almost extreme duel
Before Sunday's match, Chartes sit in 12th place, with three victories for four defeats. But they have only played seven matches and are n't in fact that far behind most of their rivals. So, if they win at Coubertin, they could come back to within two lengths of sixth place, currently occupied by Aix. They also have the advantage of having already played two of the top sides in our league (defeats): Montpellier (31-25) and Nantes (24-25), in their first two matches. For their part, Les Rouge et Bleu are still Lidl StarLigue leaders and continued their flawless run with yet another victory in Créteil (27-40) last week.
Several former Parisians
The Chartres squad has a good number of quality players. Among them, several have turned out for Paris in the past: first of all, Ukrainian international Sergiy Onufriyenko. A Parisian during the 2015-2016 season, he had an excellent European campaign, with 42 goals (including a 7 from 9 away to Kiel), and participated in the first EHF Final4 in Paris's history, helping the capital club to third place. We also find Zacharia N'diaye, who won two French league titles (2013, 2015) with our team. Finally, after passing through our youth academy (with whom he was French National 2 Champion in 2017) and playing for Tatran Preson in Slovakia, Titouan Afanou Gatine (one match with the Parisian professional group) came back to France this year.
Head-to-head
This season, the two sides have already faced each other. On 12 September, Les Rouge et Bleu played their final pre-season match away to Chartes (25-31). But they have also played each other in official matches for the past five years in the Lidl StarLigue. Historically, their paths have crossed three times. So far, Paris Saint-Germain Handball have won every time. The first duel took place on September 30, 2015, at the Halle Jean Cochet in Chartres. On that day, Mikkel Hansen's eight goals, Fahrudin Melic's 6 from 6 and Thierry Omeyer's 17 saves proved decisive (20-32). Our goalkeepers are decidedly very successful against this opponent - last season Vincent Gérard, who made 13 saves during this match (30-26) - was the first to reach the bar of 300 stops in the Lidl StarLigue.
Free match with commentary
You can follow the match live and for free on our social networks! Indeed, our Facebook page will broadcast the entire match. A player will also be available to chat on our official website! In the comments section, you will find our journalist, Joachim Azouze, accompanied by the expert eye of Daniel Narcisse.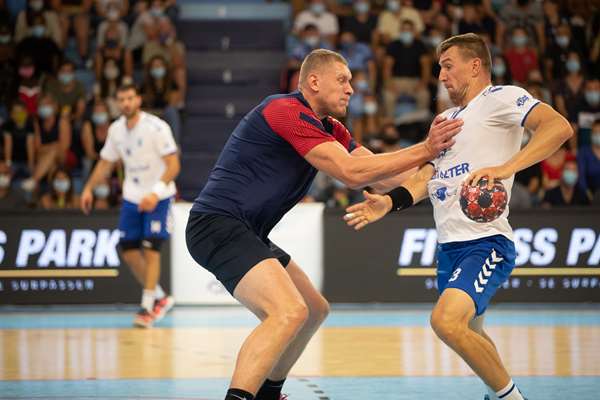 To follow the match (kick-off at16:00):
- Television: live on our Facebook page and on our official website.
- At the Pierre de Coubertin Stadium: Behind closed doors

(Credits: J.Azouze/PSG)